The "Republicans are better on defense" meme
Submitted by gjohnsit on Sun, 01/08/2023 - 12:27am
I'm starting to see this narrative from people that once considered themselves on the left, or still consider themselves on the left, that the Democrats are now worse on most issues for anyone in the working class and/or on the left.
I will refer to this group from here on as the Jimmy Dore Left (JDL), but Dore is far from the only preacher of this philosophy.
The most effective lie has a grain of truth, and the JDL is absolutely 100% correct about one thing:
The Democratic Party sucks. They suck hard. More than that, the JDL is 100% correct that the Democratic Party has betrayed the working class and is entirely bought and owned by the corporate/ruling class.
So if you're looking for me to defend the Democrats then you are wasting your time. Also, its an absolute certainty that someone will comment that this is a defense of the Democrats and/or support for Vote Blue No Matter Who. To that person I will reply now with - You either have a reading comprehension disability or like building strawmen. Take your pick.
Let's start with the defense budget.
The JDL is saying that this is proof that the GOP is further to the Left (i.e. more antiwar) than the Democrats.

McCarthy weighing $75B defense budget cut in quest for speakership
There are two major problems with this story and this narrative.
1) This is nothing more than an idea being floated, and anyone familiar with Washington politics knows that Republicans will never willingly cut defense spending.

UPDATE...His concessions to the holdout Republicans reportedly include demands that any raising of the debt ceiling be accompanied by budget cuts, though it is not clear, yet, what those rule changes might be or whether they would affect defense spending.
What the right-wing of the GOP is proposing today is exactly the same thing that we've seen before.

The Republican-controlled House in 2012 passed two measures that sought to replace the sequester cuts and shield military spending by shifting the burden onto domestic programs, including many that serve the poor, such as Medicaid, food stamps and social services block grants that fund programs like Meals on Wheels. The measure was never taken up in the Democratic-controlled Senate.
That was in 2012. In 2011 we saw the exact same thing.

The U.S. House of Representatives voted Thursday to rescind $110 billion in mandated cuts to the Pentagon's budget by pushing these reductions onto domestic programs like Medicare, Medicaid, the Children's Health Insurance Program, and other mandatory social programs, which are already facing substantial budget cuts.
2) The implication that Republicans are more in favor of defense budget cuts is ridiculous, and easily disproven. In the very same article:

The proposal could earn support from some progressives in Congress, including Reps. Barbara Lee (D-Calif.) and Mark Pocan (D-Wis.), who pitched a $100 billion haircut for the Department of Defense earlier this year.
While the JDL jumped at reporting this rumor, they never mentioned the Lee/Pocan amendment.
The proposed $100B cut failed on a vote of 350 to 78, with 1 Republican voting for passage. 
Sanders introduced a similar bill, and it was defeated 77-23. Not a single Republican voted for it.
I can't remember a single time in my entire life that I've seen a Republican-led bill to cut the defense budget go to a vote even once.
There were lots more proposed amendments that the JDL didn't notice.

A prohibition on funding for the Air Force's nascent Ground Based Strategic Deterrent — a next-generation intercontinental ballistic missile and its warhead, the W87-1 — from Rep. John Garamendi, D-Calif.
A prohibition on U.S. military forces in Syria without approval from Congress within one year, from Rep. Jamaal Bowman, D-N.Y.
A prohibition on U.S. military logistical and intelligence support for Saudi air forces conducting strikes in the Yemen civil war, from Rep. Ro Khanna.
So how did the Republicans feel about our bloated defense budget? They loved it.

Key Republicans have warned that cutting the NDAA would cost their support, which Democrats likely need to pass the bill. When the House Rules Committee met Monday to screen amendments, the panel's top Republican, Rep. Tom Cole of Oklahoma, said his party likes the bill as-is.
The only real Republican opposition to the bloated defense budget is complaints that the budget is "inadequate".
What do Republicans mean by the defense budget being "inadequate"? They want the defense budget to be MUCH bigger.

As Congress finalizes this year's defense-spending-authorization bill, a number of high-profile Republican policy makers have started to call for a budget topline that exceeds $1.2 trillion.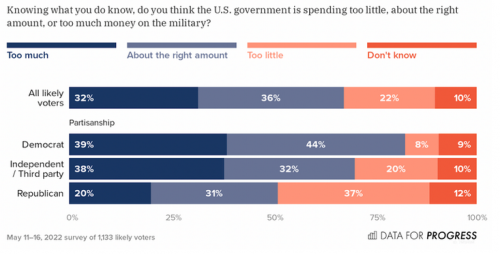 So on one side you have a single instance of something that probably isn't real being reported.
On the other side, you have a mountain of both historic and current facts being ignored.
These people aren't stupid. They already know this. So they are being deliberately dishonest. They are lying to you, and it isn't just this one topic.