Three indicators of how much millennials are struggling
Submitted by gjohnsit on Sun, 01/01/2023 - 2:13pm
Just to be clear, these economic indicators will include Gen Z as well.
Nearly a third of millennials and Gen Zers, over the age of 18, get financial support from their parents, according to a new survey by personal finance site Credit Karma. The site polled more than 1,000 adults in October.

More than half of parents with adult children said their kids are living with them. Another 48% said they pay for their kids' cell phone plan, car payments or other monthly bills. Nearly a quarter also said they provide their adult children with a regular allowance, pay some or all of their rent or have them as an authorized user on their credit card, the report found. 
...
Finances are the No. 1 reason families are doubling up, Pew found, due in part to ballooning student debt and housing costs.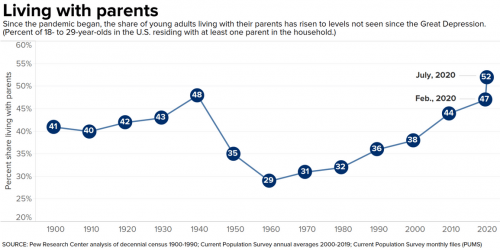 With limited financial resources, lower wages and shorter credit histories, young adults are struggling to manage high-interest debt more than other age group, according to a new report by Urban Institute. Nearly one in five adults between the ages 18 and 24 with a credit record in the U.S. currently have debt in collections.

"Young adults are particularly vulnerable," the authors of the report wrote. "The high cost of borrowing coupled with limited income makes it difficult to manage debt in this stage of life."

Overall, credit card balances are surging, up 15% in the most recent quarter, the largest annual jump in more than 20 years. At the same time, credit card rates are now over 19%, on average — an all-time high — and still rising.

But for new applicants for credit, APRs are typically even higher, as much as 30%, according to Ted Rossman, senior industry analyst at Bankrate and CreditCards.com.
This last indicator involves much more than just millennials and Gen Z, but I think that it's an easy guess to say that those groups are over-represented in this trend.
Nearly 2/3rd of workers live paycheck to paycheck:

As of November, 63% of Americans were living paycheck to paycheck, according to a monthly LendingClub report — up from 60% the previous month and near the 64% historic high hit in March.
...
Compared with a year ago, 32% of all consumers are saving less than they were before, LendingClub found. Among those who said they are struggling financially, half are unable to save and have no savings at all.

One-third of working adults — 33% — feel somewhat or very uncomfortable about their ability to pay an emergency $400 expense, a separate survey by the Bipartisan Policy Center also found. Nearly 8% wouldn't be able to afford it at all.
What does this add up to? A third of millennials are not dating because they have no money.

According to the data, financial instability is hampering their ability to find 'the one' because it's forcing them to budget, instead. 
...This information follows a separate study, also by Match.com, which said that the average single American spends about $60 (£49) per month on dating - but, unfortunately, it's still men who fork-out most of the costs. 
Fifty-one per cent of men spend more than $100 (£82) a month on dates, while 29 per cent spend more than $150 (£124) a month.

In contrast, 66 per cent of women spend less than $50 (£41) a month on dates, while their average amount spent on Valentine's Day is just $51 (£42).
The shift in economic reality, where male-dominated jobs vanished in the U.S. and got shipped over-seas, while female-dominated jobs have flourished, has gotten far ahead of our culture.
The fact that men are still expected to pay for the date, is just the most modest of example. It's much more built into our culture than that.

Many social scientists think they have found it: The declining "marriageability" of men in the eyes of women. The bottom line is that young women are beginning to outperform young men on many measures of and educational and professional attainment and salary. This matters, because even in today's progressive cultural environment, both men and women (in every educational and racial group) overwhelmingly deem high status and the ability to "provide financially for a family" to be more important for a husband than for a wife. Matching these attitudes is the fact that women in all demos tend to marry "up" in terms of education and income. And the fact that low-income women (who today are the least likely to marry) are far more likely than high-income women to cite unavailability of financially stable men as a reason not to get married.
It isn't just dating. Nor is it limited to just getting married. It goes all the way to the ability to stay married.

The laments she has heard are backed up by data, according to Mona Chalabi of fivethirtyeight.com. She summarized University of Chicago Booth School of Business findings for NPR, saying that, in their sample, dissatisfaction increased, and could lead to divorce, "once a woman started to earn more than her husband."

And the amount didn't appear to be relevant: "Whether the wife earns a little bit more or a lot more doesn't actually make much of a difference," says Chalabi.
The University of Chicago found that a wife making even $5,000 a year more than her husband was associated with a greater risk of divorce.