Open Thread - 06 Oct 2022 - Monarchs Shouldn't Be a Thing
Submitted by Sima on Thu, 10/06/2022 - 5:00am
Monarchs (Humans, Not Butterflies!) Shouldn't Be A Thing
I have to admit, I haven't paid much, if any, attention to the death and funeral of 'the Queen'. I couldn't really care less, to tell the truth. I suppose all the pomp and circumstance was cool, the guys marching around in the weird hats and so on. When I was passing through London years ago I'd often watch the changing of the guard, if I had time, and I was in the area. And I love cavalry, so there was that! The parks and gardens were neat, too, and the museums rock.

Guys Marching Around in Weird Hats
And the new guy taking over, King Chuck? I, once again, couldn't care less. Even when I was young, about the same age as his dead wife, Diana, I couldn't care less. He was gross. I couldn't understand how Diana would want to marry such a ... err, to put it in British terms, twat. Yes, yes, yes, it was money and power and all that. I get it. Gag.
Maybe I was just too indoctrinated in American mythos to worship the British mythos: nascent Americans fought against the British and their Crown - we don't need no stinking royalty, and so on. Which doesn't mean the American mythos doesn't cover up a hell of a lot of evil, just like the British mythos. The sets of American and British myths are just different in detail, not in result.
Chris Hedges wrote an article about the British and other monarchies a few weeks ago when the Queen passed on. It's entitled 'Monarchs Belong in the Dustbin of History'. I agree. He talks about how monarchy hides the realities of the British empire, including economic injustice and brutal racism, and wraps everything in nostalgia and coy sentiment. He mentions the enormous crimes against humanity perpetrated by the Empire (he doesn't let off the US Empire either, but that's not the subject of this article), and how the Queen and other royals never once acknowledged those crimes or injustices or apologized for them.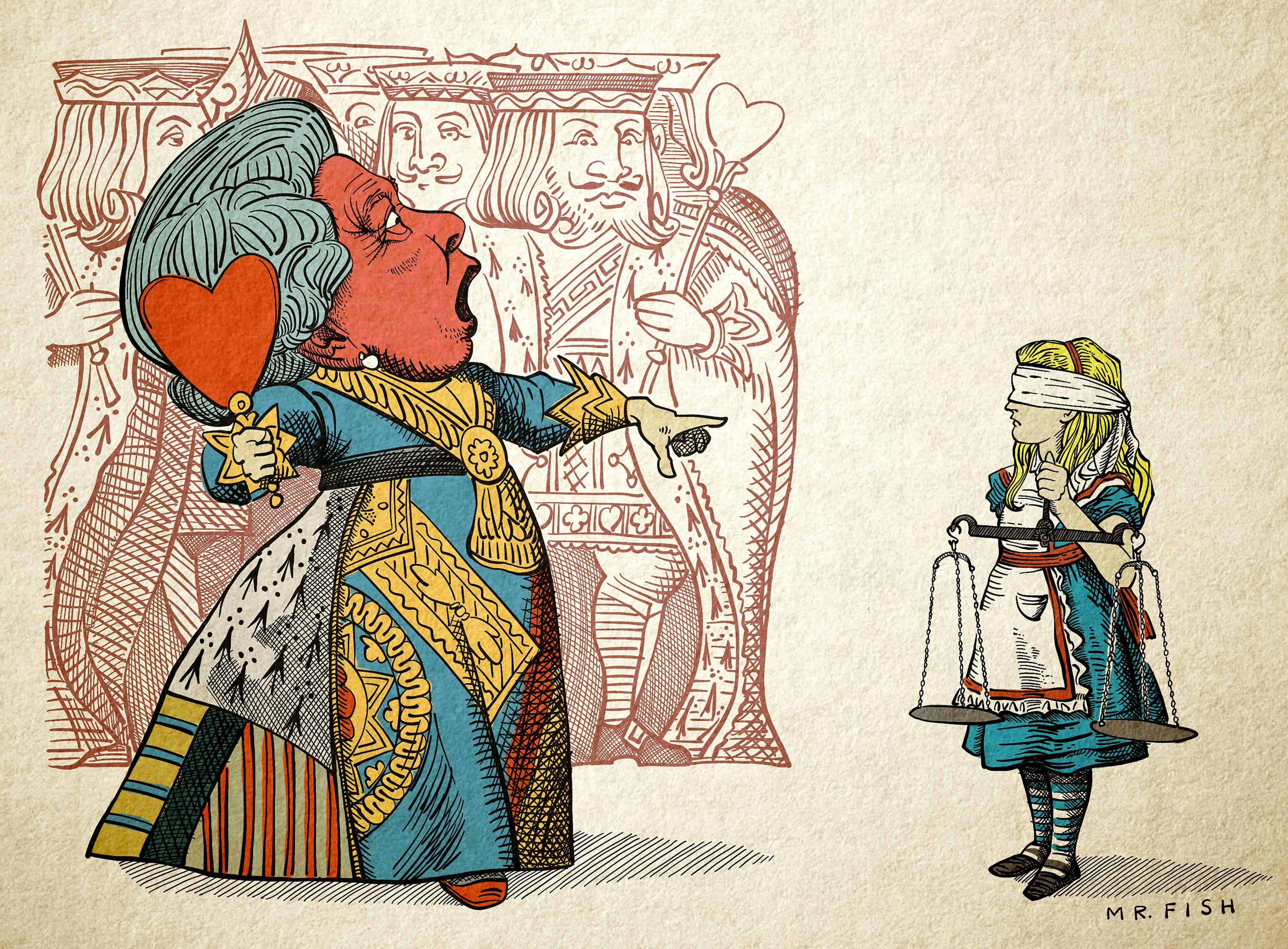 Off With Her Head - by Mr. Fish (from Hedges' article linked above)
Hedges' wrote that monarchs are oligarchs, of course, and brings up a few examples:
The world's largest landowners include King Mohammed VI of Morocco with 176 million acres, the Holy Roman Catholic Church with 177 million acres, the heirs of King Abdullah of Saudi Arabia with 531 million acres and now, King Charles III with 6.6 billion acres of land. British monarchs are worth almost $28 billion. The British public will provide a $33 million subsidy to the Royal Family over the next two years, although the average household in the U.K. saw its income fall for the longest period since records began in 1955 and 227,000 households experience homelessness in Britain.
I had no idea how much the British monarchs own. I mean, I knew they were rich, but, wow... I knew they were fed and housed for free, like all tourist traps, and given stipends and all sorts of stuff like that, but I had no idea it was so much. It's kinda sickening. Maybe the tourist economy pays for them?
Hedges discusses how the other global oligarchs, those who aren't monarchs, think about the new set of royalty in charge:
The global oligarchs are not sure the next generation of royal sock puppets - mediocrities that include a pedophile prince and his brother, a cranky and eccentric king who accepted suitcases and bags stuffed with $3.2 million in cash from the former prime minister of Qatar Sheikh Hamad bin Jassim bin Jaber Al Thani, and who has millions stashed in offshore accounts - are up to the job. Let's hope they are right.
Here's a quote from Hedges' article which basically sums up how I was taught to look at Royalty by my friends who are British. And I'm not even Irish!

"Having a monarchy next door is a little like having a neighbour who's really into clowns and has daubed their house with clown murals, displays clown dolls in each window and has an insatiable desire to hear about and discuss clown-related news stories," Patrick Freyne wrote last year in The Irish Times. "More specifically, for the Irish, it's like having a neighbour who's really into clowns and, also, your grandfather was murdered by a clown."
I think that's pretty true, and funny as well, in a sad way.
Hedges notes: 'The point of social hierarchy and aristocracy is to sustain a class system that makes the rest of us feel inferior.' And that is exactly what the British monarchy, royalty, and class system does. Why so many Americans seem to adore the monarchy is beyond me. Maybe for some people it's like worshiping actors and actresses? Or wrestling stars, or something? Or historical figures? Yea, that's it!
Personally, my first experience of the existence of British Crown was both confusing, amusing, and weird. I was 13 going on 14 and on my first trip to Europe. I and my fellow students spent a few days in London getting used to the new time zone, and going to some museums, and watching the guys in the weird hats, before we moved on to our school in Athens. Anyway, I remember going into the loo at one of the museums and coming out holding some sheets of toilet paper. Now, the toilet paper seemed to be, I dunno, some kind of soft cardboard. It didn't even work as it should. It was very waxy too. And stamped on it, in all her glory, was the Queen's emblem and 'Her Majesty's ...' whatever it was, government, museums, I don't remember. But I remember that emblem, the poor quality of the paper (I mean, it wasn't even as good as American rough paper at highway rest stops and so on), and how befuddled I was by it. I mean, the toilet paper provided in other places in England, places not owned by the Crown, was fine.
'Why's this so bad, why is the Queen's emblem on this?' I wondered in 14 year old confusion.
My teacher laughed and grinned at me. 'She owns it, she's giving it to us for free. Her government pays for it'.
'But if it's her's, her government's, why is it so bad??'
Teach shrugged a shoulder. 'Got me.'
And that was that. As an aside I should note, in all my time traveling around and studying in Europe at that young age, I never again encountered such strangely horrible toilet paper.
So my first impression was that the Queen didn't even care enough to get good toilet paper to put her name and emblem on. I realize it had nothing to do with her in reality and knew that then, but still, that was my first impression: the Queen's label on a roll of really horrible and cheap toilet paper, stamped on about every sheet, showed just how much she cared about the common people.
Living in the North of England later on didn't change my perceptions. Some Northumbrians, and Novocastrians (people from Newcastle) really love the monarchy, many don't. Apparently the dislike was reciprocated. Local legend had it that Queen Victoria would lower her blinds so she wouldn't have to look at Newcastle as she raced through the city station on her steam train to Scotland. And when the royals would have a state visit to Newcastle when I was there (just a wee bit after Victoria's time!

), yes, people would line the streets cheering, but even more would be muttering under their breaths and trying to go about their normal business while the 'toffs' screwed everything up with their parades and such.
Now, I'm going to be the first to admit the hagiography over American elites/heroes isn't any better than Britain's, although our toilet paper was nicer feeling than theirs was in the past!
Here's an earworm on this very subject, from right about the time I was experiencing English bog roll! [video:https://www.youtube.com/watch?v=g-38GX2YQig]
So, thanks for reading and here's the open thread - and remember, everything is interesting if you dive deep enough, so tell us about where you're diving!