The Dose 1-23-22
Submitted by Lookout on Sun, 01/23/2022 - 6:02am
A Time for Healing
A COVID centric conversation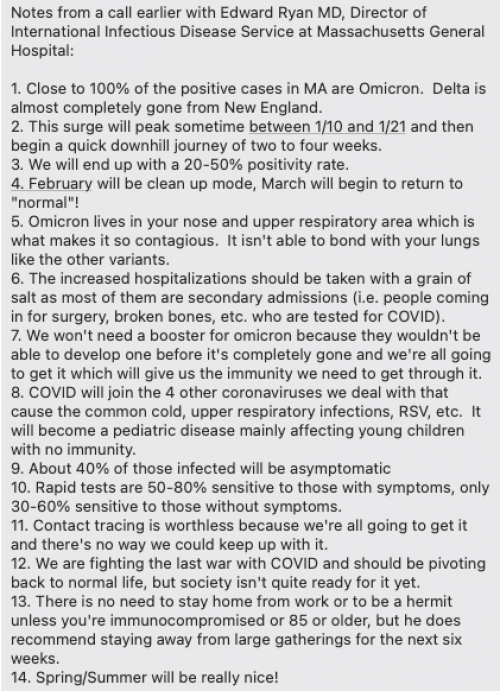 Hat tip ggersh
We're coming to the end of our collective COVID conflict. (hat tip CB)
Everyone needs to be prepared to fend off the omicron variant. Omicron's theme song?
We've had endless conversation about preventative measures. Here's a 1.7 hour long, but informative, discussion for those that want more...
https://www.covidcon21.com/index.php/natural-prevention-early-treatment/
Low hanging fruit...
65-95% of Americans are deficient in Vitamin D
60-84% of Americans are deficient in Vitamin E
37-46% of Americans are deficient in Vitamin C
35-45% of Americans are deficient in Vitamin A
11-15% of Americans are deficient in Zinc
As a result of deficiencies in these essential nutrients for optimal immune performance, the body is unable to make a sufficient amount of several antioxidants used to support the immune response…most notably Glutathione.
Vitamin D – Coordinates Immune Response, Stimulates Antimicrobial Peptides, Cytokines and Immune Cell Proliferation.
Vitamin E – Antioxidant. Protects Healthy Cells. Enhances B And T Cell Response.
Vitamin C – Antioxidant. Protects Healthy Cells Including Activated Immune Cells. Antiviral. Increases Systemic Interferon Response And Serum Antibody Levels.
Vitamin A – Coordinates Cellular Immune Response, Promotes Immune Cell Proliferation, Enhances Mucosal Integrity.
Zinc – Essential For Binding Capacity And Optimizing Lethality Of Immune Cells. Promotes Antiviral Enzyme Blocking Viral Replication.
Quercetin – Zinc Ionophore, Essential For Helping Zinc Get Into Cells. Enhances Nerve Conduction & Perception. Green Tea Also Has Zinc Ionophore Capability.
Bifidobacterium – Probiotic, Essential For Healthy Microbiome & Management Of Pro-Inflammatory Response Post-Infection. Calms Anxiety.
Additional Consideration – Multivitamin With Pantothenic Acid (Vitamin B5) 100mg Or Higher Per Serving To Drive ATP Energy Production. ATP Energy Production Maximizes The Cellular Effectiveness Of The Aforementioned Nutrients And Overall Immunological Response.
Energy Production Leads To Enzyme Production. Enzyme Production Leads To Optimized Immunological Response.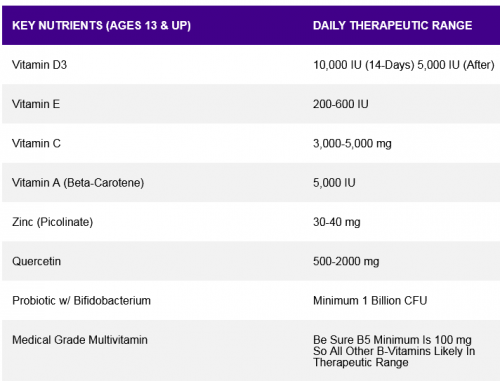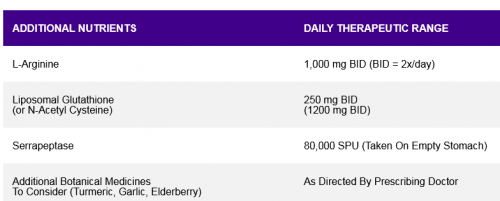 Symptoms of omicron...
The top 5 symptoms in both periods were:
1. runny nose
2. headache
3. fatigue (mild or severe)
4. sneezing
5. sore throat
This clip starts with some preventative herbal recipes, and moves on to the updated protocol for omicron including the addition of HCQ...
Dr. Pierre Kory shares updates about the omicron variant, and discusses the now-peer-reviewed study from Brazil, the world's largest study of ivermectin for COVID-19. Then Louisa Clary joins him to talk about the upcoming 'Defeat the Mandates' march, taking place on January 23 in Washington, D.C. https://defeatthemandatesdc.com/
Check website for possible live stream today [EDIT to add Starts at 11:30 EST]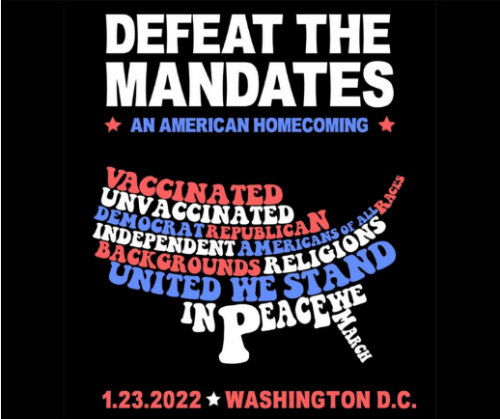 It'll be cold in DC today...
Join Robert F. Kennedy, Jr. this Sunday, January 23 in DC at the Defeat the Mandates rally
So prepare your immune system, and hope to be asymptomatic. That's our approach. Good luck to us all as we move past this current COVID crisis. Hopefully they won't introduce a new more virulent virus as recommended in the 2010 Rockefeller Project Lockstep.