The Dose 11-28-21
Submitted by Lookout on Sun, 11/28/2021 - 6:01am



The column for all COVID conversation
Brought to you today and everyday by Pfizer...
Mandating a leaky vaccine simply doesn't make sense on any level. Most scientists agree we will all (vaxed and uvaxed) get COVID. It is no wonder people are coming unglued and hitting the streets fearing not COVID but the new social order being shoved down our collective throats. Chris addresses the outrage.
Protests erupted all over Europe and in Australia over the prospect of renewed lockdowns, vaccinating children and other Covid measures. They're fed up. I am fed up. You are fed up.

The main problem? None of the measures have actually worked so far and are an incoherent mess. This is creating even more friction within and among the citizenry.

To avoid being a 'rat in a cage' your first step toward freedom rests in understand who is delivering the shocks and why.
TPTB want the people afraid, very afraid. The new variants gonna get you! It is a pandemic managed not just for profit, but for control.
Fear is a tool TPTB use to control us, but should we be afraid? At my age it is a concern, but not a fear. The hype is larger than the risks.
This piece is well worth a whole read and was posted earlier by L. Moonbat
It explains why we should not be afraid and how to keep things in perspective.
https://off-guardian.org/2021/09/22/30-facts-you-need-to-know-your-covid...
He explains each of the 30 points...
1. The survival rate of "Covid" is over 99%.
2. There has been NO unusual excess mortality.
3. "Covid death" counts are artificially inflated.
4. The vast majority of covid deaths have serious comorbidities.
5. Average age of "Covid death" is greater than the average life expectancy.
6. Covid mortality exactly mirrors the natural mortality curve.
7. There has been a massive increase in the use of "unlawful" Do Not Resuscitate Orders
8. Lockdowns do not prevent the spread of disease.
9. Lockdowns kill people.
10. Hospitals were never unusually over-burdened.
11. PCR tests were not designed to diagnose illness.
12. PCR Tests have a history of being inaccurate and unreliable.
13. The CT values of the PCR tests are too high.
14. The World Health Organization (Twice) Admitted PCR tests produced false positives.
15. The scientific basis for Covid tests is questionable.
16. The majority of Covid infections are "asymptomatic".
17. There is very little evidence supporting the alleged danger of "asymptomatic transmission".
18. Ventilation is NOT a treatment for respiratory viruses.
19. Ventilators killed people.
20. Masks don't work.
21. Masks are bad for your health.
22. Masks are bad for the planet.
23. Covid "vaccines" are totally unprecedented.
24. Vaccines do not confer immunity or prevent transmission.
25. The vaccines were rushed and have unknown longterm effects.
26. Vaccine manufacturers have been granted legal indemnity should they cause harm.
27. The EU was preparing "vaccine passports" at least a YEAR before the pandemic.
28. A "training exercise" predicted the pandemic just weeks before it started.
29. Since the beginning of 2020, the Flu has "disappeared".
30. The elite have made fortunes during the pandemic.
I agree with most of these points, but could quibble over some items on the list. However the thrust of the piece is that the danger and risk of this disease has been hyped up so people will be scared.
Trader Gregory Mannarino interviews a Las Vegas doctor who continues the explanation.
(30 min)
Dr. Harding may pay a price for this interview depending on its spread.
So my idea is to be prepared and prevent this disease.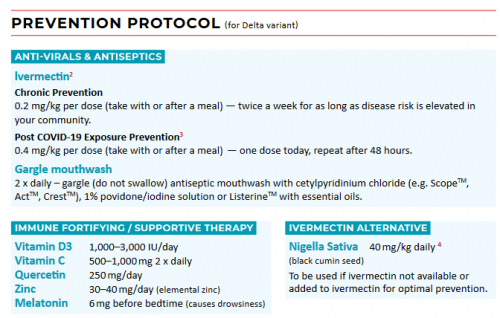 Don't be afraid. Don't be controlled. Be prepared.