Open Thread - Homesteading in France
Submitted by Dawn's Meta on Thu, 10/28/2021 - 8:00am
Wood, Woods, Firewood
Since our pompe à chaleur (heat pump) died, we've been hard up for heat. It was an air to water heater for underfloor radiant for the ground floor and for radiators upstairs. Really nice heat.
The outdoor unit had a long refrigerant copper pipe connected to an indoor mixer which also boosted using high cost electricité. We paid over 1000 euros last January before we knew that something was broken. The copper pipe broke in a strong storm just inside the outside casing an evacuated all the refrigerant. That is a big environmental no-no.
We didn't know for a couple of months something had gone horribly wrong, but we could tell the heating wasn't right as we couldn't get above 18° C pushing 24/7.
Once we found out we turned off the heat. Luckily, it was a moderate Summer.
But now we need heat so we had a Jøtul with pipe in brown enamel that we picked up in the Jura two years ago, and had a friend sell us a nice German house stove for 500 euros and stove pipe lined with fire clay for that much more. Really good deals.
Just in time we have the big stove with pipe up and running. We shopped for firewood as that is what people do in rural France this time of the year. We found a dry stash of mixed woods from a guy five kilometers nearby. He had converted to a house-sized pellet furnace and had a lot of one meter length wood put by.
It is a two year old German stove with triple burn. Our stove pipe is several meters in length and tops our roof ridge. Even on a calm day our steam/smoke rises well.
WOODS
The usual forest or woodlot here is a mix of deciduous and a few conifers called Sapin.
We see Beech, Hornbeam, Birch, and believe it or not, Doug Fir.
Our Petite Riviere flooding through the woods.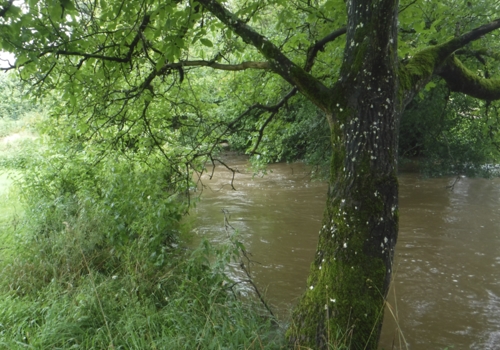 Douglas Fir (Pseudotsuga menziesii) is planted in many European locations: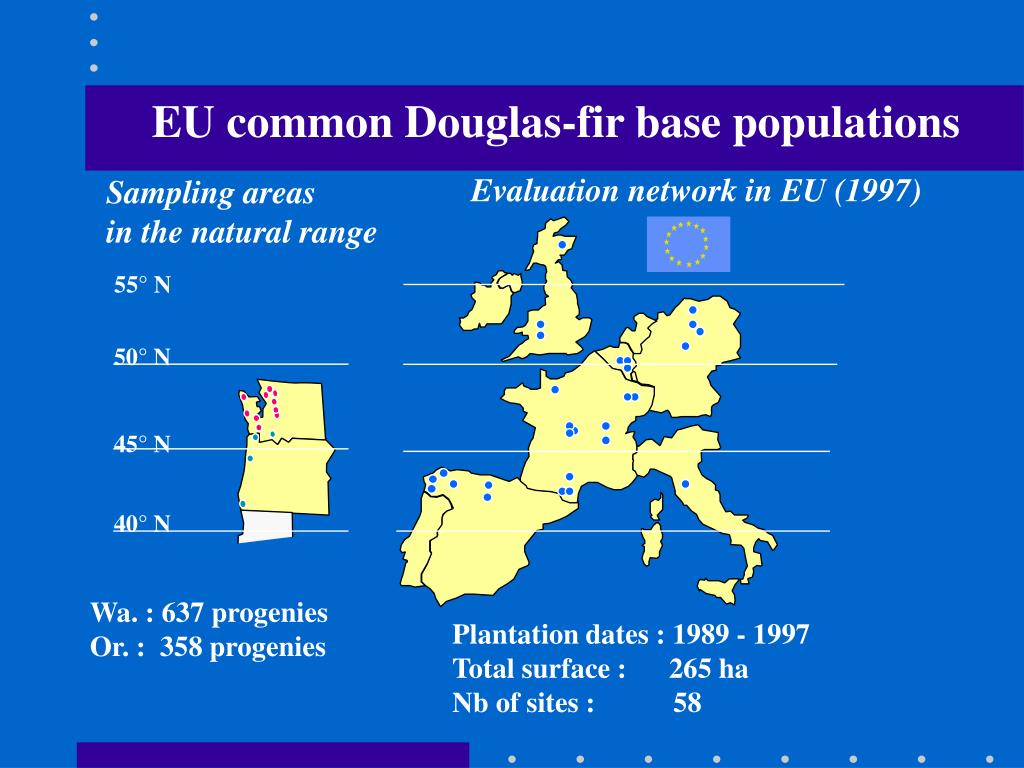 It is hard to visualize, but many stands are in such straight homogenous rows we call them corduroy trees. They are like the hatchery Salmon, all one DNA so very susceptible to disease and pests. We are seeing beetle-kill everywhere, and beginning to show near us.
As Suzanne Simard imparts over and over, if we planted with diversity we would have much more mycorrhizal fungi and healthier wood-stands and forests.
Fungi relationships
Doug Fir and other mychorrhizal relationships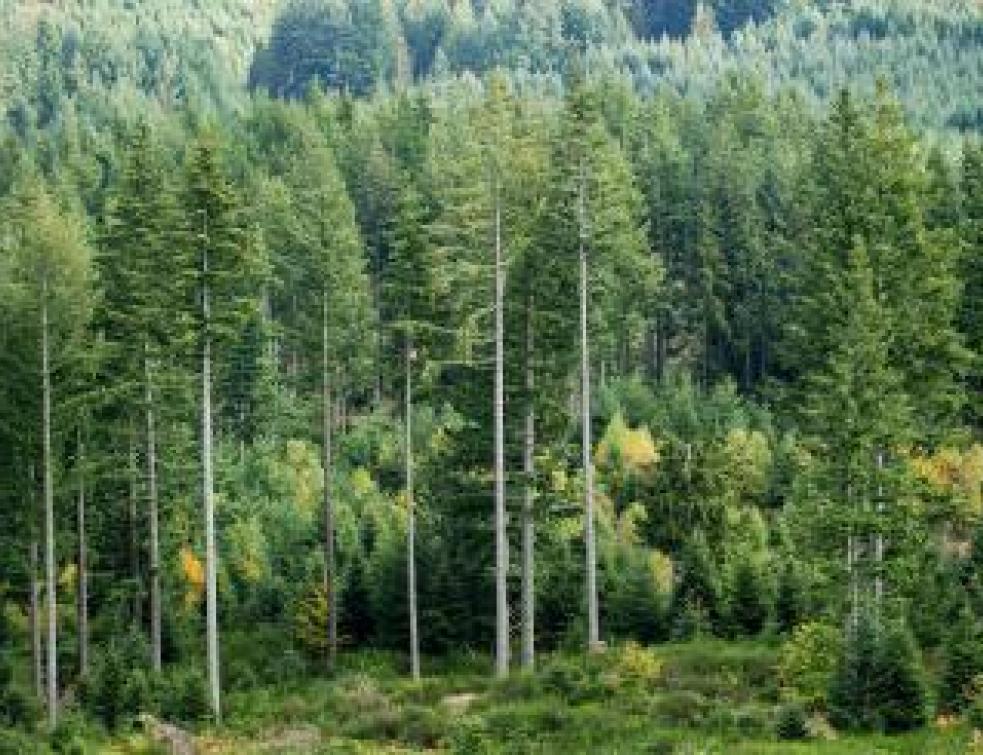 What will we do with all that wood?
But the queen of trees here is the Oak.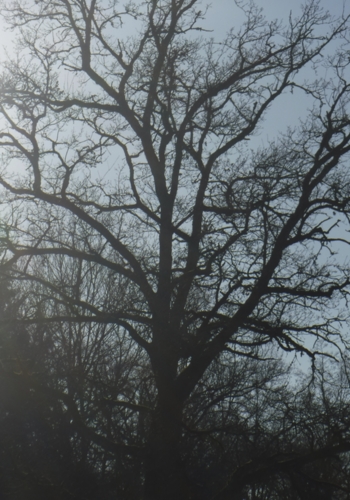 Wood for Stoves
Cut wood for stoves comes cut usually in one meter lengths. Our stove takes 50 cm and the little Jøtul takes 30 cm. We are cut for the large stove but will buck the smaller pieces as we need them for the other end of the house.
One cubic meter is a Stere. Three stere, which we bought for 45 euros each, is one meter high and wide by three long. We'll see how long it lasts.
We have a new covered wood store on a concrete paver base. We've been loading up our wood cover, and trying to figure out where we will put our tinder.
Little remorques (car trailers) are hauling wood all day right now.
The heat from our big stove comes up the stairway into the mezzanine and heats the entire second floor. We will be comfortable.
We have mostly dry mixed deciduous. We will try to find some Oak to add in for long burning.
[video:https://youtu.be/aXZ4Kc5zs8M]
Our Garden
We have been eating our first salads with greens and Radishes from our raised beds. And we've had colorful Chard cooked in butter, with Shallots and garlic. Everything is surviving cold nights with ripple plastic roofing panels. So far so good.
In France this Week
The Jilets Jaunes are not yet gone.
Season 2
The Yellow Vests poised to restart marching in Paris: The Bastille monument is in the background and a "Stop the genocide of the Gauls" sign is at the head of the demonstration. (All photos By Ramin Mazaheri).
Le Monde Diplomatique
COP26, one last chance before disaster?
The UN's 26th climate conference in Glasgow aims to translate the pious words of the 2015 Paris Agreement into tough action before it's too late. Can it succeed?

COP26 - Last Chance?
France 24
President Emmanuel Macron on Wednesday hailed a breakthrough moment as France returned 26 artefacts looted during the colonial era to Benin at a special ceremony at the Quai Branly museum in Paris. The treasures were embarking on a "journey to return back home", said Macron.
"Abomey Treasures" returned home
Le Connexion France
Calls to bring back guillotine 'defy French law'
A populist suggestion to reinstate the death penalty in France is constitutionally impossible, says Amnesty International's Anne Denis
Return of death penalty not likely.
Sophie Fornairon's independent bookshop has survived the rise of Amazon thanks to a French law that prohibits price discounting on new books, but she says the e-commerce giant's ability to undercut on shipping still skews the market against stores like hers.