The Weekly Watch
Submitted by Lookout on Sun, 10/17/2021 - 6:23am
A Bull in a China Shop:
a person who breaks things or who often makes mistakes or causes damage in situations that require careful thinking or behavior




Creating a China Conflict
Is it WMD deja vu all over again? There is a steady drum beat trying to create a major conflict with China. Some how it is China which is the aggressor, but it is western powers sailing war fleets up and down China's coast. Today we'll hear a number of voices describe this foolish rush to war instead of working cooperatively toward the survival of the species.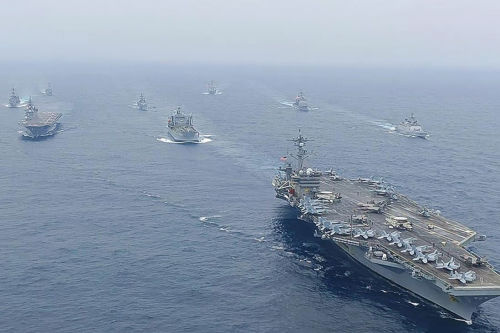 The best conversation I heard all week was among Michael Hudson, Ben Norton, and Max Blumenthal. They discuss Hudson's book "Super Imperialism: The Economic Strategy of American Empire." Professor Hudson just published a 3rd edition that updates his analysis for the 21st century, discussing the new cold war on China and Russia and the ongoing transition from a US dollar-dominated financialized system to a "multipolar de-dollarized economy." Insightful conversation about US aggression if you can spare an hour and a half.
Ben has two other good clips from the week...

Debunking media propaganda claiming China is 'colonizing' Latin America (20 min)
Corporate media outlets have absurdly accused China of "neocolonialism" in Latin America, while whitewashing nonstop US imperialist intervention.

How US is threatening China to turn Taiwan back into nuke-armed military base (40 min)
The US had a military base, armed with nuclear weapons, in Taiwan for decades, and threatened to nuke mainland China. Ben Norton discusses how Washington is provoking Beijing, risking war, to try to rebuild that base and have a Pacific foothold for the new cold war.
Taiwan has been in the news a lot lately, and it's really bringing out the crazy in people.

The mass media have been falsely reporting that China has been encroaching on Taiwan's "air defense zone", which gets stretched into the even more ludicrous claim that China "sent warplanes flying over Taiwan". In reality Chinese planes simply entered an arbitrarily designated area hundreds of miles from Taiwan's coast it calls its "Air Defence Identification Zone", which has no legally recognized existence and contains a significant portion of China's mainland. This is likely a response to the way the US and its allies have been constantly sailing war ships into disputed waters to threaten Beijing.

As Moon of Alabama reports, US warmongers inflamed this non-controversy even further by feeding a story to the press about the already public information that there are American troops in Taiwan training the military there, citing "concern" about the danger posed by China.
How The 'China is a Threat' Fake News Cycle Works
...

Propaganda has made us so compartmentalized and detached from the realities of the horrors of war. If people could really see what war is and what it does, truly grok deep down in their guts how their own governments are inflicting those horrors on people right now, they'd fall to their knees in anguish and never again advocate for such things. No sane person would support a war of this scale if they truly understood what it would mean.
https://caitlinjohnstone.com/2021/10/08/anyone-whod-support-going-to-war...
Col. Lawrence Wilkerson on US China Relations: We Are Creating Our Own Worst Nightmare
President Joe Biden met with President Vladimir Putin of Russia in Geneva on June 16. US-Russia "disarmament discussions have been pushed to the back burner. Instead, treaty compliance disputes have dominated bilateral engagements. Meanwhile, each side is rushing to replace and upgrade its bloated nuclear arsenal," writes Daryl Kimball in Arms Control Today.

Meanwhile, the U.S. is intensifying technological and economic competition with China and using US-China military tension to justify an increased Pentagon budget. Congress is preparing to pass Sen. Robert Menendez's Strategic Competition Act of 2021 (S.1169), which constitutes a de facto declaration of a New Cold War with the People's Republic of China. It would codify a comprehensive, and systematic strategic competition with China as the organizing principle for U.S. domestic, foreign, and defense policies, and possibly for other nations as well.
(12 min)
Vijay Prashad, historian, journalist, and commentator, spoke about the US' new Cold War with China. He touched on the impact of colonialism on China, the US campaign to isolate China, Xinjiang, Taiwan and the US-Australian submarine deal. He was interviewed by Merriam Ansara. (25 min)
Another excellent interview with Vijay Prashad, a writer, a journalist and the executive director of Tricontinental: Institute for Social Research. He discusses the Western countries powerful propaganda machine and its hybrid war on China.
https://www.youtube.com/watch?v=3_-w7IsUvwQ (44 min) Time stamps at the link.
Are we approaching a new war with China?
Garland Nixon discusses it with George Galloway. (12 min)
They suggest China could wage an economic war to head off a hot war, and also examine US politics in the last 5 minutes.
The CIA announced a number of structural changes on Thursday, including a new mission center for China, the result of a months-long review and a reflection of the intelligence community's view of China as the greatest long-term threat to the United States.
The new China Mission Center "will further strengthen our collective work on the most important geopolitical threat we face in the 21st century, an increasingly adversarial Chinese government," CIA Director William Burns said in a statement, echoing what the veteran diplomat had said during his Senate confirmation hearings would be among his main priorities at the helm of the agency.
https://edition.cnn.com/2021/10/07/politics/cia-china-mission-center/ind...
Biden pushes war with lies and false narratives....
US President Joe Biden in a speech on Friday linked Beijing's policies targeting the Uygurs in China's Xinjiang region to the horrors of the Holocaust more than seven decades ago, and warned against global silence and complicity as world leaders trample on individual human rights.
Interesting in his litany of human rights crises, he failed to mention Israel's genocide of the Palestinians. I guess Chinese Muslims are somehow more important.
Too bad Bye-done doesn't read the newspaper. (6 min)
BREAKING: Associated Press Says "There's NO Uyghur Genocide in Xinjiang"!!!
https://apnews.com/article/coronavirus-pandemic-lifestyle-china-health-t...
[video:https://rokfin.com/post/54665/China-Wall-Street-and-the-New-Global-Econo...
https://www.corbettreport.com/interview-1666-james-corbett-on-research-c...
Hypocrisy is plain to see if people would think for themselves, question, and look.
A number of people in the West on one hand say they " love and stand with Chinese people," yet on the other hand defaming Chinese culture and using slurs referring to Chinese.
Any ridiculous baseless accusations towards China even with apparent loopholes will get front page coverage on Western media yet any fact-based positive voices about China will be attacked or shut down. Isn't that care for Chinese people very hypocritical?
They don't really care about China or Chinese people, it's part of the Western governments' propaganda war to paint a negative image of China globally.
This is my full speech for The Propaganda War Against China (13 min)
British researcher exposes Western propaganda against China (20 min)
Here is a nice example how the U.S. keeps certain issues in the news and thereby propagandizes its people against its perceived enemies. The US cannot defend Taiwan, and China knows it
Daniel Dumbrill: people must understand how propaganda is used to build public support for war (12.5 min)
Jeff Sachs: The US Should Pursue Cooperation with China
Jeff is too partisan for me but I sure think cooperation is better than conflict and would serve people in real terms
"Cooperation is not cowardice, as American conservatives repeatedly claim," wrote Jeff Sachs in a February 2021 article. "Both the US and China have much to gain from it: peace, expanded markets, accelerated technological progress, the avoidance of a new arms race, progress against COVID-19, a robust global jobs recovery, and a shared effort against climate change."
In other recent articles, Sachs argued that the Xinjiang genocide allegations are unjustified and that the recent US/China agreement to cooperate on climate change is an important and welcome development.
So, today, under conditions of deepening social, political and economic crisis, dominant sections of the American ruling class see a conflict with China as a mechanism for enforcing "national unity," which means, in practice, suppressing and criminalizing domestic opposition.

This view is spelled out by Financial Times columnist Janan Ganesh in a February 2021 column titled,
https://www.wsws.org/en/articles/2021/10/09/pers-o09.html
Caity nails it again...
https://caitlinjohnstone.com/2021/10/16/it-takes-a-lot-of-education-to-k...
The oligarchic empire is working harder and harder to bolt down our minds in service of its agendas.

Silicon Valley is working more and more openly in conjunction with the US government, and its algorithms elevate empire-authorized narratives while hiding unapproved ones with increasing brazenness.

The mass media have become so blatantly propagandistic that US intelligence operatives are now openly employed by news outlets they used to have to infiltrate covertly.

NATO and military institutions are studying and testing new forms of mass-scale psychological manipulation to advance the still developing science of propaganda.

A transparently fake "whistleblower" is being promoted by the US political/media class to manufacture support for more internet censorship and shore up monopolistic control for institutions like Facebook who are willing to enforce it.

Wikipedia is an imperial narrative control operation.

They've imprisoned a journalist for exposing US war crimes after the CIA plotted to kidnap and assassinate him.
...

If you can control how people think about what's going on in their world, if you can control their shared how-it-is stories about what's happening and what's true, then you can advance any agenda you want to. You'll be able to prevent them from rising up against you as you steal their wealth, exploit their labor, destroy their ecosystem and send their children off to war. You can keep them voting for political institutions you own and control. You can keep them from interfering in your ability to wage wars around the world and sanction entire populations into starvation to advance your geostrategic goals.

This status quo of exploitation, ecocide, oppression and war benefits our rulers immensely, bringing them more wealth and power than the kings of old could ever dream of. And like the kings of old they are not going to relinquish power of their own accord,...
So is it even possible to avoid a war with China. Are we caught in Thucydide's trap?
Destined for War: Can America and China Escape Thucydides's Trap?
Or is it possible to avoid this terrible looming war? I liked George and Garland's hypothesis that China could take down the US currency hurting the US more than themselves and avoiding a hot war by creating an economic conflict instead. There's no doubt we all need to be calling out America's aggressive behavior and quelling the anti-China nonsense spewing out of the MSM.