Open Thread - Homesteading in France
Submitted by Dawn's Meta on Thu, 10/14/2021 - 8:00am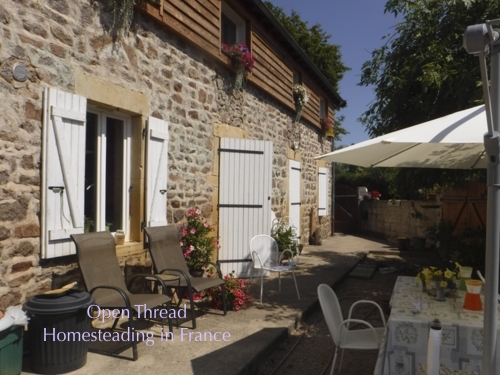 TOUSSAINT and FALL
Why you Never Take Chrysanthemums as a House Gift
When we first started investigating where to retire, we came down to finally France. In 2010 we were already on the east coast for a conference, so using our air miles (remember those?) we kept going East and landed at Charles de Gaulle.
France is the size of Washington and Oregon plus the six big points.
We had deliberately chosen an area further into France than the regions directly across from England and settled by many British, The Midi Pyrenees.
It was Fall and gorgeous. We stayed in three areas in the Midi Pyrenees: Castelnau-Magnoac just two hours from Spain; Cordes-sur-Ciel, a bastide town, and Dijon. We had seen a lot of the area watching the Tour de France.
In our second stay in the hilltop town of Cordes-sur-Ciel, we met English speaking French and British people. Visiting for dinner we learned not to make the dreaded mistake of taking Mums, which had sprung up in all the markets and spilled out of flower shops everywhere.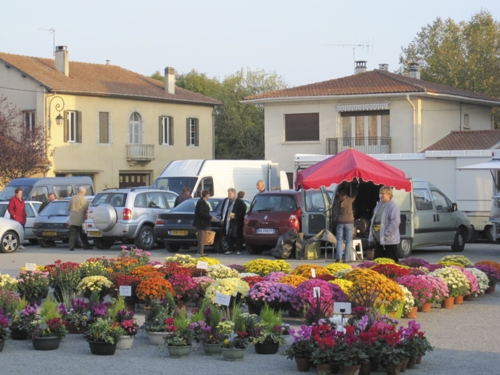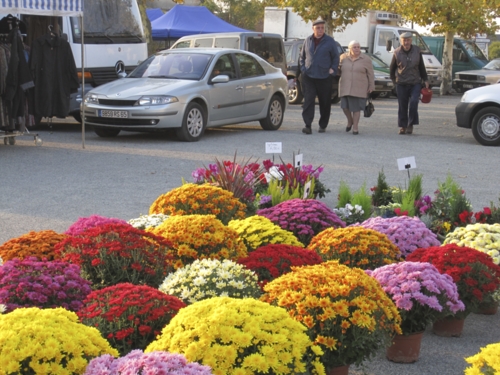 We finally understood that the feast day of Toussaint, or All Saints' Day, November 1st, the cemeteries burst with pots of Mums for departed loved ones and ancient families.
It would be bad form or worse to take Mums to a new acquaintance, and there are many other bouquet flowers to chose from.
A frenzy of flower buying and cemetery visits take place before the actual Saints' Day. On that day, almost everyone starts the day in a procession followed by Mass, then lots of family meals. We stumbled on a lovely village along the Aveyron River, Saint-Antonin-Noble-Val. The procession was in progress:

This village was tucked across a small bridge (pont) at the foot of limestone cliffs. These were sheepherding people and this group was wearing their traditonal garb.
As we made our way out of the region to our last stay in Dijon, we stopped in Lyon, the food capital of France. This city deserves its own essay, but we think it is much more typical of France than the Disneyland of Paris and so much more approachable. The food is everywhere.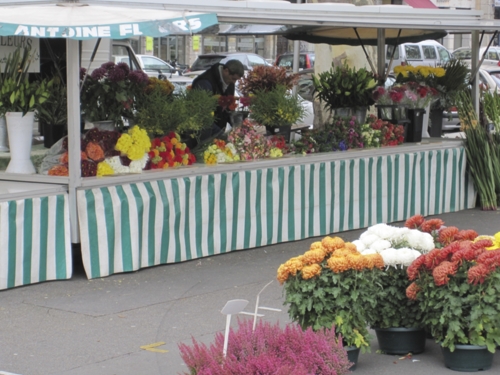 We were traveling by TGV-Train à Grande Vitesse, high-speed train. We love them. We stayed just enough in Lyon to whet our appetites for future visits and continued up to Dijon, which was in full Fall markets.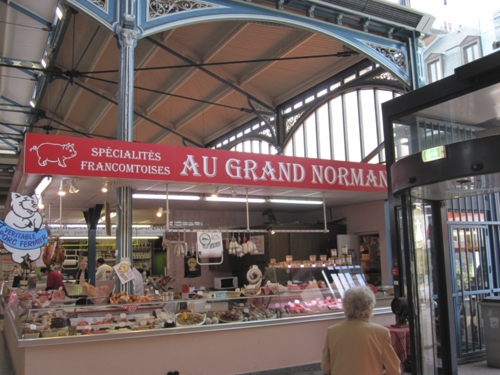 The Chanterelles, Boletes and other savory mushrooms were everywhere. This market in central Dijon was designed and built by Eiffel. It is a sensory overload experience.
While we still had the rental car which we put over 1500 miles on, we climbed out onto a remote plateau called the Campagnole. With a view to the valley below, we caught a huge bonfire just at dusk. The sunlight striking the limestone cliffs was golden.
We fell in love with this beautiful region of France. But in the end, realized that the criteria we had for aging in place required more access to trains, services and active cities and towns serving rural villages.