The costs of the covid lockdowns are far too high
Submitted by gjohnsit on Tue, 01/26/2021 - 3:36pm
One of the legacy problems of Trump is that criticism of the covid response became a partisan issue. It should never have been. The Trump Administration completely botched the response to the pandemic, but that doesn't mean that doing the opposite of the Trump response is the correct response either.
Almost no one is looking at the real-world costs of the lockdowns. I'm talking about the costs in lives destroyed.

The pandemic and recession were associated with a 10% to 60% increase in deaths of despair above already high pre-pandemic levels, according to a working paper by Casey Mulligan, professor of economics at the University of Chicago. These non-COVID excess deaths are disproportionately experienced by men aged 15-55, he found. Some health professionals, however, have said such estimates are both premature and overzealous in their projections.

"From March onward, excess deaths are approximately 250,000 of which about 17,000 appear to be a COVID under-count and 30,000 non-COVID. Deaths of despair — drug overdose, suicide, alcohol — in 2017 and 2018 are good predictors of the demographic groups with [non-COVID excess deaths] in 2020," Mulligan wrote in his paper, distributed this month by the National Bureau of Economic Research.
...
The government's unemployment rate hovered at 6.7% in December, and the number of unemployed workers was 10.7 million. However, the Economic Policy Institute, a progressive think tank, argues that a breakdown of government figures and other estimates based on those paint a far bleaker picture due to the business closures and public-health restrictions related to COVID-19: 26.8 million workers are being negatively affected — or nearly 16% of the workforce.
There is some debate about the accuracy of these numbers, but fortunately I have several other studies to help bolster my point. For starters, the official numbers dramatically underestimate the economic devastation that the covid lockdowns have inflicted upon the bottom 40%.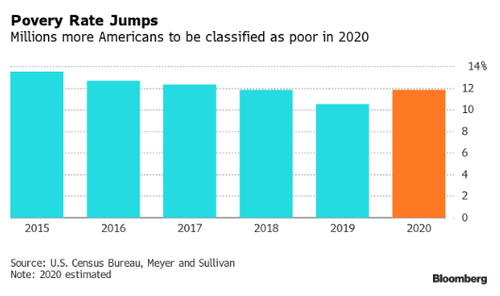 The end of 2020 brought the sharpest rise in the U.S. poverty rate since the 1960s, according to a study released Monday.

Economists Bruce Meyer, from the University of Chicago, and James Sullivan of the University of Notre Dame found that the poverty rate increased by 2.4 percentage points during the latter half of 2020 as the U.S. continued to suffer the economic impacts from Covid-19.
That percentage-point rise is nearly double the largest annual increase in poverty since the 1960s. This means an additional 8 million people nationwide are now considered poor.
According to a recent Oxfam study, it's evidence of the "greatest rise in inequality since records began."
Now you may ask if this catastrophy was avoidable? Did we have to sacrifice tens of thousands of lives of poor people with the covid lockdowns, in order to save hundreds of thousands of lives of potentially wealthy people?
The answer is, no, we did not.
First, there is this study.

The most restrictive non‐pharmaceutical interventions (NPIs) for controlling the spread of COVID‐19 are mandatory stay‐at‐home and business closures. Given the consequences of these policies, it is important to assess their effects. We evaluate the effects on epidemic case growth of more restrictive NPIs (mrNPIs), above and beyond those of less restrictive NPIs (lrNPIs).
Now notice this study wasn't about stupid stuff, like "wearing masks is tyranny". This was simply about measuring whether the lockdowns worked and are necessary.

Implementing any NPIs was associated with significant reductions in case growth in 9 out of 10 study countries, including South Korea and Sweden that implemented only lrNPIs (Spain had a non‐significant effect). After subtracting the epidemic and lrNPI effects, we find no clear, significant beneficial effect of mrNPIs on case growth in any country...
While small benefits cannot be excluded, we do not find significant benefits on case growth of more restrictive NPIs. Similar reductions in case growth may be achievable with less restrictive interventions.
It's pretty clear that the covid lockdowns have little to no benefit at preventing the spread of the virus. So then why are they still being used, and so few people are willing to question them?
The answer is obvious: Because the harm caused by the lockdowns falls exclusively on the working poor, and no one gives a flying fuck about the working poor. If thousands of poor people must die to save the lives of a handful of wealthy people, then the government, media, and comfortable suburban liberals will take that trade-off every time.
I'm no expert in medicine, but it seems to me that if you want to stop a pandemic, you'll want to 1) identify who is infected, and then 2) quarantine and treat those that are infected (rather than those that aren't infected).
Correct me if I'm wrong, but that seems to be the more logical way to do things.
Remember when covid first hit and getting a test for covid cost $3,000?
After a couple months, and the virus got out of control because no one was getting tested, the government subsidized covid tests.
[Update: Hospitals weren't actually charging $3K for a covid test, per se. Instead people who just wanted a covid test were being charged $3K for tests they didn't ask for, a condition built into our health care system and not fixed.
In addition, even 'free' covid tests can get you billed hundreds of dollars.]
But being treated for covid still costs tens (or hundreds) of thousands of dollars, so unless you are on death's doorstep you won't bother getting treated for covid.
If you want to control the virus, you must address our fucked up for-profit health care system.