Friday Open Thread: What are you reading? ~ Dave Zirin
Submitted by phillybluesfan on Fri, 10/30/2020 - 5:00am
Dave Zirin, born 1974, is an American political sportswriter. He is the sports editor for The Nation, a weekly progressive magazine dedicated to politics and culture, and writes a blog named Edge of Sports: the weekly sports column by Dave Zirin.
Dave Zirin, "Protocols exist to protect players from themselves and - during a pandemic -from each other."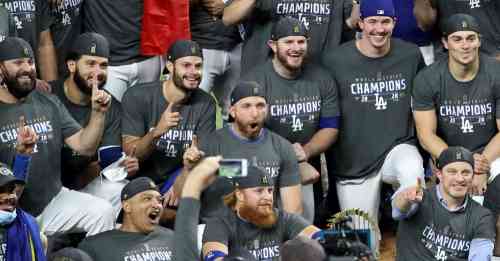 Baseball has always, even more than other sports, reflected the times in which we live. Last night the national pastime, in this regard, did not disappoint. Dodgers third baseman, the man with the fire-red hair and firebrand personality, Justin Turner—recognized as the heart of the team—has entered the realm of infamy after being pulled from the game in the eighth inning on orders from Major League Baseball for having tested positive for the coronavirus.

But that wasn't the worst of it. After being told to self-isolate, Turner insisted on being on the field for the postgame celebration. And so there he was—unmasked, kissing his wife, and commingling with his teammates. He sat for commemorative photos next to his beloved manager, Dave Roberts, who 10 years ago was diagnosed with Hodgkin's lymphoma, putting him at an exceptionally high risk if he ends up contracting the virus.

Turner should have never taken the field in the first place. His initial test came back "inconclusive." The Dodgers and MLB let him play anyway, at least until his sample—tested and retested—came back positive.
In 2014, the first athlete to bring the Black Lives Matter movement to a place of protest during the National Anthem wasn't an NBA or NFL player. It was Ariyana Smith of Knox College. We speak to her about the recent explosion of BLM activism in sports.

We also have some 'Choice Words' about the state of college football and the move by some athletes to move forward with the season. In addition, we have 'Just Stand Up' and 'Just Sit Down' awards to Lebron James and others for keeping the focus on the killing of Breonna Taylor. All that and more on this week's Edge of Sports!
SERVANT LEADER

A very influential and powerful leader, Zirin has written many works that make him worthy of the title "servant leader," though at first one may not recognize the politics of sports as a subject that could truly enhance people's lives and make a difference in the world.

Making Way For A Just World

Zirin recently came to Butler University for the 2015 CCOM Symposium and discussed the topic of jock culture and rape culture. Though at the beginning of his talk he mentioned his topic as not fitting in with the others, I am willing to argue that Zirin is in fact a servant leader.

The main argument of Zirin's speech was that "rape culture is exacerbated by sports" however "male team sports can actually be a force to stop sexual violence." Zirin argues that jock culture can be "wielded to fight instances of sexual assault."

What Exactly Is Jock Culture and Rape Culture?

As defined by Zirin, jock culture is the "personality and character of the male locker room" and this environment is determined by the coach and older players. Student athletes feel empowered because the position they hold as male team sports players is worshiped and praised and founded on the idea of what it is to be a man.

Student Athletes are fed to believe that they are entitled. Jock Culture enhances the idea of being a man and that being a man gives you certain rights over others.

According to Zurin, jock culture can be used to encourage rape culture. Rape culture is the fact that sexual violence and assault occur, and both men and woman see that this is happening all around them so often that they choose not to take action about it. Rape is normalized, and the sense of entitlement that jock culture builds in young men worsens and magnifies rape culture.

Happening Now: Jock Culture Does Not Fight, But Encourages Rape Culture

In order to further his point on how much jock culture effects and even stimulates rape culture, Zirin gives examples of incidents in universities. One, for example, was the case in Maryville, where athletes were actually counting on the jock culture to keep rapes and sexual assaults quiet.

Turn Jock Culture Around

Zirin emphasizes that jock culture does not always have to be negative and is not always negative, but nonetheless produces in student athletes an empowerment and feeling that they are "special." He argues that it can actually be reformed into a place in which rape culture is fought and rates of sexual violence incidents are lowered.

Servant Leadership, In Conclusion

The reason that Zirin fits so easily into the category of servant leadership is because of the message that he conveys. Also the act of him pursuing writing and speaking about how we should use jock culture to fight rape culture proves his loyalty to the making the world a better and more just place.

-- MCKENZIE BYRNE
Let's take a look at his books below the fold ...
Named one of UTNE Reader's "50 Visionaries Who Are Changing Our World", Dave Zirin writes about the politics of sports for the Nation Magazine. He is their first sports writer in 150 years of existence. Winner of Sport in Society and Northeastern University School of Journalism's 'Excellence in Sports Journalism' Award, Zirin is also the host of Sirius XM Radio's popular weekly show, Edge of Sports Radio. He has been called "the best sportswriter in the United States," by Robert Lipsyte. Dave Zirin is, in addition, a columnist for SLAM Magazine and the Progressive.

His most recent book, is the acclaimed Game Over: How Politics Has Turned the Sports World Upside Down (The New Press.) which Christine Brennan of USA Today called "the perfect book for our time in sports." Sports Illustrated called the book "provocative", writing, "It will make you think about what we're really seeing when we watch the games we love."

Zirin is the co-author of the NAACP Image Award nominated The John Carlos Story: The Sports Moment that Changed the World, published by Haymarket Books in September 2011.

In 2010, Zirin published Bad Sports: How Owners are Ruining the Games We Love (Scribner). Shock Doctrine author Naomi Klein called Bad Sports "an original and scathing look at how America works."

Zirin is also the author of A People's History of Sports in the United States, part of Howard Zinn's People's History Series for the New Press. A People's History of Sports forms the basis of a documentary co-written and narrated by Zirin called Not Just A Game: Power, Politics and American Sports, produced by the Media Education Foundation. He has a second documentary produced with MEF called Race, Power, and Politics in American Sports.

In addition he has written Welcome to the Terrordome: The Pain, Politics, and Promise of Sports (Haymarket Books), with a foreword by the immortal Chuck D. Sports Illustrated wrote that Terrordome is "a provocative, sometimes chilling, look at sports and society right now." His first book, What's My Name, Fool? Sports and Resistance in the United States (Haymarket Books) has entered its third printing. He has also written Brazil's Dance with the Devil: The World Cup, the Olympics, and the Struggle for Democracy