The Weekly Watch
Submitted by Lookout on Sun, 09/27/2020 - 6:44am

A Time to Regenerate
The world seems to be between a rock and a hard place. COVID has amplified the problems and made obvious the dysfunction of the system. Meanwhile the money machine goes brrr, funneling ever more wealth upward. The ecosystem is degrading faster than we imagined. People are protesting in the streets around the world. If there is a way out of this mess, I don't see it. Is it really the end times? If so, should we go out with a party celebrating our life, or fighting the system tooth and nail to the end, or perhaps both at the same time? I know this much, I'm going to do my best to live in harmony with the ecosystem as I wrap up my last decade or two. Of course that has been my path for many years now, so why stop at this point. As I stated last week, I feel for the young folks who we are leaving with all this dysfunction. This week I thought I would explore ecosystem restoration because restoring our political, economic, and social systems is beyond my ability.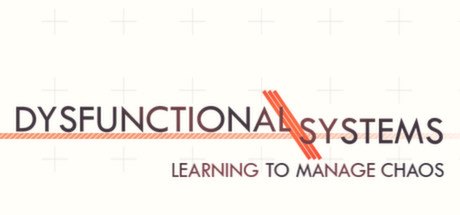 As many of you know I was trained as a soil scientist. Soils are a system I understand and can effect in positive ways. Healthy soils yield healthy foods which lead to healthy people. It is a positive feedback loop. Our food production systems like our sick care for profit system are failing us. The thing that put me on this train of thought is an interview I heard this week with the farmer Gabe Brown and Dr. Mark Hyman. Gabe explains why farmers are caught in a negative loop and the farming system is rigged. (1 min)
the entire discussion was interesting and worthwhile
https://www.youtube.com/watch?v=XJ_1oaf778k (1.2 hours)
If Gabe interests you, here's a nice 2.5 hour presentation of his take on farming.
Gabe Brown of Brown's Ranch in Bismarck, ND, shares his transformative journey of cultivating his farm from modern conventional use to a thriving living ecosystem. Through no-till and extensive cover crop usage, Gabe and his family are able to support a diverse array of farm and ranching enterprises that are both profitable and models of sustainability in regenerative agriculture. Learn more at www.brownsranch.us
I've featured some of the videos before, but it's been a few years and I enjoyed watching them all. I hope you you will enjoy the ones you pick and choose.
Soils are the media where the excess atmospheric carbon can be stored. (3.5 min)
Animals are key to restoring our farming systems. Because CAFO's are bad doesn't mean that all livestock operations are bad. In fact grazing animals are the vehicle for restoration and regeneration. Here's an Alabama farmer. (8 min)
We can do better! (23 min)
Modern agricultural systems use massive amounts of glyphosate that are in us, our water, and our soils. https://www.youtube.com/watch?v=qDOzu6mjsuI (20 min)
What is regenerative agriculture?
https://www.youtube.com/watch?v=_QxEOeT2Tno (5.5 min)
Carbon farming can make use of many different animal species.
https://www.youtube.com/watch?v=j89Wlop-LPw (9 min)
Regenerative agriculture is a world wide movement. (6 min from Australia)
Here's a some more Regenerative Aussies
https://www.youtube.com/watch?v=ob_asuZ6OtE (8 min)
https://www.youtube.com/watch?v=6vQW8Tl_KLc (13 min)
https://www.youtube.com/watch?v=FVFUS_8VYLo (8 min)

Allan Savory is a leader in the field. He has restored African savanna using cattle.
(12 min)
"carbon cowboys" is a documentary series in 10 parts, directed by peter byck. It tells the stories of cattle ranchers who work with nature instead of fighting her, creating healthy soils, ecosystems, animals and food in the process. (4 min trailer)

"The nation that destroys its soil destroys itself." - Franklin D. Roosevelt.
Finding a solution to combat climate change must include a change in our conventional agricultural system from one that depletes our soil to one that regenerates it. We must move away from our current soil-eroding, industrial farming practices, and, instead, return the animals to the land in a managed way to improve soil health and sequester CO2.
I live in the forest. For thirty plus years I've added to it. I do mow and burn patches to promote diversity, so I figure I've been sequestering carbon for these decades. Does it off set what I burn driving to town? I doubt it, but it is a step in the right direction. Though the eastern deciduous forest are a mere shadow of their state in 1700 at European arrival, there are remnants. That isn't the case in Scotland. They've had thousands of years to eliminate their forests. However there is an effort to bring back the ancient Caledonian forests.
https://www.youtube.com/watch?v=nAGHUkby2Is (20 min)
There is a battle to save and restore public lands. (2.5 min trailer)
Despite support from voters across the political spectrum, our public lands face unprecedented threats from extractive industries and the politicians in their pockets. Part love letter, part political exposé, Public Trust investigates how we arrived at this precarious moment through three heated conflicts—a national monument in the Utah desert, a mine in the Boundary Waters and oil drilling in the Arctic National Wildlife Refuge—and makes a case for their continued protection.
The entire hour 40 min film is now available to watch
https://www.youtube.com/watch?v=OGjnIG7puzY
Now that we know how to save the ecosystem, let's have a brief look at the week's news...
Max and Stacy look at the report out of RAND Corporation showing the $50 trillion elephant in the inequality room. After more than forty years of the Cantillon Effect, the top 1% have 'taken' $50 trillion from the bottom 99% in wealth gains.
https://www.youtube.com/watch?v=AZhr897ou8s (1st 15 min)
https://nymag.com/intelligencer/2020/09/rand-study-how-high-is-inequalit...
Rick Wolff suggests capitalism is in terminal decline.
https://www.youtube.com/watch?v=Gy5LH1ZFwFM (36 min)
All I can say is bring it on!
David Dayen: Trump Is the Sweaty Armpit of Monopoly Capitalism
The journalist examines how the greatest danger to American society doesn't come from the White House, but from a few obscenely powerful corporations.
https://scheerpost.com/2020/09/11/david-dayen-trump-is-the-sweaty-armpit...
(audio or transcript)
People hit the streets again this week after the exoneration of Breonna Taylor's killers
https://www.wsws.org/en/articles/2020/09/26/pers-s26.html
As of this writing, Democratic governors Kate Brown (Oregon) and Andy Beshear (Kentucky) as well as Republican Governor Mike Parson (Missouri) have declared states of emergency in response to ongoing or planned protests. In Illinois, Democratic Governor J. B. Pritzker and Chicago Mayor Lori Lightfoot have confirmed that hundreds of National Guard troops remain on standby to respond to any allegations of "violent" protests.

In New York City, five UH-60 Blackhawk helicopters with the Massachusetts National Guard, infamous for their role in ferrying US Army Rangers and special forces soldiers to battlefields around the globe, menaced thousands of protesters in the Bronx and Queens boroughs of New York City Friday evening, hovering and collecting intelligence on protesters.
https://www.wsws.org/en/articles/2020/09/26/prot-s26.html
The empire has come home to roost. Amid the protest COVID continues...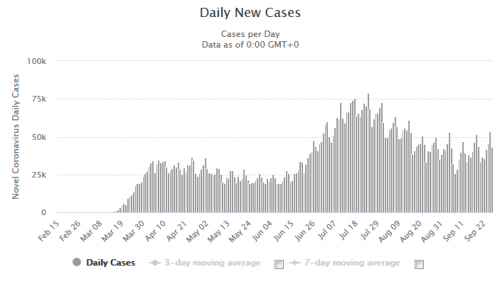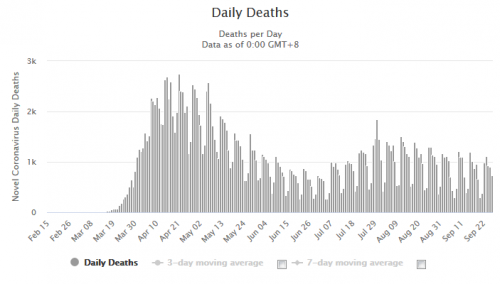 Though cases are trending up, deaths are trending down.
Trying to balance COVID and the economy is a challenge. Chris Martenson discusses those issues this week on his show. He thinks lockdowns are not necessary.
https://www.youtube.com/watch?v=yhqQd1frpDs (45 min)
John Campbell discusses global hopes and plans to deal with COVID
https://www.youtube.com/watch?v=xp8MPwgX-u8 (18 min)
Max Blumenthal and Ben Norton have a funny spoof on a Putin phone tap.
https://www.youtube.com/watch?v=UyAom8aDgGo (1st 5 min)
The main point is the CIA anti-Russia talking points are absurd.
Sadly Julian continues to be tortured for revealing US war crimes
Judge Vanessa Baraitser has granted the defense four weeks to prepare it closing argument, saying that her decision would come after the Nov. 4 U.S. election one way or the other. She had been previously reluctant to give more than a week to the defense.
https://consortiumnews.com/2020/09/25/final-report-assange-hearing-day-f...
Along with Julian, Roger Hallam, the co-founder of Extinction Rebellion, is in jail in Britain. Chris Hedges explains...
https://scheerpost.com/2020/09/22/chris-hedges-the-cost-of-resistance/
I continue to hold up here in the holler. Fortunately there is plenty to keep me busy here. I've gotten out of the habit of riding my bike to town, but I'm planning to return to that outing even though people rarely wear masks here. I've been walking in the woods and I find being in nature restorative. Regenerating fertile soil is a reward in itself and benefits the system in many ways. The fall crops are doing nicely after our almost four inches of rain from storm beta. So my life goes well. I hope yours is too! Have a good week.