A Thousand Words
Submitted by Cant Stop the M... on Wed, 09/23/2020 - 5:04am
Welcome back to "A Thousand Words," my new OT in which I post a picture of something I'd like to see more of in the world, because, well, you know what a picture's worth.

I'd also like any of you who have a picture of something you want to see more of in the world to share it. The folks on this site spend a lot of time staring at what we don't want. While resisting denial, known errors, and lies is the duty of every intelligent man--as George Orwell famously said:
"We have now sunk to a depth at which restatement of the obvious is the first duty of intelligent men. If liberty means anything at all, it means the right to tell people what they do not want to hear. In times of universal deceit, telling the truth will be a revolutionary act."
--George Orwell
nonetheless, I think we could all use some more positivity about now. Perhaps we should remind ourselves of what we want to see: the products of our political imaginations rather than those of a bunch of corrupt psychopaths.
Last week, my picture was of the Blues Brothers (Dan Aykroyd and John Belushi) sharing a laugh with John Lee Hooker on Maxwell St. in Chicago--back before Maxwell St was gentrified.
My picture for this week: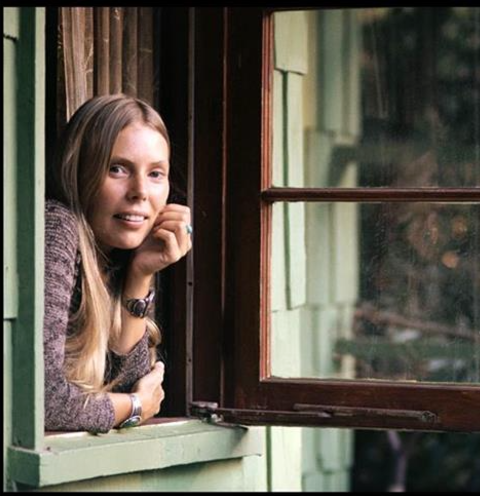 This is a picture of Joni Mitchell leaning out the window of her house in Laurel Canyon. The photo was taken by Henry Diltz, a folk musician and rock photographer you can find here: https://www.morrisonhotelgallery.com/photographers/HZF6ag/Henry-Diltz. The photograph was taken in 1970, a few months before Joni Mitchell's superhit album Blue was released. Seeing the photo apparently inspired Graham Nash to write the song "Our House:"
Our house
Is a very, very, very fine house
With two cats in the yard
Life used to be so hard
Now everything is easy 'cause of you.
While I love Nash's unabashedly sweet celebration of their domestic happiness, what I like even better is Joni Mitchell's song. She wrote, not in celebration particularly of their house, but of everything that was happening in Laurel Canyon. What was happening? Well, an amazing assortment of musicians and artists had gathered there, as Joni records in her song "Ladies of the Canyon:"
Here's what Wikipedia has to say.
Why do I like this photo? Well, it's not just because I wish it were 1970. I love the joy in Mitchell's face, something that is reflected in her song "Ladies of the Canyon;" the joy of being a member of an active, honest-to-gods creative community.
Wouldn't it be nice to have something like that?
Wouldn't it be nice to live together in the kind of world where we belong?