Sanders Gets Thumped Worse Than McGovern
Submitted by edg on Tue, 02/25/2020 - 11:28am
In modern times, the exemplar for losing leftwing Democrats in a presidential election is the 1972 matchup between Richard Nixon (R) and George McGovern (D). Tricky Dick stomped McGovern in the election that November. McGovern has been held up as a cautionary tale ever since to show why Democrats must be center-right in order to win.
We're already seeing media pundits and establishment bros pushing the narrative that Bernie Sanders is the George McGovern of 2020. They assure us that if Sanders is the nominee, Trump will stomp him in the election this November.
But is that true? Consider the chart below. McGovern's best poll in national matchups with Nixon had him trailing by 16%. That was his best showing in polls between May and November of 1972. In the actual election, McGovern lost the popular vote by 23%.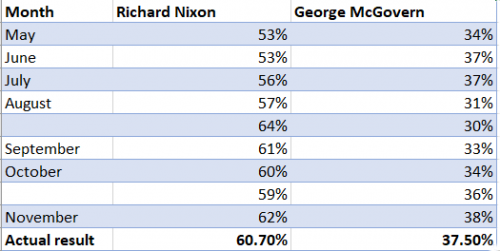 Historical polling for US presidential elections -- Wikipedia
How about Sanders? Will he get thumped worse than McGovern? While it's still too early to make an apples to apples comparison, the most recent national poll has Sanders beating Trump by 3%. Within the margin of error, mind you, yet hardly the 20%+ consistent polling thump Richard Nixon gave George McGovern.
General Election: Trump vs. Sanders
CBS News/YouGov
Sanders 47, Trump 44
Sanders +3
We'll see how things evolve over time, but the takeaway here is that thus far, Bernie is no George. It's time to declutch the pearls and stow away the fainting couches.