The Best Case (So Far) Against Bloomberg's Entire Shtick, In 17 Tweets
Submitted by Mark from Queens on Fri, 02/14/2020 - 8:29pm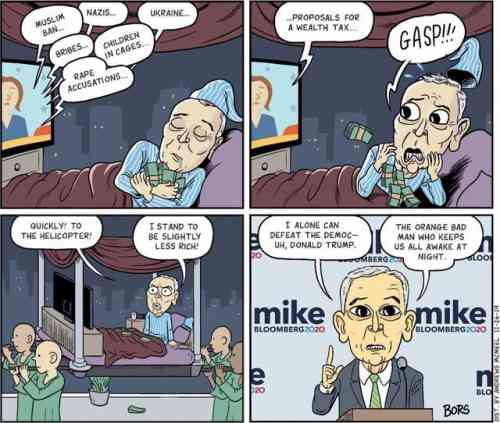 Hope you guys appreciate this. Had to click onto each individual tweet and then hit various things to get it so that each tweet was a stand-alone and not attached to the previous one, to make the whole less disorienting to read. (This thread, if one happened to be in some such place as #PetesWineCave, should be paired with this piece, "Why Is Bloomberg's Long History of Egregious Sexism Getting a Pass? The surging Democratic presidential candidate and Bloomberg LP have fielded nearly 40 sexual harassment and discrimination lawsuits over decades," to get the full oaked (or Okie) experience of how Mike's last name really is Doomberg - an oligarch content to force the 99% to survive on grapes of wrath alone).
This is really amazing, and at this hour has over 70.5k likes:
The degree to which Michael Bloomberg is using his fortune to fundamentally alter & manipulate U.S. politics to his personal advantage extends way beyond ads. I've worked against him, covered him as a journalist & worked with his top aides. Here's their playbook: (1/17)

— Blake Zeff (@blakezeff) February 13, 2020
Let's start with endorsements. Background: Bloomberg was a GOP mayor & Rudy Giuliani ally, whose police stopped innocent black men so often his tactics were ruled unconstitutional. So how did he possibly get key Democratic endorsements in NYC? Here's one way 2/17 pic.twitter.com/1IjbI5Z7gz

— Blake Zeff (@blakezeff) February 13, 2020
But come on, it's not like he can do that in *this* campaign. Sure he's compiling a ton of random endorsements nationwide despite merely being a former mayor. But that's because they loved his soda ban. Or his speaking style. Or... 3/17 https://t.co/vupRr0uMqp pic.twitter.com/ZSDzho8YD6

— Blake Zeff (@blakezeff) February 13, 2020
In 2018, Mike spent $110 million to boost 24 candidates now in Congress. Turns out, giving people $2 million can be the start of a beautiful friendship. Then there are mayors: Want a grant from Bloomberg for new programs in your city...? 4/17 https://t.co/5tRX3Fbqmu

— Blake Zeff (@blakezeff) February 13, 2020
You may also see "community groups" back Mike's candidacy. As mayor, non-profits supported him when he reversed a voter referendum on term limits & made a backroom deal to help himself get a 3rd term. How'd that happen, you ask? He applied himself. 5/17 https://t.co/oISYWjWap4

— Blake Zeff (@blakezeff) February 13, 2020
You may also see fewer critics bash Mike's candidacy than you'd expect. After changing parties from GOP to Independent in 2007 as mayor, the local GOP rarely attacked anything he did. How'd he pull that off? I'll give you a million guesses... 6/17 https://t.co/oJBrMcerqT

— Blake Zeff (@blakezeff) February 13, 2020
Forget endorsements: This campaign has grassroots support! Mike held events in various states recently & got huge crowds. They were clearly inspired by that "Mike Will Get It Done" energy. But *this* probably didn't hurt, either... 7/17 pic.twitter.com/CzWXR4MMVR

— Blake Zeff (@blakezeff) February 13, 2020
Then there's staff. Mike poaches talent away from other campaigns, by giving folks huge salaries & perks (catered meals, etc). His money also lets him hire more staff than all his opponents combined, while grassroots campaigns have to run on $18 checks from G'ma Millie. 8/17 pic.twitter.com/a1hBu84I3K

— Blake Zeff (@blakezeff) February 13, 2020
Mike's wealth even affects his rivals' fundraising. Using his relationships with other rich donors, he's personally asking them to sit the election out, so his rivals can't raise cash. Because having $61b to spend, versus $20mil for the other Dems, is too close for comfort 9/17 pic.twitter.com/7Nrl8lTmBY

— Blake Zeff (@blakezeff) February 13, 2020
This one I'll just leave here. (10/17)https://t.co/fSips92VCH

— Blake Zeff (@blakezeff) February 13, 2020
OK, let's discuss the non-stop ads. Saturating the airwaves gives you the huge advantage of never needing media coverage - which means rarely having to submit to interviews or scrutiny. If they want, they can make sure this never happens again 11/17 https://t.co/7iwvPbrCNc

— Blake Zeff (@blakezeff) February 13, 2020
Let's be honest: Ads also enable Mike to mislead voters without being corrected. One ad portrays him as Obama's BFF, even though Mike didn't back him in '08 & barely did in '12, when he scolded Obama for being partisan, divisive & populist. But few will see this pushback 12/17 pic.twitter.com/bXbbZIx5OX

— Blake Zeff (@blakezeff) February 13, 2020
The issue's not just that Mike's ads help him "get his story out more." It's that they enable him to *craft* whatever story he wants, blast it to every voter 1000 times, & bypass the media. And if the story takes creative licenses, oh well. How will viewers ever find out? 13/17

— Blake Zeff (@blakezeff) February 13, 2020
One reason it all works so well is that Mike & the team he was able to acquire, are smart. Other rich candidates have failed. But Mike's team has a combo that's rare - maybe even unprecedented - in U.S. politics: unlimited money, elite intelligence & Machiavellian ethics. 14/17

— Blake Zeff (@blakezeff) February 13, 2020
For example, they know Mike has real vulnerabilities in the primary on issues & his GOP past. But they also know Dems hate Trump. So, that's where the campaign turns all its focus. This achieves several things. First, makes him seem "above" the internal primary bickering. 15/17

— Blake Zeff (@blakezeff) February 13, 2020
Also: Positions him as a general election candidate now, evades discussion of Dem primary issues where his record is toxic, & presents one of biggest GOP donors ever (Mike) as a loyal Dem who just wants to see Trump (his old golf pal) lose. So far, voters are lapping it up. 16/17

— Blake Zeff (@blakezeff) February 13, 2020
3 months ago, polls found Mike Bloomberg "widely disliked" with the highest negatives in the race. Now he's a top 3 contender for the Democratic nomination. One of the richest humans ever is trying to upend every part of the process. And this is just the stuff we know about. /END

— Blake Zeff (@blakezeff) February 13, 2020
Alas, we live in perhaps the most depressing of times. This fucking despotic, misogynistic and racist briber is attempting to be the first ever to almost completely circumvent the traditional idea of having to at least somewhat industriously campaign in and among the citizenry for votes, by instead using the pure cynically Machiavellian tactic of outright buying them or bribing their attendance at campaign stops or allegiance with endorsements with catered food and wine or funding their pet projects.
The responses at the end of this Twitter thread of hordes of Trump Derangement MSNBC zombies who just don't give a shit at all who wins the nomination, as long as they can beat Trump, is a testament to how warped and depraved we've plummeted to even further. I'm so fucking disgusted to keep hearing this stuff from these mainstream, just passive enough with their creature comforts, casual political watchers who just want their team to win so that everything will magically all be ok once the Boogey Man is banished.
They are beyond reasoning with, despite our reasoning being very simple: if you want to beat an opposition with lots of support, you'd better get behind the candidate who has an army of supporters. And you should take very seriously when they say they will not be cowed into voting for any of the Democratic candidates of which the DNC may foist to thwart Bernie's populist run.
It's incredible. This journalist Blake Zeff, whose Twitter description says he's "Director LOAN WOLVES (doc on student debt scandal, coming 2020). Bylines: Politico, Vice, Buzzfeed, Salon. Gov't/Campaigns: Obama, NY Dems, etc." makes the strongest closing argument case ever. But these fucking bozo corporate manager dads and suburban wine box moms just feign the willful ignorance of children to look the other way, again. The fear-mongering propaganda is so effective that its convinced them to view all politics through the narrowest framework of discussion that limits everything to simple-minded partisanship loyalty based on fear, and having nothing at all to do with policy or ethics.
I'll say one thing: for the first time in many elections I'm really looking forward to tuning into a debate.
TRUMP: Mini Mike, folks, is this guy short or what
BLOOMBERG: Excuse me Donald, but why don't we measure our heights while we're standing on top of our various investment portfolios hmm
CENTRIST DEMS: OH NO HE DIDN'T! THAT'LL LEAVE A MARK!
ELECTORAL COLLEGE: 535-3 Trump

— Derek Davison (@dwdavison) February 13, 2020
And finally, here's a listing of Bloomberg's "contributions" this election cycle, according to FEC records.
Scroll yourself sick, literally, as you dizzily contemplate the unending complications of such obscene amounts of money being thrown in every direction. And that's just for elections, which doesn't include not spending for advertising, his own catered campaign events or staff salaries and junkets.
Or just watch here, which was the gift of a Chapo comrade who just made it:
Drink up, comrades. We're headed for some very interesting times.
Solidarity Forever!