The horse race
Submitted by gjohnsit on Thu, 01/30/2020 - 6:23pm
Iowa is still in play, but Bernie is placed well and has the momentum.
All he has to do is win by a single percent.
N.H. is pretty much over. Bernie has this one.
Anyone planning of throwing fictional chairs while being sexist?
It's been a long time since the last poll, but Bernie is close.
If he can sweep the first three then S.C. won't really matter.
Bernie will lose this state, but by how much?
Then comes Super Tuesday, with the two largest states in the nation.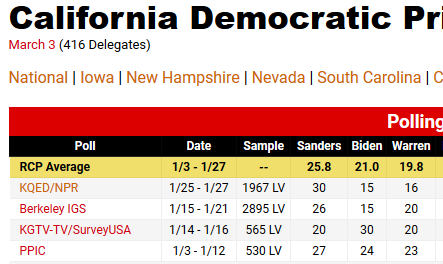 The question here is how large of Sanders victory in Cali?
Even the smallest of victories here would wrap up the race, and avoid a brokered convention.