Tuesday Open Thread ~ Summer Salads
Submitted by Anja Geitz on Tue, 08/20/2019 - 3:07am
~
"August is like the Sunday of summer. ~ Anonymous
~
~
Good Morning!
Welcome to Tuesday's Open Thread. As we near the end of summer, here's hoping you all had a chance to dip your toes in the ocean, or sit by a cool lake under the shade of a tall cypress, or enjoy a memorable picnic with friends and family. This was definitely the season for it. Not only did I take advantage of living so close to Southern California's beautiful coast line this summer, I indulged myself in some of the freshest, sweetest, juiciest watermelons, peaches, and plums I can remember eating since I was a kid. So, today, I'd like to share two recipes highlighting a bountiful season of fresh fruit and produce!
~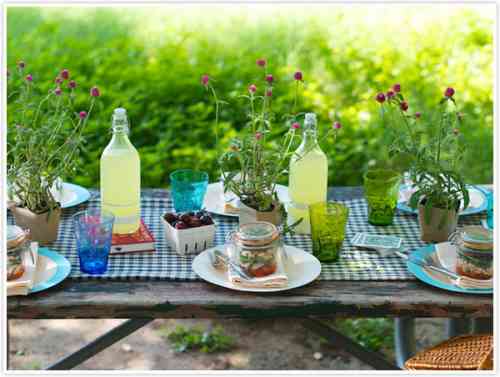 ~
Forget the Iceberg Lettuce and Tomatoes
Salads aren't what they used to be. Nowadays we fuse lots of different flavors and foods in our salads from root vegetables to tropical fruits. While I can't speak to the traditional meat and potato eaters who don't consider a salad a meal, for those of you who are looking to eat on the lighter side, this salad is delightfully flavorful and easy to put together. I usually have a rotisserie chicken in my fridge for salads, and avocados in my fruit bowl, so all I really had to buy were the mangos. Easy enough. A few steps later, and voila! A fusion salad with lots of flavor. For extra texture, you can add rice noodles on top. Bon Appétit.
~



Chicken, Mango & Avocado Salad with Spicy Peanut Dressing
~
Ingredients:
The Salad
2 Avocados
2 cups of roasted chicken
2 mangos
2 – 5 ounce bags of organic baby lettuce mix (or romaine lettuce)
The Dressing
TJ's Spicy Peanut Dressing
TJ's Garlic Dip
1 Tablespoon of Peanut Butter
Instructions:
Pour ½ cup of peanut dressing in large measuring cup
Add 1 Tbl. of Peanut Butter
Add 2 Tbl. of Garlic Dip
Mix well until all ingredients are blended and set aside
In a large mixing bowl add lettuce, sliced mango, avocado, and chicken
Pour peanut dressing over salad, mix and plate
Serves 4
~
My Mother's Tuna Salad
I grew up on homemade mayonnaise. Something I'm sure my Father taught my Mother how to do, and once she learned how to make it, she never went back. As you might imagine, store bought mayonnaise really can't compete in the flavor department with homemade mayonnaise. And for those of who might be intimidated by the thought of making mayonnaise, fret not. It's so much easier than you could possibly imagine. So, today, we are making my Mother's Tuna Salad with her homemade mayonnaise. Prepare to be amazed and delighted!
~



Tuna Salad with Dill and Homemade Mayonnaise
~
Ingredients:
Homemade Mayonnaise
1 Egg
1 Egg Yolk
2 teaspoons of lemon juice
½ teaspoons of salt
2 teaspoons of Dijon mustard
½ teaspoon of sugar
1 cup grapeseed oil
Tuna Salad
2 – 5 ounce cans of tuna in water
4 tablespoons of homemade mayonnaise
1 tablespoon of TJ's garlic dip
3 teaspoons of prepared horseradish
1 large celery stalk, or 2 small celery stalks, diced small
2 green onions finely chopped
4 teaspoons of fresh dill
Salt and Pepper to taste
Endive Lettuce (optional)
Instructions:
Add all the ingredients for mayonnaise in large mason jar, or a tall mixing glass where you can fit a hand blender

~

~

Begin at a slow speed holding the blender straight until mixture begins to blend
Keep hand blender still until ingredients are blended
When ingredients are blended slowly move hand blender up and down until mayo is thick and has volume
Store in sealed container and refrigerate (will be good for up to a week)

~

Here's a video showing you the method described above for making mayonnaise:

~

Once the mayo is made, drain tuna well and place in large mixing bowl
Add mayonnaise, garlic dip, horseradish, celery, green onions, dill, salt & pepper, and mix together until everything is coated
Tear off endive leaves and place a spoonful of tuna salad in each one
Plate and serve
Serves 4
~
And Now for Something Different...
~
~
Well, that about wraps things up for this week's edition.
~
~
Enjoy the rest of your summer!