The Weekly Watch
Submitted by Lookout on Sun, 08/18/2019 - 8:05am
Hope or Despair?
(or something in between?)
There are several approaches to address our ecological disaster, but the rub is in the adoption of these practices. This week we'll look at ways in which we can green the planet and absorb more carbon. I don't know how we get TPTB (the powers that be) to stop and limit emissions and extraction. Perhaps the Climate Strike on September 20 will have some impact here? I continue to use gas...in my tractor, car, weed eater and chain saw...but I'm trying to minimize...biking into town, walking when possible, buying less and growing more. However, there are large scale ecosystem level ways to restore environments. Many are counter intuitive. Others more obvious.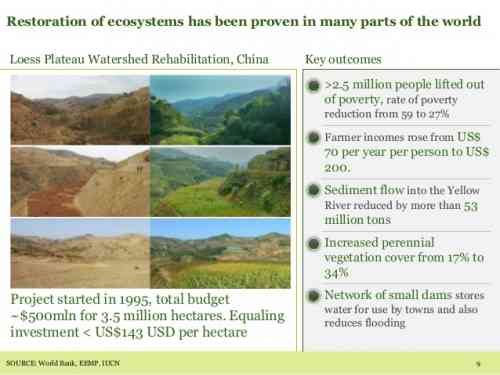 Let's begin by looking at ecosystem restoration. You might think desert reclamation to be nigh impossible, but it is being done. There's even a variety of approaches, and the proof is in the restoration results which you can see for yourself...
For more than 15 years, cameraman and ecologist John D. Liu has been working on his worldwide mission to green deserts and to restore biodiversity. It all started in 1995 when Liu filmed the Loess-plateau in China. He witnessed a local population who turned an area of almost the same size as The Netherlands from a dry, exhausted wasteland into one green oasis. This experience changed his life. From that moment on, Liu has been traveling all over the world to convince and inspire government leaders, policy-makers and farmers with his film material and knowledge. Liu diligently spreads the message that restoration of ecosystems is not only possible, but also economically very meaningful. The film crew accompanies Liu on his mission in Jordan and shows on the basis of Liu's own film material that a green future is possible worldwide.
https://www.youtube.com/watch?v=IDgDWbQtlKI (48 min)
Here's Liu's Documentary "Hope in a changing climate" much of which is featured in the preceding documentary...https://www.youtube.com/watch?v=bLdNhZ6kAzo (30 min)
Hope in a Changing Climate optimistically reframes the debate on global warming. Illustrating that large, decimated ecosystems can be restored, the documentary reveals success stories from Ethiopia, Rwanda and China which prove that bringing large areas back from environmental ruin is possible, and key to stabilizing the earth's climate, eradicating poverty and making sustainable agriculture a reality.
Geoff Lawton works all over the planet. Here's his project in Jordan in more detail than the previous clip.
https://www.youtube.com/watch?v=9VGHoxpYlWQ (36 min)
https://www.youtube.com/watch?v=W69kRsC_CgQ (4 min 10 year time lapse)
Here's Geoff in his home farm in Australia discussing ways to Survive the Collapse...
https://www.youtube.com/watch?v=01N-kBSdiZI (34 min)
Combining physical solutions with biological ones seem to be the most effective. The Kubuqi desert in China once threatened to bury its nearby urban areas in sand. But years of comprehensive measures and dedicated efforts have successfully stopped dangerous desertification.
https://www.youtube.com/watch?v=klU-UBCbSyE (4.5 min)
Liu and Geoff feature high labor restoration, but in many ecosystems (those that are desertifying) grazing animals can provide an answer. I know this is counter to popular thought, but this type of production is NOT the standard. Don't believe animals are an answer...look at the ecosystem reclamation results.
We are running out of time with Allan Savory (48 min)
Allan's viral TED talk
https://www.youtube.com/watch?v=vpTHi7O66pI (22 min)
Here's Allan Savory visiting Joel Salatin's polyface farm. He discusses how we might promote better land management by using property tax incentives. High tax for degrading practices and low taxes for earth healing land management. ...
https://www.youtube.com/watch?v=iPOF9ijyhvM (37 min)
I also thought his comparison of New Mexico's challenges versus those in Virginia were apt. If you leave the ecosystem alone in Virginia it will revert to forests on its own. Dry lands require inputs to restore.

What about restoration in more temperate conditions? Well, it is much easier...

Joel Salatin's polyface farm in Virginia is amazing
https://www.youtube.com/watch?v=smVYindYP3w (1.8 hours)
Here's a shorter 12 minute visit to Polyface with a young couple...
https://www.youtube.com/watch?v=Ur1AYitez7k
If this operation interest you there are many videos that feature his innovative approach.
ABC acres, a Permaculture Farmstead in Hamilton, MT, looks at their leader / follower grazing plan implementing Goats, Pigs and Chickens for robust grass paddocks, healthy animals and quality farm products.
https://www.youtube.com/watch?v=YEvBpaB_oE4 (10 min)
Here's the ABC acres cow and chicken cooperative combination
https://www.youtube.com/watch?v=K5FzJvGc0nw (5 min)
This short eight minute documentary video, "A Regenerative Secret" pulls back the curtain on Concentrated Animal Feeding Operations (CAFOs) and the detrimental effects they have on our ecosystem. More importantly, the film features Dr. Allen Williams, Chief Ranching Officer for Joyce Farms, who offers a powerful alternative -- regenerative agriculture. He is located in central Alabama.
https://www.youtube.com/watch?v=zE6xq1hLhPE (8 min)
Here's Vermont Farmer Karl Hammer's no-grain chicken operation. His magic? Compost. But, do the chickens still lay? 300 a day! Oh, and he's got unique donkeys that deliver the eggs and other goods to the customers in town.
https://www.youtube.com/watch?v=IWChH9MHkHg (31 min)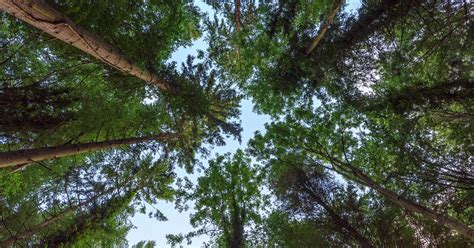 We need a massive global reforestation program in temperate, tropical, and Boreal (subarctic) forest systems.
The Forest system is important to our biosphere. Though we have removed over half of our forest ecosystems, forest are quite resilient. Much like the need to just stop fossil fuel extraction and use, we need to develop sustainable forest management using select harvesting to promote forest health. Here's an approach...
The accelerating deforestation of Brazil's Rainforests under Bosanardo is one of the great challenges we face. Here's one project and technique which holds promise..
https://www.youtube.com/watch?v=OKUHbwg11Io (3.5 min)
Drs. Karen Holl and Rakan Zahawi, along with Mr. Juan Abel Rosales, talk about their 14-yr study comparing planting 'islands' or patches of trees with natural forest regeneration and the more standard plantation-style planting approach. The research project continues at 12 sites in southern Costa Rica. https://www.youtube.com/watch?v=QPZIIMZrIqQ (7.5 min)
Restoring temperate forests are also a challenge, but very possible. Here's a story of restoring a forest in Scotland. Nearly 30 years ago, Trees for Life Founder, Alan Watson-Featherstone stood in the Universal Hall and in front of 300 people made a life-long commitment to restore the ancient Caledonian Forest.
https://www.youtube.com/watch?v=nAGHUkby2Is (20 min)
David Milarch's near-death experience inspired a personal quest: to archive the genetics of the world's largest trees before they're gone. This short film from The Story Group documents his effort to save the redwood champions of Northern California from the effects of climate change. https://www.youtube.com/watch?v=wW9w6eCQQkU (11 min)
Boreal or coniferous forest of the north are also endangered. The boreal forests are typical for the North and broad leaf deciduous forests are typical for the South both can be seen in Latvia. Coniferous or boreal forest in Latvia varied from dark forest with rich vegetation to sparse and sunny dry pain forests where ground cover includes white lichen, moss and cowberries. For the forest to be a natural ecosystem and be a suitable habitat for diverse species it is important for it contains varied elements.
https://www.youtube.com/watch?v=4CeSdcMzlS0 (15.5 min)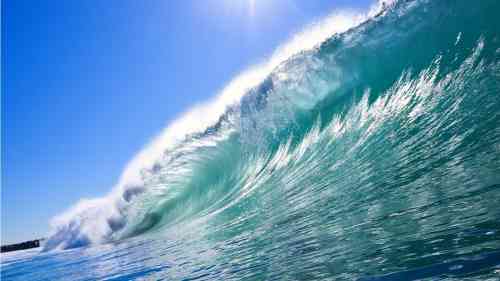 So we can restore farm land and forests, but our largest ecosystem is the ocean covering about 70% of Earth's surface. The oceans have absorbed most of the heat from our climate catastrophe. Even with the total elimination of fossil fuels a warm ocean will affect climate for another century or two...
Professor Simon Thrush from the Institute of Marine Science at the University of Auckland talks about his big question, "How do we restore marine ecosystems?"
https://www.youtube.com/watch?v=iHWR9aw34Qk (4.5 min)
A growing body of scientific evidence that demonstrates what we at Greenpeace have been saying for a long time: that the establishment of large-scale networks of marine reserves, urgently needed to protect marine species and their habitats, could be key to reversing global fisheries decline. https://www.youtube.com/watch?v=9_-BdqS54q8 (12.5 min)
Paul Beckwith suggests using Ocean fertilization. We MUST slash fossil fuel emissions, restore Arctic albedo, and deploy Carbon Dioxide Removal. Ocean Fertilization is our best option (scalable, rapid deployment, will suck vast amounts of CO2 out of our atmosphere/oceans, capable of restoring teeming marine ecosystems of our recent past, bending exponentially rising curves downwards...).
https://www.youtube.com/watch?v=KcS61ZLGbCc (15 min)
What about all the plastic islands? There is an on-going experiment that might hold promise. https://www.indiegogo.com/projects/transforming-plastic-to-save-our-plan...
The ByFusion Blocker is an industrial machine for municipalities and recycling facilities that can convert 100% of plastic waste into an advanced new building material.
https://www.byfusion.com/
So the videos above show the success of restoring farms in China, Jordan, South Africa, Virginia, Montana, Alabama, and Vermont. Many of these strategies involve the use of animals. Ecosystems evolved as a balance of animals and plants. Forest can be re-established, and the ocean warming might be mitigated.

Why is it that in the last century we have so much heart disease, strokes, obesity, diabetes, and Alzheimer's. It's our diet and lifestyle. Things people hold dear. But we've been sold a bill of goods.
Big Food and Big Tobacco share some common bloodlines. It wasn't very long ago that some of these companies were one and the same. RJR Nabisco, for instance, once simultaneously contained the companies that made Camel cigarettes and Chips Ahoy! cookies. Until the mid-2000s, the companies that manufacture Marlboro and Virginia Slims cigarettes were part of the same conglomerate, Philip Morris (now Altria), which manufactured Kraft Macaroni & Cheese and Kool Aid. Those companies have since split their tobacco businesses from their food businesses, but heavy-handed product marketing may be ingrained in the companies' DNA.
Like Big Tobacco, Big Food goes to great lengths to muddy the waters and obscure the connections between soda and disease. "The products we make are not injurious to health," is how the Tobacco Industry Research Committee put it in a 1954 advertisement. In 2012 the American Beverage Association opined, "Sugar-sweetened beverages are not driving obesity." Coca-Cola executive Katie Bayne told this whopper to USA Today: "There is no scientific evidence that connects sugary beverages to obesity."
https://cspinet.org/big-food-sounds-lot-big-tobacco
The dietary recommendations have been influenced by these same corporations, and they continue to recommend a diet high in grains (ie carbohydrates). This is contrary to the evidence...
These long-term data provide evidence that a low-carbohydrate diet is both a safe and effective option for weight loss and that this style of eating has a prolonged, positive effect on metabolic markers.
https://www.lchf-rd.com/2018/01/30/lchf-diets-are-safe-and-effective-a-p...
There are so many stories like this New Zealander's of using a low carb diet to cure his diabetes...
https://www.stuff.co.nz/national/health/115019715/back-from-the-brink-ho...
Ivor Cummings discusses how we can avoid and reduce chronic disease simply using diet.
https://www.youtube.com/watch?v=2IU-33EucMc (30 min)
Dr Eades and Ivor discuss the wealth of evidence supporting a low carb diet.
https://www.youtube.com/watch?v=yEAJW8gR-zI (19 min)
So we can improve our health by changing our diet. What I've found is people are quite resistant to changing their diet, but that simple change can improve your health, well being, and life span. I'm not saying it is easy, but I am saying it's not that difficult. You can still eat delicious foods...just not sweet ones.
Well because we are moving way too slow. The promise of ecosystem restoration needs to be practiced globally. It will take a massive effort by all the world's people. I dream of it happening, but I fear it is just a dream. However without the dream you have no direction. I take inspiration from young Greta Thunberg.
Here she is discussing her sail to the US to promote Climate mitigation.
https://www.youtube.com/watch?v=Pw8cQbo1Ilk (7 min)
If you have not heard her TED talk it is worth your time
https://www.youtube.com/watch?v=H2QxFM9y0tY (11 min)
Despair is paralyzing. Hope is energizing. Which side are you on?
I know it isn't an either or, but some of both...perhaps because it is human nature to ride the roller coaster. None the less, we can take control of our health...simply by changing our diet. Those of us lucky enough to own some land can tender the care to bring health to our local ecosystem (and help supplement those dietary changes involving more leafy fresh greens). I do what I can for my own health and that of the planet....certainly not on the scale of Greta, but in my own small way. And that I think is the hope, that more and more of us simply act in our own interest by eating well and taking care of our local community. We do need to accomplish more to reclaim ecosystems and climate and our own health...much more. So like Bucky said...
.
Wishing us all a restorative and healthful future...