Hillary forwarded her emails to a Chinese company
Submitted by snoopydawg on Thu, 08/15/2019 - 8:44pm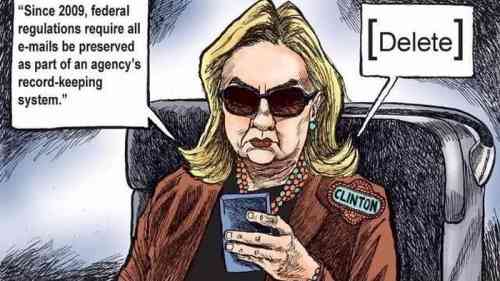 Why Were Hillary Clinton's Emails Blind-Copied To Gmail Address Named After Chinese Firm?
All but four of the 30,490 emails from Hillary Clinton's unauthorized email server were forwarded to a private Google email address featuring the name of a Chinese company, according to documents released on Aug. 15.

Jeannette McMillian, an attorney for the intelligence community inspector general (ICIG), told Congress that this email with the name of a Chinese company appeared to serve as a "live dropbox" for all of Clinton's emails. pic.twitter.com/U6ftETvFoh

— Ivan Pentchoukov (@IvanPentchoukov) August 15, 2019

McMillian told Congress that the Carter Heavy Industries email address in the Clinton-email metadata was set up to receive a copy of every email sent and received as they were sent, even if the intended addressee was different. pic.twitter.com/ccmUhnH31I

— Ivan Pentchoukov (@IvanPentchoukov) August 15, 2019

Frank Rucker, the intelligence community inspector general (ICIG) investigator who spotted the anomaly, searched Google for "Carter Heavy Industries" and came up with results for Shandong Carter Heavy Industry Co., Ltd, a Chinese manufacturer of excavators and heavy machinery, according to the documents.

Rucker and ICIG attorney Jeanette McMillian told the FBI about the anomaly on Feb. 18, 2016, at a meeting which included Peter Strzok, who had just taken over as the section chief heading the probe. Rucker told Congress that Strzok was "aloof and dismissive" and didn't ask many questions.

McMillian told Congress that her understanding of the Carter Heavy Industries email address was that it was a "drop box" to which the emails from the Clinton server were sent in real time.

"Even if you didn't address an email to this address, the email went to it anyway," McMillian said.

McMillian and Rucker were interviewed by the Senate Finance and Homeland Security and Governmental Affairs committees on Dec. 4, 2018, in response to media reports that cited anonymous sources claiming that China gained access to Clinton's emails. The committees released unclassified versions of those transcripts (pdf) along with several sets of supporting documents on Aug. 14.

The documents include several emails from Clinton and her staffers with message metadata showing the Carter Heavy Industries email address as a recipient.

Inspector General Inquiry

Department of Justice Inspector General Michael Horowitz was aware of the ICIG's referral to the FBI but did not address it in his 568-page report on the FBI and DOJ handling of the Clinton-email inquiry. Horowitz had promised Congress a year ago to look into and report on what the FBI did to investigate the matter. The newly released documents include the results of Horowitz's inquiry in the form of an April 9, 2019, letter to senators Chuck Grassley (R-Iowa) and Ron Johnson (R-Wis.)

In the letter, Horowitz and Intelligence Community Inspector General Michael Atkinson write that the Carter Heavy Industries email account was created by Platte River Networks employee Paul Combetta, who managed Clinton's email server. Combetta allegedly created the Carter Heavy Industries email on Aug. 20, 2012, to serve as a "dummy email." Combetta then used the email in order to transfer messages archived on Clinton's second private server to the Platte River Networks server in early 2014.

What Combetta did with the email account between 2012 and 2014 and who else had access to it before and after the transfer remains a mystery. Neither the DOJ or the ICIG inspector generals provide any details on whether the FBI ever examined the matter.
Horowitz is supposed to be looking into how well and thorough the FBI did its investigation into this matter and releasing a report on it, but that was two years ago or so and I haven't seen much about except for the great work that Judicial Watch has been doing.
Probably nothing will ever happen to Hillary over this because that is how our justice system works. But I know that she is walking free after doing what she did while Julian and Chelsea are both in prison for the great work they did.
For further reading about Hillary's emails you might enjoy revisiting these essays that had some great links in them and great commentary. The first one is loaded with lots of back information.
Well, well, well. This doesn't bode well for Hillary
Did Obama Obstruct Hillary's Prosecution?
I wrote about the IG report over a year ago and it showed that Hillary was grossly negligent in handling her emails because she used a private email server so that she could let people from her foundation have access to them and to get around the freedom of information act. During this investigation we found out that China might have hacked into her server. And after Anthony Weiner was arrested for sexting every one of her emails were found on his computer which Comey and Strzok never looked at.