But Her Emails.....
Submitted by snoopydawg on Tue, 04/23/2019 - 10:01pm
Judicial Watch: FBI Admits Hillary Clinton Emails Found in Obama White House
Hillary's supporters love to say that people refused to vote for her because of her using her private email server like it wasn't a serious breach of governmental law. For some reason they don't see any problem with classified information being sent through unregulated channels. The Huber IG report stated that at least one foreign country hacked her server. I'd think that people would have a problem with that.
Judicial Watch announced today that a senior FBI official admitted, in writing and under oath, that the agency found Clinton email records in the Obama White House, specifically, the Executive Office of the President. The FBI also admitted nearly 49,000 Clinton server emails were reviewed as result of a search warrant for her material on the laptop of Anthony Weiner.

E.W. (Bill) Priestap, assistant director of the FBI Counterintelligence Division, made the disclosure to Judicial Watch as part of court-ordered discovery into the Clinton email issue.

U.S District Court Judge Royce Lamberth ordered Obama administration senior State Department officials, lawyers, and Clinton aides, as well as Priestap, to be deposed or answer writer questions under oath. The court ruled that the Clinton email system was "one of the gravest modern offenses to government transparency."

....
Priestap also testifies that 48,982 emails were reviewed as a result of a warrant for Clinton email account information from the laptop of Anthony Weiner, who had been married to top Clinton aide Huma Abedin.

A complete copy of Priestap's interrogatory responses is available here. Priestap, is serving as assistant director of the FBI's counterintelligence division and helped oversee both the Clinton email and the 2016 presidential campaign investigations. Priestap testified in a separate lawsuit that Clinton was the subject of a grand jury investigation related to her BlackBerry email accounts.

"This astonishing confirmation, made under oath by the FBI, shows that the Obama FBI had to go to President Obama's White House office to find emails that Hillary Clinton tried to destroy or hide from the American people." said Judicial Watch President Tom Fitton. "No wonder Hillary Clinton has thus far skated – Barack Obama is implicated in her email scheme."
Fitton was referring to the more than 30,000 emails under subpoena that were thoroughly deleted through an application called BleachBit by order of Clinton's State Department team.

When James Comey announced in July 2016 that the FBI had decided not to refer criminal charges in the case, the then-FBI director, nevertheless, said Clinton had been "extremely careless" in her handling of classified information.

More than 100 emails on her server contained classified information, including 65 emails deemed "Secret" and 22 "Top Secret." Another 2,093 emails were retroactively marked classified by the State Department.

Judicial Watch is trying to find out whether Clinton intentionally attempted to evade the Freedom of Information Act by using a non-government email system.
'Hundreds of classified emails'

Emails and handwritten notes written in June and July 2015 from the Office of the Intelligence Community Inspector General discuss "concerns" over classified information on the server.

A redacted sender writes to State Department Official Margaret "Peggy" Grafeld that "inadvertent release of State Department's equities when this collection is released in its entirety — the potential damage to the foreign relations of the United States could be significant. ICIG McCullough forwards the concern, saying: 'Need you plugged in on this.'"

The sender writes: "While working with this inspector, I have personally reviewed hundreds of documents in the HRC collection. I can now say, without reservation, that there are literally hundreds of classified emails in this collection; maybe more."

In an August 2015 internal FBI memo, the FBI notes that Hillary Clinton had signed a June 28, 2011, official correspondence advising all State Department employees that, "due to 'recent targeting of personal e-mail accounts by online adversaries,' State employees should 'avoid conducting official Department business from (their) personal e-mail accounts."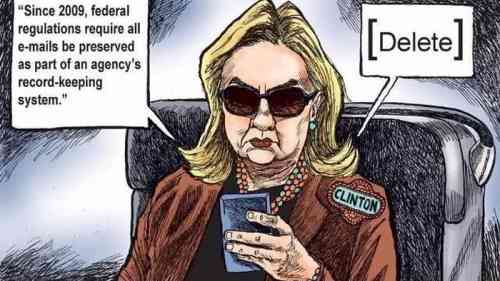 Hillary should have turned all of the emails over when she stopped being SOS. She didn't. Congress found that out during the Benghazi investigation and told her to do so immediately. Instead she destroyed 30,000 of them because she said that they were personal communications and not related to her job.
The reason Comey reopened his investigation was because the NYC FBI office found some of her emails on Anthony Weiner's personal laptop. This is a huge breach of security and like Comey stated, anyone else who did that would have been prosecuted. Peter Strzok changed Comey's wording on his report from "gross negligence" to a lesser charge. I'm looking for what he said.
Here are highlights of what Comey said:

- "Although we did not find clear evidence that Secretary Clinton or her colleagues intended to violate laws governing the handling of classified information, there is evidence that they were extremely careless in their handling of very sensitive, highly classified information."
- Clinton's emails included seven message chains with information classified as top secret.
- "None of these emails should have been on any kind of unclassified system.

- "The security culture of the State Department …was generally lacking in the kind of care for classified information found elsewhere in the government."
- Comey acknowledged that the FBI did not normally make public its recommendations to prosecutors as to whether to bring criminal charges. He added: "In this case, given the importance of the matter, I think unusual transparency is in order."
- "Although there is evidence of potential violations of the statutes regarding the handling of classified information, our judgment is that no reasonable prosecutor would bring such a case."
- "I know there will be intense public debate in the wake of this recommendation, as there was throughout this investigation."
The other thing that her supporters don't seem to care about is that people who did not have security clearances to view classified information were able to access her server because she also had her foundation's business on it.
Im very doubtful that she will ever be charged for doing what she did, but what Judicial Watch will show is that she should have been. Chelsea Manning and the guy who took a picture of his submarine went to prison for mishandling classified information. Obama charged 9 people under the espionage for what they did.