Another deceptive hit piece on Tulsi
Submitted by gjohnsit on Wed, 06/19/2019 - 11:35am
Vice News tries to portray itself as young and hip, but it is owned by Fox News.
Since the so-called liberal media has been slandering Tulsi Gabbard (and her supporters) for years, it's time the right-wing media did the same.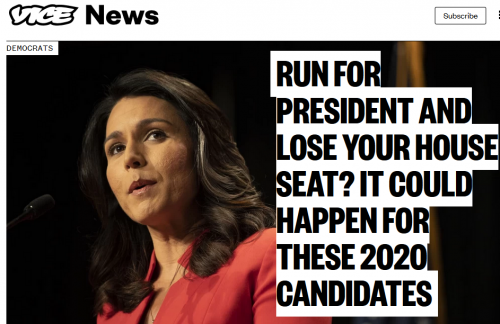 The reception for her presidential bid has been less warm in her home state of Hawaii. There, Kai Kahele, a 45-year-old state senator and airline pilot, is promising a bare-knuckle fight should Gabbard return to run for re-election.

"She's got a fucking tiger on her tail, and she's gonna be in trouble," Kahele told VICE News, on the phone from his home on the Big Island. "It's a different Hawaii than what she's used to and I'm a completely different candidate than anything she's ever faced."
...
Kahele said Gabbard's run is the equivalent of trying to surf a 40-foot wave in Waimea Bay without dying. Basically, he thinks there's not much chance she survives — and he's betting voters see the same thing. Already, he's raised more than $250,000, but he's going to have to raise much more to topple a prolific fundraiser like Gabbard. It may help that three sitting governors have endorsed his campaign, which he says is a message to Gabbard: "Good luck running for president, but don't come back to Hawaii."
Or maybe the message is that the Democratic Old Guard, the same group that voters are sick of, are behind you and against Tulsi.
But what really caught my attention is this paragraph.

"her declining local popularity" for "stances...taken recently" sounds ominous.
How bad is it?
The words are linked, so I clicked on that link.
Two years ago, 64 percent of statewide respondents to a Honolulu Civil Beat poll approved of Gabbard's performance. A similar poll conducted last month found that her job approval rating had dropped to about 50 percent, after she drew criticism for meeting with Donald Trump before his inauguration and for visiting Syria surreptitiously.

She was viewed negatively by 29 percent of poll respondents, while 21 percent were unsure.
That sounds bad, except for one thing.
THE POLL IS TWO YEARS OLD!
There was an election since that poll. How did that declining local popularity go since then?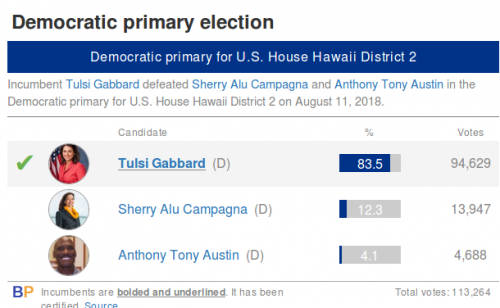 Oh right. She crushed her opponents.