The candidate of the wealthy elite
Submitted by gjohnsit on Thu, 06/13/2019 - 12:05am
Drumroll please...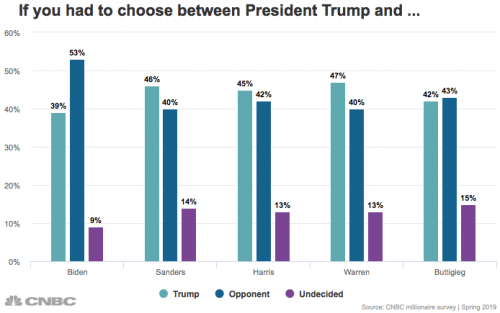 American millionaires would elect Joe Biden over President Donald Trump if the former vice president becomes the Democratic nominee, according to a new survey.
...
Fully 53% of millionaire respondents said they would vote for Biden, compared with 39% for Trump, while 9% would be undecided. In a race between Trump and Buttigieg, the mayor of South Bend, Indiana, wins 43% to Trump's 42%.

Against Sen. Bernie Sanders, Trump wins 46% to 40%. Trump beats Sen. Kamala Harris among millionaires 45% to 42%, while he beats Sen. Elizabeth Warren 47% to 40%.

Millionaires backed former Secretary of State Hillary Clinton by a comfortable margin over Trump before the 2016 election, 44% to 31%, according to the CNBC Millionaire Survey.
Trump has given the wealthy almost everything they've asked for, including massive tax cuts, a near complete elimination of regulatory enforcement, and they still think Biden is a more grovelling toady.
More CEOs are Republicans than Democrats, but then Biden is actually a Republican with a D.
CEOs think xenophobia is bad for business, and that's what counts with Dems these days.

No one should be surprised when businessmen talk about whether things are good for business. What is far more interesting is how frequently liberal politicians who only half a decade or so ago would have framed their arguments in explicitly moral terms — the rhetoric of rights and justice and human dignity — have resorted to the seemingly value-neutral language of economics in discussing abortion and other social issues.

In 2013, Sen. Amy Klobuchar's office released a report claiming that anti-gay discrimination cost that nebulous entity known as "the economy" billions of dollars. In 2016, when Scott Garrett, a New Jersey Republican state legislator who found himself at odds with the Republican National Congressional Committee over the question of recruiting gay candidates lost much of his support from the financial industry, his opponents released an ad calling him "bad for business and wrong for New Jersey." Democrats have used this phrase over and over again to describe Mike Pence and the infamous HB2 "bathroom bill" in North Carolina. In January 2017, Gov. Terry McAuliffe announced that he would veto a bill banning abortions after 20 weeks in Virginia. "I can't sit back and have that sitting out the same time I am traveling the globe recruiting businesses to Virginia. If there's something that would be damaging toward business, and to our image around the country and the globe, I'll veto it, you bet I will." Even Windsor v. United States, the precursor to Obergefell that overturned the Defense of Marriage Act, was actually a case about not wanting to pay the estate tax.

The mistake conservatives make is in thinking that Democrats are wrong about any of this. They are not, and this is the reason that politicians in the party's neoliberal center are the most popular with Wall Street and Hollywood. The liberal social views of our financial and corporate overlords are not incidental.
The Democratic voter is getting richer, while the Republican one is getting poorer.
Working-class whites have been defecting to the GOP while affluent ones joined up with the GOP for decades now.

"Eventually, the Democrats will become the party of urban cosmopolitan business liberalism," the political scientist Lee Drutman wrote in 2016, "and the Republicans will become the party of suburban and rural nationalist populism."
Neither party represents the working class.