The Weekly Watch
Submitted by Lookout on Sun, 02/10/2019 - 7:40am
Constipation of Imagination
You see things; and you say "Why?" But I dream things that never were; and I say "Why not?"
GEORGE BERNARD SHAW, Back to Methuselah, act I, Selected Plays with Prefaces, vol. 2, p. 7 (1949). The serpent says these words to Eve.
Robert F. Kennedy used a similar quotation as a theme of his 1968 campaign: "Some men see things as they are and say, why; I dream things that never were and say, why not."
I can't help myself. I dream of a world that could be. I dream of a better farm and slowly achieve growth and progress on my little homestead. Often easy tasks take thirty years, and I ask why did it take me so long to accomplish this simple improvement that makes my daily life better? May be it's just that things come ripe when the time is right. Will times ever be right for our nation and world? Will we as a species mature? I can't see humans making the changes toward carbon gathering instead of carbon spewing soon enough. But, there are paths forward, and it is past time. We're late...We're late!
Becoming Sane Individuals
I learned about Maslow and his hierarchy of needs as a teen. It was an impressive model looking at what makes us sane instead of focusing on types of insanity.
Instead of focusing on psychopathology and what goes wrong with people, Maslow (1943) formulated a more positive account of human behavior which focused on what goes right. He was interested in human potential, and how we fulfill that potential.
Psychologist Abraham Maslow (1943, 1954) stated that human motivation is based on people seeking fulfillment and change through personal growth. Self-actualized people are those who were fulfilled and doing all they were capable of.
https://www.simplypsychology.org/maslow.html
This initial hierarchy was later expanded...
5. Cognitive needs - knowledge and understanding, curiosity, exploration, need for meaning and predictability.
6. Aesthetic needs - appreciation and search for beauty, balance, form, etc.
7. Self-actualization needs - realizing personal potential, self-fulfillment, seeking personal growth and peak experiences.
8. Transcendence needs - A person is motivated by values which transcend beyond the personal self (e.g., mystical experiences and certain experiences with nature, aesthetic experiences, sexual experiences, service to others, the pursuit of science, religious faith, etc.).
Becoming a Sane Society...
So there have been efforts to help individuals become sane and fulfilled. But what about paths for societies and cultures? Can we create an actualized society?
Erich Fromm suggests that capitalism doesn't promote a sane society...
An unhealthy society is one which creates mutual hostility, distrust, which transforms man into an instrument of use and exploitation for others, which deprives him of a sense of self, except in as much as he submits to others or becomes an automaton. Society can have both functions; it can further man's healthy development, and it can hinder it; in fact most societies do both, and the question is only to what degree and in what directions their positive and negative influence is exercised.
In fact, it seems that in spite of material prosperity, political and sexual freedom, the world in the middle of the 20th century is mentally sicker than it was in the 19th century. Indeed, "we are not in danger of becoming slaves anymore, but of becoming robots," as Adlai Stevenson said so succinctly.
What kind of men, then, does our society need?
It needs men who cooperate smoothly in large groups; want to consume more and more, and whose tastes are standardized and can be easily influenced and anticipated.
It needs men who feel free and independent, not subject to any authority, or principle, or conscience-yet willing to be commanded, to do what is expected, to fit into the social machine without friction.
...it needs to be said in this context that the very fact that we are governed by laws which we do not control, and do not even want to control, is one of the most outstanding manifestations of alienation. We are the producers of our economic and social arrangements, and at the same time we declined responsibility, intentionally and enthusiastically, and await hopefully or anxiously-as the case may be-what "the future" will bring. Our own actions are embodied in the laws which govern us, but these laws are above us, and we are their slaves. The giant state and economic system are not anymore controlled by man. They run wild, and their leaders are like a person on a runaway horse, who is proud of managing to keep in the saddle, even though he is powerless to direct the horse.
http://thecommunalsolution.org/the-sane-society.html
There are certainly more sane societies than the modern US. In this weekly column I often suggest Bhutan and Costa Rica as examples of saner countries. The US is so large. Alabama is very different than say California – politically, socially, and otherwise. However we are more alike than we are different. We may be better off to forgo national ambitions and work locally. As the climate disaster expands and deepens perhaps re-evolving into tribes might be easier than re-creating our nation. There is no doubt we should look toward local food production and water protection, capture, and enhancement. Clearly a capitalist culture doesn't promote sane individuals nor meaningful interactions among people. Can we even imagine a sane society based on mutual respect for each other and our fellow creatures?
And I don't give a damn about a greenback dollar, spend it as fast as I can.
For a wailin' song and a good guitar, the only things that I understand, poor boy,
the only things that I understand.
Max and Stacy have been predicting the collapse of the dollar as the international currency standard for years. Well it sure looks like it is starting to crumble (1st 15 min)
https://www.youtube.com/watch?v=s0BQ2H8zc6c
The volume of gold buying has not been seen since 1967 when the world was, in fact, on a gold standard. Does this indicate we are, indeed, back on a quasi-gold standard if USD trade surplus is being converted into hard money, regardless of formal agreements to that effect?
It is past time to imagine Peace!
Given the goal of profit at all costs, it seems the US MIC will impose perpetual war at all costs. This week it at least has been a topic of conversation. Did you hear Tulsi's Aloha announcement (26 min)?
We must stand up, and fight for the soul of our country.

Stand up against bought and paid-for politicians, kowtowing to special interests, selling their votes to the highest bidder. Instead of draining the swamp, our president has turned it into a cesspool of corruption.


We must stand up against big pharma and insurance companies who extort those who are sick, who put their profits above the health of our people. We must fight to ensure that every American gets the quality healthcare they need, through Medicare for All.

Stand up against big Wall Street banks who gamble with our money and our future.

Stand up against overreaching intel agencies and big tech companies who take away our civil liberties and freedoms in the name of national security and corporate greed.

Stand up against those who pollute our land, our water, and our oceans.

We must stand up against corporate private prisons profiting off the backs of those caught up in a broken criminal justice system. A system that puts people in prison for smoking marijuana while allowing corporations like Purdue Pharma, responsible for opioid-related deaths of thousands, to walk away scot-free and coffers full. This so-called criminal justice system which favors the rich and powerful and punishes the poor CANNOT stand.

Stand up against those who perpetuate bigotry, hatred and violence against our brothers and sisters because of their race, religion, or sexual orientation.
Stand up against this Administration who claims to believe in America First but who sells our troops, our weapons and our interests to whichever foreign country is the highest bidder.
Stand up against those who dishonor our troops, treating them as political pawns, and mercenaries-for-hire in wars around the world.
Stand against powerful politicians from both parties who sit in ivory towers thinking up new wars to wage and new places for people to die. Wasting trillions of dollars, hundreds of thousands of lives, undermining our economy and security, and destroying our middle class.
Trump campaigned against regime change wars when he ran for President, but now bows to the wishes of the neocons around him, clamoring for the regime change wars he claimed to oppose, this time in Venezuela and Iran.
https://www.tulsi2020.com/press/2019-02-02-tulsi-gabbards-full-speech-pr...
Well, heads exploded. Jimmy and the gang do a great job dissecting their animosity (28 min)
The twits at MSNBC screw up again when they ask on twitter who do you trust more RT or MSNBC. Guess who wins? This clip pairs nicely with Jimmy's above.
https://www.youtube.com/watch?v=TJTDzoM6HxY (6 min)
Another positive conversation this week is occurring because of the introduction of a Green New Deal. I continue to urge a union of the peace movement and a re-imagined green economy. At least this is a start of the conversation ...
"Let's celebrate the fact that—thanks to the Sunrise Movement, AOC, Sen. Markey, and many others—there's now climate legislation in Congress that actually addresses our greatest crisis at its actual scale."
—Bill McKibben, 350.org
https://www.commondreams.org/news/2019/02/07/what-hope-feels-green-new-d...
Their goal is to meet 100 percent of the demand for power in the U.S. with "clean, renewable, and zero-emission energy sources," in line with the scientific consensus on climate change, as well as to provide "all people of the United States" with clean air and water, "healthy and affordable food," high-quality health care, "affordable, safe, and adequate housing," and economic security.

As part and parcel of this transition, the resolution calls for a federal jobs guarantee, a massive infrastructure build-out, building efficiency upgrades and robust investment in public transit, to name just a few of the measures listed. It would ensure a dignified quality of life for workers and communities that rely on coal, oil, and natural gas jobs ("a fair and just transition"), and says that steps toward reaching zero-emissions — such as building new wind turbines — should not impose on indigenous peoples' land rights or abuse the power of eminent domain. A full plan, the resolution states, will be developed "in transparent and inclusive consultation, collaboration, and partnership with frontline and vulnerable communities, labor unions, worker cooperatives, civil society groups, academia, and businesses."
On Tuesday, the Sunrise Movement hosted some 500 watch parties around the country for a livestream laying out its next steps to support the resolution. As of Wednesday, the group was in the process of organizing visits to 600 congressional offices nationwide, for constituents to demand that their representatives co-sponsor Ocasio-Cortez and Markey's measure. Supported by Justice Democrats — the group that backed Ocasio-Cortez's primary run — Sunrise will also be launching a 15-city campaign tour through early primary states.
https://theintercept.com/2019/02/07/green-new-deal-resolution/
... this is not the plan to implement the Green New Deal, this is not going to become law, but what it does do is lay out sort of broad principles by which that plan can be implemented, and sort of ramp up pressure on the Select Committee on the Climate Crisis, which Speaker Pelosi created several weeks ago and named members to yesterday, and sort of, you know, puts the pressure on them and sort of on politics more generally, and particularly 2020 candidates, to really come out and endorse a very specific version of what a Green New Deal is, and make it more than just a talking point.
https://www.democracynow.org/2019/2/8/ocasio_cortez_markey_unveil_sweepi... (video or text)
The three core principles of the GND: decarbonization, jobs, and justice ...
The GND is, at its heart, a form of social-democratic populism. Its intent is to involve the entire citizenry in the shared project of adapting to the 21st century, and in so doing materially improve the quality of life of the poor and middle class. It is an attempt to rebalance the economy and the political system, away from a monomaniacal focus on private goods, toward a more generous view of public goods and public purpose.
https://www.vox.com/energy-and-environment/2018/12/21/18144138/green-new...
A thorough history and explanation of the GND.
Can we even imagine a world without war...or a healthy global ecosystem...or a population with no poverty? It is time to free our minds to do so. My partner worked with Paul Torrence for a few years, and we were lucky to distill his philosophy into our lives...
My experience and research have increasingly made me aware of the dreadful importance of falling in love with "something" –a dream, an image of the future. I am convinced that the driving force behind future accomplishments is the image of the future of people. Positive images of the future are a powerful and magnetic force. These images of the future draw us on and energize us. Giving us the courage and will to take important initiatives and move forward to new solutions and achievements. To dream and to plan, to be curious about the future and to wonder how much it can be influenced by our efforts are important aspects of our being human. In fact, life's most energizing and exciting moments occur in those split seconds when our struggling and searching are suddenly transformed into the dazzling aura of the profoundly new, an image of the future.
https://scottbarrykaufman.com/wp-content/uploads/2014/03/Torrance-fallin...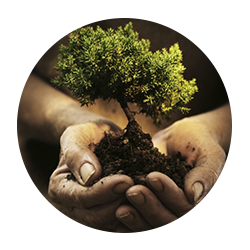 We might learn how to better communicate and cooperate by listening to the plant and soil community...
When we think about plants, we don't often associate a term like "behavior" with them, but experimental plant ecologist JC Cahill wants to change that. The University of Alberta professor maintains that plants do behave and lead anything but solitary and sedentary lives. What Plants Talk About teaches us all that plants are smarter and much more interactive than we thought!
https://www.youtube.com/watch?v=CrrSAc-vjG4 (53 min)
Forest ecosystems act like a single organism
https://www.youtube.com/watch?v=Un2yBgIAxYs (18 min)
Have you ever heard Paul Stamets the mycologist? Talk about imagination and creativity. (18 min)
Unbroken Grounds explains the critical role food will play in the next frontier of our efforts to solve the environmental crisis. It explores four areas of agriculture that aim to change our relationship to the land and oceans. Most of our food is produced using methods that reduce biodiversity, decimate soil and contribute to climate change. We believe our food can and should be a part of the solution to the environmental crisis – grown, harvested and produced in ways that restore our land, water and wildlife. The film tells the story of four groups that are pioneers in the fields of regenerative agriculture, regenerative grazing, diversified crop development and restorative fishing.
https://www.youtube.com/watch?v=XWHabbAOON0 (2 min trailer)
https://www.youtube.com/watch?v=3Ezkp7Cteys (25 min full film)
It is hard to wrap your head around the idea that farming can capture carbon rather than spew it out like a commercial production. It requires a different mindset and production techniques. Even animal production can help capture carbon...
So this film is a little long at 54 min, but it is really an interesting innovative farm well worth your time if you have an interest in regenerative means of production...
Principles and strategies to create symbiosis and synergism, the presentation covers the nuts and bolts of pasture-based, beyond-organic regenerative farming.
https://www.youtube.com/watch?v=lXHrkPC5bok
Can the way we farm radically impact not just our output but also overwhelming wide-ranging concerns for our environment, hunger, and poverty? Ben Dobson has a unique, personal perspective on how we can make universal changes. Growing up on an organic farm in Hillsdale, NY, Dobson was raised in an environment that was conscious of the ground. Having established multiple organic agriculture businesses in the Northeast, dabbled in coffee importation from Haiti, and assisted in producing and exporting organic products from the Dominican Republic, Dobson has now returned to his roots. He is currently working to plan and transition Stone House Farm in Livingston, NY, into an organic and sustainable producer. Implementing the "no-till" method, the transition of Stone House Farm is based on holistic management of our land to retain and rebalance the earth and bring healthy grains and meats to local markets.
https://www.youtube.com/watch?v=yp1i8_JFsao (10 min)
Ben does a nice job distinguishing between organic and regenerative agriculture
I understand farming isn't for everyone, but everyone can imagine and live a more fulfilling and balanced life. Consider the approach of his couple from down under (15 min)
If we can't imagine a better world we will continue to decline...as individuals, societies, and ecosystems. I'm hopeful the Green New Deal incorporates the peace movement. We must end these absurd corporate for-profit wars and use those resources in a positive way to re-create our communities, nation, and world. We can't do this...we can't do that...doesn't cut it. When I was doing research on no-till crop production in the 70's, farmers would often explain to me why it wouldn't work. My line became...it is my job to figure out how to make it work. And that my friends is our job too. How do we transition to a peaceful, prosperous, healthy planet? We start like the couple in the last clip. Start living harmoniously, care for the people around you, tend your personal piece of the Earth. Let's all walk on a path toward these goals...