Fascism Lite: The Lessons Learned this Time Round
Submitted by

leveymg

on Wed, 10/17/2018 - 3:09pm
There are several lessons about fascism between the Wars that have particular relevance for our own time. First, fascism is not confined to a particular time, place or set of economic conditions in the past. Fascism is not just grainy black-and-white photos of Depression-era Europe.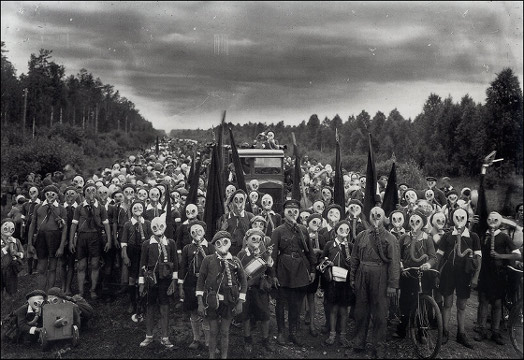 Fascism is and always has been global. All the major industrial countries of the west have had their fascist movements and political figures and still have them today. Fascism doesn't just speak German and Italian.
--Between the Wars, the Far-right seized power through electoral means, as well as military coups and civil wars, first in Italy (1922), Finland (1929), Japan (1931), Portugal (1932), Chile (1932), Germany and Austria (1933), Hungary, Greece (1936), Brazil (1937), Spain (1939), Slovakia (1939), and Romania (1940)--

Second, Fascism has a distinctive look. You can spot a fascist politician with the volume turned off. Most still look ridiculous, even though they've traded in starched uniforms and big hats for expensive business suits.
National leaders are less essential to fascism than they used to be. Fascist Light politicians are often chosen for their lack of real ideas and ease of replacement. They are less dangerous to those who really make the decisions than the dictators of old-fashioned Fascism. That is a lesson learned from the last go around - Third Lesson: leaders are dangerous, make them disposable. The Fourth Lesson: Fascist leaders are cultivated, funded and carefully selected. They do not spout up like weeds.
Fifth, Fascism can appear during periods of peak economic growth and concentration of income; it does not have to be incubated in industrial collapse and Depression.

Sixth, it can happen here, and has happened here. An inherent part of fascism is the militarization of everyday life along with the state. There are soldiers and tanks in the streets in America. Just because their body armor says P-O-L-I-C-E, doesn't mean that these aren't soldiers. Fascism is not only fashionable, it's also self-consciously kinky. Girls with big guns and black uniforms in London.
It's not just an American and European thing. Japan followed Italy and Finland as the third fascist state in 1931. China, today, is a fascist police state. For all its towering new buildings, electronic gadgets, shiny cars, and smiling officials who also now wear nice business suits, China is fascist.
Tanks in the street - that's how China transitioned from a Communist state to a Fascist state:

But, even though the chunky Mao suits are gone, the unisex polished black boots are always in style.

As we've seen many times, Fascist states often emerge out of failed democratic republics. The widepread emergence of fascism within a liberal economic system is a strong indicator that business elites believe a persistent crisis threatens to turn into a popular uprising. The collapse of liberal politics into fascist politics is not so much caused by Depression, it is instead a sharp warning of Depression and World War to come.
If one defines Fascism as the degree to which a society is militarized, it is already here.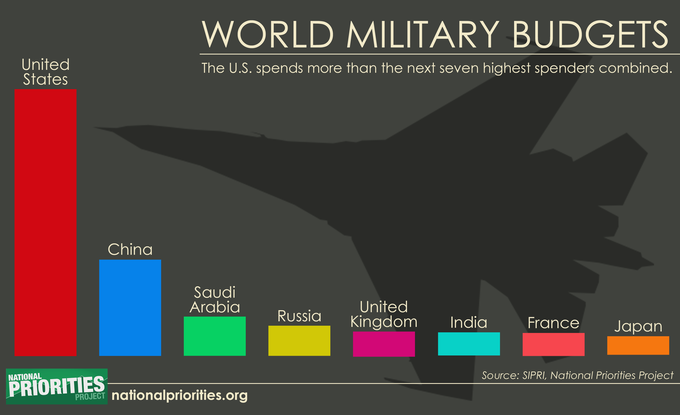 What's Happened Before, and Things to Come
In several important ways, the decade after the Great War of 1914-1918 was a period that strongly resembled our own.
Rising wealth attendant to economic liberalization and international finance after World War One – and the increasingly unequal division of incomes, particularly in countries and industries that were heavily dependent upon international trade and investment -- created the conditions that favored fascism, and inequality is back with a vengeance in the English-speaking democracies, a century later.

As in the 1920s, the political map of the world has been redrawn during the last decade. The U.S. and NATO countries have swept to the right, as has most of Latin America. Since 2010, ruling liberal democratic and social democratic governments have been replaced across Europe by Right-populist figures at the same time that stock market indexes have peaked along with measures of economic inequality.


[The above map is several years out of date. Spain and Portugal have since elected Leftwing coalition governments.]
The same Rightward sweep has simultaneously occurred across Latin America:


Countries in red indicate left-wing governments as of 2011


Countries in blue indicate right-wing governments as of 2018
Fascism by definition involves militarization of society and mobilization against an external threat, usually both a state and a "foreign" minority population or ideology, often targeting immigrants and ethnic or religious minorities for expulsion and persecution.


(Detained women and children awaiting deportation, ICE detention facility, Texas)
In many cases, fascism is a transitional stage between wars of militarized states that have failed to demobilize. In our own time, reemergence of the Cold War has been accompanied by sharp movements to the Right in a string of western elections. Today, a crisis of confidence throughout the post-Cold War liberal democratic world is accompanied by dramatic political instability, polarization, and rising hysteria about external threats from Russia, "illegal aliens", and Muslims. It is, as usual, the weakest, the refugees and upended victims of wars, who are blamed for this movement, but they are a symptom not the primary cause of the Rightward shift of the western world. The plunge into Fascism (or Corporatism) -- not populism -- is the right word for it, has been imposed from above, not arisen from below. That is another lesson of the last Century.
Finally, when we examine the political messaging from the 1920s alongside our own era, fascism proves to not be a true mass movement that emerged spontaneously. In both eras, Fascism is more the product of advertising agencies and copywriters than an organic expression of grass-roots popular sentiment. Goebbels adapted recent developments in commercial advertising to the political sphere, including the use of catchy slogans and subliminal cues. Unlike genuine populism, which can be so parochial that it is barely understandable to outsiders, fascism follows a distinctive and easily recognizable set of universal symbols, messages and forms that can be adapted almost anywhere.
The traditional style and emblems of fascism are obvious in Washington, where neoclassical architecture and symbols abound, evoking the power and authority of Rome. Bold fonts, vivid colors (red, black, white, royal blue and imperial purple). Broad gestures, self-adulation, applause. The message hasn't changed much in 2000 years: S.P.Q.R.
Fascism developed according to a standard business model with a media strategy that can be adapted to almost any country and is durable, virtually unchanged for over a century. You can usually spot a fascist politician with the volume turned off (in case you didn't hear that the first time).
Fascist regimes are grafted onto the backs of populist movements, dividing and weakening them. It may also be transplanted from abroad and cultivated by transnational economic elites, almost always as a means of coopting or suppressing indigenous socialist and popular movements. There is not a single case of a fascist movement that has ever come to power without the guidance, media management skills and funding of at least a substantial segment of the business establishment, usually aided by international cartels. If one wants to understand and do something about the spread of fascism, look at the Oligarchy, which is the essential agent of the failure of democracy.
Let's look at specific examples, at the string of newly emerging or weakened republics that failed after the 1918 Armistice, and the authoritarian regimes that emerged in their place. Like so many boots marching across the same cobblestone in a parade ground, it was a simple one-two step to mobilize support for Fascism within publics hardened by years of war and propaganda. Here's how the West was instructed to march to the Fascist beat during an earlier post-war era of highly unequal growing economies.

Between the Wars, the Far-right seized power through electoral means, as well as by military coups and civil wars. That happened first in Italy (1922), Finland (1929), Japan (1931), Portugal (1932), Chile (1932), Germany and Austria (1933), Hungary and Greece (1936), Brazil (1937), Spain (1939), Slovakia (1939), and Romania (1940).
As the wealthy got far richer during the Roaring Twenties, companies and businessmen organized politically across borders as a self-interested bloc, mostly through multinational corporations such as Standard Oil, DuPont Chemical, Anaconda Copper and Ford Motor Company operating globally through foreign affiliates from Germany to Chile.
Emerging global investment banks such as Brown Bros. Harriman and the Sullivan & Cromwell law firm linked Wall Street and the City of London with like-minded financiers, lawyers and industrialists in offices across Europe, Asia, and in Latin America.
To see the impact of multinationals on democracy, one may look at the small "laboratory for free market economics", Chile. Chile has a long history of elections, going back to 1838. Until the Pinochet Junta, it was the world's second oldest democracy. But, during most of that period, its economy was dominated by foreign companies and it also had more than its share of bloody massacres. For a century, Chile's main exports have been nitrate and copper. Nitrate is the primary ingredient of gunpowder, and competing British and German firms were largely taken over after World War One by the Anaconda company, headquartered in Butte, Montana as a Rockefeller family holding until it was sold to ARCO in 1977.
Thousands of striking miners in Chile were machine gunned to death during the 1920s and 1930s.
Business around the world runs politics like a business, top-down, employing the same tools and methods that they had developed to operate large companies and marketed products. Standard Oil gets its name from its standardized motor lubricants and gasoline processes and packaging.
Beginning with techniques of emotional persuasion during the First World War, the Right-wing developed fascism into a distinct political brand with the help of Madison Avenue. During the 1920s and 1930s, fascism became merchandized largely as a consistent product in accordance with the emerging norms of corporations and the uniform tastes of mass advertising and entertainment.
Ambitious professionals from New York, London and Berlin advertising agencies and press bureaus produced a steady stream of cult-like messages tailored for locally-recruited charismatic Right-wing politicians. They stressed modernism, self-empowerment and identity in politics much as Edward Bernays had laid out in his formula for consumer advertising. Selling Nazism was like selling cigarettes:
ANOTHER LESSON: It's Easier to Sell Fascism than to Control It
The politics and public attitudes after the Great War were shaped by the militarizing experience of World War and international reaction to the 1917 Russian Revolution. Once conditioned to embrace authoritarian figures and patriotic symbols, from there, persecution of designated domestic subversives and scapegoated minorities was as easy as putting down your right foot. Perhaps, too easy and impossible to stop beyond a certain point.
It has been often said that liberal democracy and trade promotes peace. The truth is, the wealthy can make money at any time.
What economic elites actually prefer is for government to continue spending and funneling ever-increasing amounts of public debt through private banks. Preparation for war does splendidly to stimulate spending. Another goal is for government to allow preferred firms to concentrate into cartels and monopolies. Ideally, those objectives should be realized without the risks of loss, high taxes and bureaucratic regulation that actual wartime mobilization incurs.
As Europe and Latin America between the wars showed, Fascism holds the added benefits of labor and social discipline that comes with authoritarian rule.
Capital learned several lessons from its experiments with fascism during the 20th Century. The Great War and World War Two both proved to be boundless stimulus for financial investment and GDP growth that boosted business revenues and profits in many industries. However, it came with two unwanted costs: governmental regulation and high wartime taxation on business. The third lesson was that the much of the capitalist class in Europe was obliterated during World War Two and the Soviet Union survived, so it was not a universally successful experiment.
With the spread of nuclear, chemical and biological weapons, continued full-scale war mobilization and even limited permanent war is held to be too risky, today, even for those institutions that maintain competitive advantages through quantitative risk management. We have thus entered the Postmodernist age of simulated warfare, where Oligarchs and each country's secret services create an environment of controlled chaos through terrorist outrages and regime changes that merely justify continued expansion of military budgets but with minimized damage to infrastructure, except where planned to create temporary supply shortages and predictable price spikes.
Another characteristic of fascist regimes is tax reduction or elimination for corporations and the wealthiest top brackets. As shown below, the tax burden in America has also almost disappeared for corporations. Those who are wealthy enough to plow back earnings into equity or who simply "borrow" (income not taxed) at negative real interest rates from themselves also escape taxes. Other favored tax dodges of the very wealthy are the personal use of non-profit foundation and company-owned residences, aircraft and amenities as nontaxable subsidies of their own living costs.

Fascism, or "Corporatism" as Mussolini correctly termed it, seemed to offer bankers and industrialists the best of both worlds – large state subsidies to business, cooptation and control over labor unions, and expanding markets, without real government controls -- a seemingly attractive package. Charismatic figures of the Far Right, such as Hitler and Hirohito however, once in power, pursued their own imperial, nationalist agendas that led directly back to war. That wasn't entirely welcome in all board rooms. The problems with the permanent warfare state weren't really fixed until the deregulation and wholesale shift of the tax burden onto the middle-class that occurred during the Reagan era. What has followed has been various shades of Fascism-lite within increasing unequal societies.
One thing that has stayed with us, with a short breather for a decade or so after 1991, is anti-communism. The politics and public attitudes after the Great War were shaped by the militarizing experience of World War and international reaction to the 1917 Russian Revolution. Once conditioned to embrace authoritarian figures and patriotic symbols during wartime, from there, persecution of designated domestic subversives and scapegoated minorities is not a hard sell.
World War One had fundamentally changed the nature of democratic governments and their relationship to corporations and citizens. Wartime governments all became more centrally-controlled, placing more power in the Executive and agencies, with less accountability to legislatures and traditional elites. The Great War also created enormous state bureaucracies pumping capital into giant corporations of unprecedented size and market dominance. The Great War also utilized state-directed mass media that reached deep into the minds of citizens through newspapers, cinema and radio, mobilizing publics making them obedient to national authority, agitated and aroused against designated international enemies.
Almost immediately after hostilities ended in 1918, industrial unions moved to raises wages frozen during the war. This happened almost everywhere worldwide there was an industrial population. A series of massive strikes occurred in virtually all industrialized countries. Left-wing parties pushed for higher wages and social reforms and, in many countries, revolutionary movements seized control of factories and municipalities. The reaction was often to put down strikes and insurrection by force, and in many places, industrialists financed their own militias when civil authorities did not respond with what they considered immediate, effective application of force.
In Italy, for example, during the September 1920 factory occupations by socialist and communist workers, Italian industrialists attempted to pressure Giovanni Giolitti's government into sending troops against the strikers and socialist backers, but Giolitti refused to use force against them and thus some of Italy's largest industrialists turned against the liberal system. As early as 1914, FIAT's Giovanni Agnelli, Carlo Esterle of the consolidated electrical industry and Mario and Pio Perrone of Ansaldo heavy armaments industries began financing Mussolini's Il Popolo d'Italia as a means to undermine the Italian Socialist Party.
The post World War One era was a time of mass dissatisfaction with rising inequality and political polarization. Right-wing extremists were armed and organized into "color shirt movements" funded by wealthy industrialists to suppress Left-wing parties and labor.
"Color Shirt" Mass Movements Emerge in Europe (1920-40)
The environment of hysterical anti-communism imperiled and brought down numerous struggling constitutional democracies. It happened not in just one or two countries, and not just in one region, but in every region, worldwide. The rise of authoritarian regimes and movements during the 1920s and early 1930s, and the weakening of the Center-Left was not – contrary to the conventional wisdom –merely the direct result of the mass unemployment and economic suffering of the Great Depression.
During the period 1918-1940, the assumption of power by Right-wing regimes, either by election or coups, occurred both before and after the onset of Great Depression.
In the 1920s, Fascism actually took root during a period of strong economic growth in most countries that had been involved in the War. Armed Rightist insurgencies and actual collapse of elected government was most likely to emerge where large, concentrated firms and upper-income elites threatened by Socialists organized and bundled their money to back ambitious military figures, buy guns for militias and finance the authoritarian regimes they wanted. Fascism is not really an organic mass movement, but is instead revolution from above that harnesses myriad popular fears, hatreds, and discontents.
The primary exception to that pattern was in the English-speaking countries that had not seen recent fighting on their own soil, without a recent history of military government and where military weapons were not widely available. Even here, it could have gone the other way, had not General Smedley "War is a Racket" Butler not blown the whistle in 1933 on the Morgan Bank-Dupont family financed "Banker's Plot". Similarly, in late May, 1940, Winston Churchill's War Cabinet came within a whisker of signing off on a clandestine deal with Hitler negotiated by Viscount Halifax, his foreign secretary and head of the wealthy appeasement wing of the British establishment, via Mussolini.
A Rightward lurch into authoritarianism across much of the world after 1918 was actually the continuation of war-time militarization of the state, concentrated industry and a heavily propagandized society. The "yellow press" of Lord Beaverbrook, First Minister of Information (1918), and William Randolph Hearst promoted the daily line laid down by international banks and industrial combines which financed German industrialists who bought party headquarters and machine guns for fascist militias. Hearst gave Mussolini his own column, even providing ghostwriters who penned persuasive and compelling copy that was read by millions of Americans during the 1920s and 1930s. [https://www.thenation.com/article/devil-and-mr-hearst/]
Eventually, the outright endorsement of fascism by the establishment became hard to disguise, as these two extracts from both sides of the Atlantic 1934 show: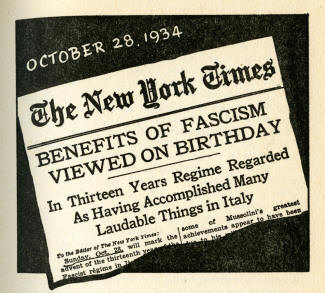 Widespread public attitudes of obedience, conformity and fear of externalized enemies had become internalized, normalized and continued after the Armistice. Right-wing mass politics of the era were shaped by the international reaction to the Russian Revolution and fears of social revolution shared alike by industrialists and clerics. It was in that shared psychological environment of militant anti-communism and hysteria over Russia that Italy and then Finland and half a dozen other former democracies embraced Fascism.