Sunday Open Thread: August 26 is Womens's Equality Day in the US
Submitted by enhydra lutris on Sun, 08/26/2018 - 5:00am
and it is also Pungenday, Bureaucracy 19, 3184 YOLD
(for you Discordians out there)
World History this day
1071 – The Seljuq Turks hammered the Byzantine army at Manzikert, and took the emperor captive.The emperor was ransomed for some gold and assorted chunks of Anatolia. The Byzantine army was shattered and scattered, as well as demonstrably no longer invincible. The emperor was humiliated, there were coups and rebellions, and the whole empire went downhill from there fairly rapidly.
1346 – Though greatly outnumbered, the English won a horribly lopsided victory over the French at Crecy. The English use of massed longbows proved vastly superior to the French combination of crossbows and armored knights and took an especially heavy toll upon the knights. Because of this stunning victory, the war only dragged on for 107 more years, and, in the end, the French won.
1789 - The Declaration of the Rights of Man and of the Citizen was approved by the National Constituent Assembly of France, proving yet again that talk is cheap.
US History this day
1920 - The 19th amendment to US Constitution took effect, giving women the right to vote. Et Voila!, women's equality, non? Heh.
1970 - Leaders of the "second-wave feminist movement" led a nationwide Women's Strike for Equality. I surmise that a full on prolongued national strike by all women and all of their allies might accomplish something, probably martial law, unfortunately. Every woman in this country needs to go (re)read Lysistrata.
Science & Technology this day
1768 - Captain James Cook set sail from England aboard HMS Endeavour.
1791 - John Fitch got a US patent on the steamboat.
1883 - The 1883 eruption of Krakatoa began its final stage
The Arts this day
-
Misc. this day
-
Birthdays of Note this day
1676 - Robert Walpole, scholar and politician
1728 - Johann Heinrich Lambert, physicist, astronomer, mathematician, logician
1740 - Joseph-Michel Montgolfier, inventor, developed a man carryng hot air balloon.
1743 - Antoine Lavoisier, chemist
1873 - Lee de Forest, engineer, invented the triode
1874 - Zona Gale, novelist, short story writer, and playwright. Pulitzer winner.
1882 - James Franck, physicist
1901 - Jimmy Rushing, singer and bandleader
1906 - Albert Sabin, physician and virologist
1918 - Katherine Johnson, physicist and mathematician
1935 - Karen Sparck Jones, computer scientist
1937 - Don Bowman, country singer and songwriter who wrote wildwood weed
1940 - Vic Dana, dancer and singer
1940 - Nik Turner, musician and songwriter
1941 - Chris Curtis, drummer and singer
1943 - Dori Caymmi, singer, songwriter, arranger, and guitarist
1944 - Maureen Tucker, singer, songwriter. and drummer
1946 - Valerie Simpson, singer and songwriter, half of Ashford & Simpson
1949 - Leon Redbone, singer, songwriter, guitarist, and producer
Deaths of Note this day
1723 - Antonie van Leeuwenhoek, microscopist and biologist
1865 - Johann Franz Encke, astronomer, think Encke's gap
1910 - William James, psychologist and philosopher
1958 - Ralph Vaughan Williams, composer
1972 - Francis Chichester, pilot and sailor
1974 - Charles Lindbergh, pilot and explorer
1981 - Lee Hays, singer, songwriter and weaver
1989 - Irving Stone, author
-

It is pretty clear that we are not yet remotely close to achieving women's equality, and, if I may, I have a suggested solution to propose, yet another march: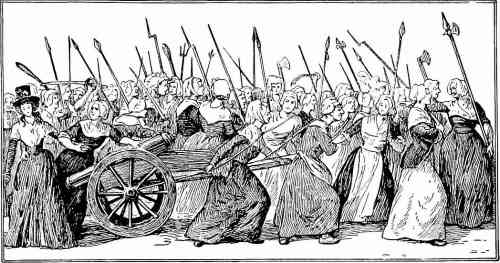 -
So now some music
Womens Equality Day
Jimmy Rushing
Don Bowman
Vic Dana
Chris Curtis
Dori Caymm
Maureen Tucker
Valerie Simpson
Leon Redbone
Ralph Vaughn Williams
Lee Hays
-
Photo:
It's an open thread, so do your thing