"The Democratic Party is the champion of voter suppression"
Submitted by

gjohnsit

on Thu, 07/19/2018 - 5:55pm
For decades we've heard the Democrats yell and scream and shed crocodile tears about the GOP's voter suppression efforts. Yet for some reason, the Democrats never seemed to be able to do anything about it.
The reason for the Democrats inability to fight back on this issue is extremely simple: They are hypocrites.

It is no accident that, as confirmed by Politifact, "New York consistently ranks as one of the worst voting turnout states in the nation." In the recent New York primary (which was only for federal offices -- more on that in a minute), Alexandria Ocasio-Cortez scored her surprise victory in the state's 14th Congressional District with voter turnout in that district of an abysmal 12%.... What's the matter with New York?
One of the ways that New York slams the door in the face of voters is the one-two punch of its closed primaries and its draconian party switch rules.
...
In New York, independents -- those who haven't enrolled in a party -- are the second largest group after Democrats in terms of party registration. (Republicans are effectively the third party in New York.) Who are these independents? Many of them are reliably Democratic voters, donors, and volunteers on campaigns. They are disproportionately young. Nationally, some 44% of millennial voters are registering as independents rather than with a party, yet polls show this age group overwhelmingly self-identifies as Democratically-leaning. African American millennials comprise the highest percentage of Democratic-leaning independents, followed by Latino millennials. Why does the New York Democratic Party insist on locking them out of the primaries and creating a culture of non-participation?
The answer is simple. These closed primaries allow party bosses to exert control over the elections. That gets us to the issue of the split primary in New York, where state and federal primaries are being held on different days. As a senior Democratic National Committee official quipped to me the other day, there's no reason to separate the primaries other than to decrease voter turnout.
Closed primaries, draconian party switch rules, and splitting the primaries are only just some of the ways that Democrats suppress voting.
Another way is the random scheduling of off-cycle elections.

when it comes to scheduling off-cycle elections1 like those taking place today, the Democratic Party is the champion of voter suppression...
Scheduling local elections at odd times appears to be a deliberate strategy aimed at keeping turnout low, which gives more influence to groups like teachers unions that have a direct stake in the election's outcome. But before getting into the details of off-cycle elections, consider the parties' basic positions on issues of voter participation.
The election calendar in the United States is an insane mess. Exhibit A is New Jersey. New Jersey holds federal elections with the rest of the country on the first Tuesday after the first Monday in November of even-numbered years. But elections for state office in New Jersey are held in November of odd-numbered years. School district elections are held on the third Tuesday in April or else in November. And fire district commissioner elections are held on the third Saturday in February.
It isn't just New Jersey.
So just how effective are these Democratic party voter suppression tactics?
Consider the progressive insurgency in the Democratic Party since 2016. It's made some dramatic victories, but note where those victories are.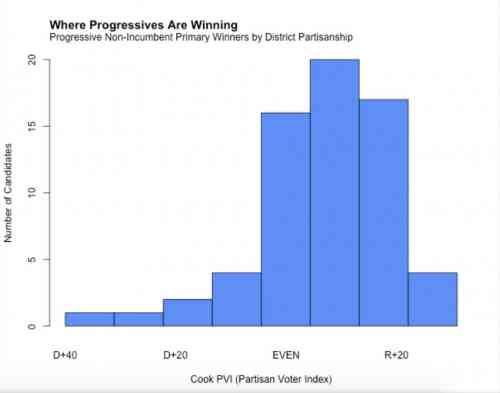 Progressives are winning the most primaries where the Democratic Party establishment is the weakest. Coincidence? I doubt it.
If there is one thing that Democrats and Republicans can agree on, it's retaining the two-party duopoly.

The major party governor candidates only needed 5,000 signatures from registered voters to get on the ballot. Third-party folks needed 25,000. Plus their window to collect those signatures didn't start until a week after the primary and ran until Monday's filing deadline....
Both outsiders collected more than needed because the signatures will be challenged. Illinois tosses entire pages of signatures over minor flaws regarding signatures, addresses, petition circulators' signatures, circulators' addresses, party affiliation of signers, page numbering, page size, binding and other arcane rules designed to prove a candidate would make an especially fastidious clerk as opposed to whether they are fit to lead the world's 20th largest economy.
Democrats across the nation cry about voter suppression, but here in Illinois we actively engage in candidate suppression.
So the next time you hear a Democrat ranting about voter suppression, give them your very best eye roll.
Be sure to practice beforehand. You wouldn't want to hurt yourself.