Goldman Sachs: This is "as good as it gets"
Submitted by

gjohnsit

on Thu, 06/21/2018 - 3:10pm
I hope you are satisfied with the current state of the U.S. economy, because it'll get worse from here on.

"The current pace is probably as good as it gets because we expect the impulse from financial conditions to gradually turn more negative," Hatzius said.
If this is as good as it gets then we're in deep doo-doo.
In this so-called "booming economy", real average hourly earnings fell 0.1 percent from a year earlier. What do you think will happen to wages when the recession hits?
Even more important, what do you think people will do when their shitty job goes away?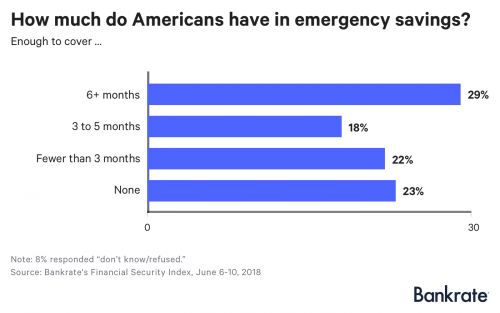 Since 62% of people are very or somewhat comfortable with their level of emergency savings, including about one in five Americans with no emergency savings at all, this crappy savings rate isn't going to go up.
Put another way, 4 in 10 couldn't come up with $400 if their car needed major repairs, or someone broke an arm.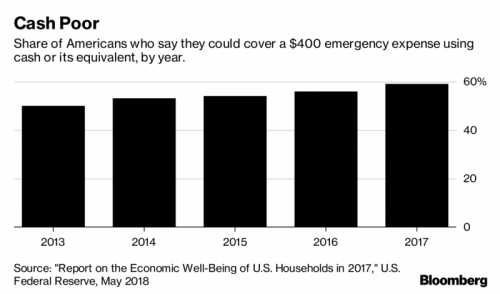 All this lack of savings adds up to lack of any possible retirement.

A Boston College professor took to Politico on Thursday with advice for younger workers concerned about their future financial prospects: Millennials needn't worry about retirement, Alicia Munnell, 75, writes, as long as they "are willing and able to work longer than their parents and grandparents did."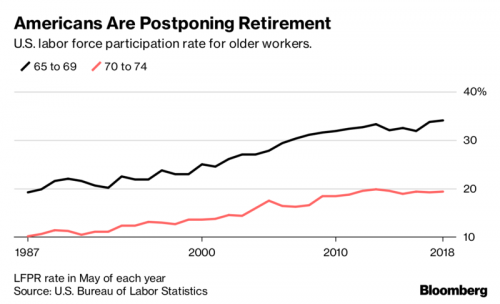 "Just work longer" is not just an insufficient answer, it also is increasingly impossible because people's health is deteriorating.

University of Michigan economists HwaJung Choi and Robert Schoeni used survey data to compare middle-age Americans' health. A key measure is whether people have trouble with an "activity of daily living," or ADL, such as walking across a room, dressing and bathing themselves, eating, or getting in or out of bed. The study showed the number of middle-age Americans with ADL limitations has jumped: 12.5 percent of Americans at the current retirement age of 66 had an ADL limitation in their late 50s, up from 8.8 percent for people with a retirement age of 65.

At the current retirement age of 66, a quarter of Americans age 58 to 60 rated themselves in "poor" or "fair" health. That's up 2.6 points from the group who could retire with full benefits at 65, the Michigan researchers found.

Cognitive skills have also declined over time. For those with a retirement age of 66, 11 percent already had some kind of dementia or other cognitive decline at age 58 to 60, according to the study. That's up from 9.5 percent of Americans just a few years older, with a retirement age between 65 and 66.

While death rates can be volatile from year to year, Choi and Schoeni's study is part of a raft of other research showing the health of Americans deteriorating.
Why are American's health getting worse? Look no further than our privatized health care system.
A full 25% of people skipped needed medical treatment because they can't afford it.
Even without people losing their health insurance from losing their jobs, premiums and deductibles will keep people from getting needed health care.

Some states could see as much as a 90 percent increase in premiums between 2019 and 2021, the analysis indicated.
The thing to keep in mind is that all of these numbers are from now - as good as it gets.
What we are facing in the near future is a dramatic rise in unemployment, and yet another decline in wages.

Perhaps it's a statistical blip. If not, the U.S. faces an almost dystopian future—one of hyper class-stratification in which the few are rich and living longer while the many postpone retirement, struggle to get by and ultimately die younger.
It's not "almost" dystopian. It IS dystopian.
What's more, the political establishment thinks you have it too good.
After enormous giveaways to defense contractors and the wealthy elite, the budget deficit has been pushed up to critical levels.
When the recession hits in the next year or two, that deficit will explode higher.
So who'll pay for it? The wealthy elite who have never been richer? Of course not.
You peasants will pay for it. After all, having a full belly and a roof over your head is indeed too much to ask.
The thing is that an empty belly has a way of getting someone to focus.
When everyone is hurting, blaming immigrants, Hollywood liberals, Russians, and the impoverished, white working class doesn't sound credible. The typical scapegoats don't make logical sense.
So more and more angry people will finally consider blaming the people who were responsible all along - the political and economic establishment.