Non-voters are the key
Submitted by

gjohnsit

on Tue, 04/24/2018 - 1:32pm
They released a new study of non-voters, and it showed that without question the strategy of establishment Democrats won't work.
In a nationwide survey of 800 infrequent or unregistered voters, 56% of poll respondents said they felt the country was on the wrong track and nearly 55% rated Trump unfavorably. Yet 83% of those polled said they are "not very likely" or "not at all likely" to vote in 2018.
So non-voters don't like Trump.
Thus the Dems strategy of screaming "ScaryTrump" 24/7 should work? No.

Fifteen percent of unregistered voters said their vote "doesn't count" or "won't make a difference." Nine percent of registered voters said the same.
Nearly 63% of respondents agreed or strongly agreed with the statement: "I don't pay much attention to politics because nothing ever gets done – it's a bunch of empty promises."
While 12% said they will vote or probably try to vote in the 2018 elections, 11.5% said that only "different/better candidates" would motivate them to vote.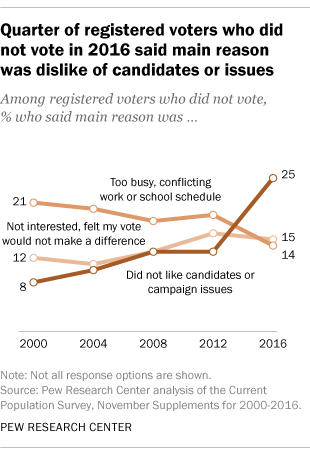 So simply running against Trump/GOP won't get these people to the polls.
You have to give these people a reason to vote for someone/something.

When asked for the first word or phrase that came to mind when they heard the name Donald Trump, one in four respondents gave positive answers, including "favorable/like him" (9%) and "doing a good job/trying his best" (5%), while others were critical, calling him "idiot/jerk/ass" (11%) or "ignorant/moron/stupid/dumb" (6%).
At least 17% of them are pretty smart.
Then we have the most misleading part of the study.

Most respondents identified themselves as moderate (36%), followed by conservative (21%) and liberal (11%).
This implies the establishment Dems are right, and running more "likeable" centrists are the way to go. But is that correct?
What do non-voters actually believe?
For that we have an older study.

Four questions from the American National Elections Studies (ANES) data show a stark divide on issues related to economic inequality. Nonvoters tend to support increasing government services and spending, guaranteeing jobs, and reducing inequality—all policies that voters, on the whole, oppose. Both groups support spending on the poor, but the margin among nonvoters is far larger.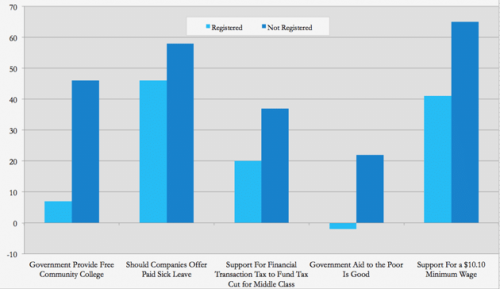 So when you hear "non-voters are largely moderate or conservative" consider that the terms "moderate and conservative" mean different things to different people.
Non-voters are probably more conservative on social issues than mainstream Democrats, and thus explain why they self-identify that way. So running on Identity Politics would be a turn-off to these people.
When you look at economic policies, non-voters are without a doubt more progressive, and that is because they tend to be poorer. Thus, Bernie is/was right.