Those devious Russian bots used actual facts!
Submitted by

gjohnsit

on Tue, 02/20/2018 - 6:43pm
Let's assume that all the official accusations about Russiagate are true.
Let's assume that those Twitter bots in Russia were all controlled by Putin himself.
Let's assume that they were organized to undermine Hillary and our democracy.
Assuming all of that to be true, this is what we are left with.


Damn you Russian bots, with your widely read mainstream sources and your factual accuracy! https://t.co/qxDYTtSJ3J pic.twitter.com/N8SsoxP90Q

— Aaron Maté (@aaronjmate) February 15, 2018
The analysis by Columbia University social-media researcher Jonathan Albright of more than 36,000 tweets sent by Russian accounts showed that obscure or foreign news sources played a comparatively minor role, suggesting that the discussion of "fake news" during the campaign has been somewhat miscast.
"The Kremlin, they don't need to create a false narrative. It's already there," he said. "You're just taking a narrative and elevating it."
Let's step back here.
The "fake news" source was the Washington Post, which has been screaming about "fake news from Russia" for a year, which was actually articles out of the Washington Post.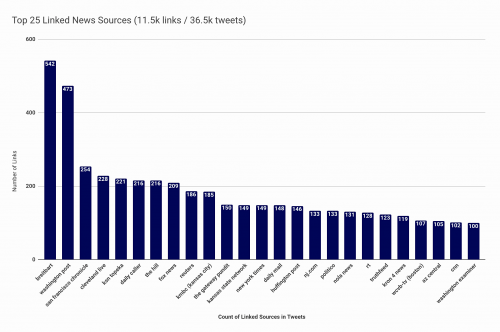 Do you have a hard time believing that? I am quoting the Washington Post right now.

Among the tweets Albright studied, the most common links were to Breitbart News, followed by The Washington Post and the San Francisco Chronicle....The Russian government-funded news site RT ranks 19th among widely linked sites; no other foreign-based site ranks among the top 25 on that list.
But wait! It gets even more bizarre. Check out this quote.

Phil Howard of the University of Oxford's Computational Propaganda Project, said: "In a good misinformation campaign, Russian bots on Twitter or fake accounts on Facebook will actually make use of the most credible news sources in America. Even news stories that debunk some political rumor can be used to keep the rumor alive."
I wonder if, when Howard said this, did he realize just how Orwellian his statement was?
Have we always been at war with Eastasia?
If they used the main stream media, then that is poor journalism.

— Tom Swetland (@fedbooks) February 15, 2018
The day has come: accurate news stories threaten American Democracy...

— Mike Jasinski (@jasinskm) February 15, 2018
Let's be clear on this: if you read, post, or retweet American mainstream news stories, you are likely a Putin Puppet.