Fat Tuesday Funk
Submitted by

NCTim

on Tue, 02/13/2018 - 3:20am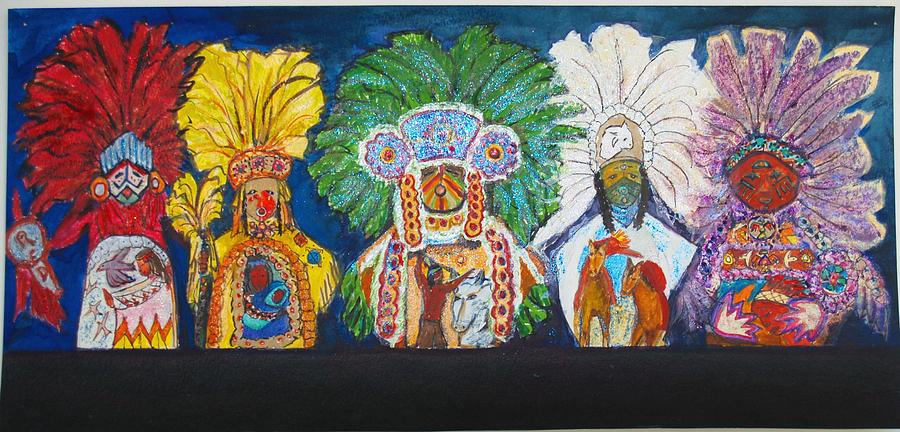 We dance even if there's no radio. We drink at funerals. We talk too much and laugh too loud and live too large and, frankly, we're suspicious of others who don't.
- Chris Rose -
Mardi Gras Indians History and Tradition

Mardi Gras is full of secrets, and the Mardi Gras Indians are as much a part of that secrecy as any other carnival organization. Their parade dates, times and routes are never published in advance, although they do tend to gather in the same areas every year.

The Mardi Gras Indians are comprised, in large part, of the African-American communities of New Orleans's inner city. While these Indians have paraded for well over a century, their parade is perhaps the least recognized Mardi Gras tradition.
Turn it up!
Tracing their roots back to a time when American Indians helped shield runaway slaves, the Mardi Gras Indians are among the most colorful and mysterious of New Orleans' cultural phenomena. Finding it difficult to participate in Mardi Gras "krewes," early African Americans developed their own way of celebrating by organizing Mardi Gras Indian tribes as krewes. Today, Mardi Gras Indians shine at every opportunity by showcasing their spectacular hand-made costume, lovely song and contagious spirit. Watch them parade and perform at several events including Jazz Fest, "Super Sunday" the Sunday after St. Joseph's Day or come during Mardi Gras season when their celebratory spirits shine most – you can't leave New Orleans without having joined in this truly unique tradition!
What are the Mardi Gras Indians, how many are there and what is their history?


The Mardi Gras Indians are a fascinating subculture of New Orleans. They are hierarchical, territorial tribes in African-American communities and give themselves names like Wild Magnolias, Creole Wild West and Fi Yi Yi. The tribes celebrate Mardi Gras with traditions that date back to the 1800s, when Mardi Gras krewes excluded blacks. Shut out by segregation, African-Americans began to celebrate in their own neighborhoods.

The origins of Mardi Gras Indians have been passed down orally through generations. One common belief is that local Native American tribes sheltered runaway slaves, and the two cultures merged. Some Mardi Gras Indians claim direct Native American ancestry. Other people believe the intermingling of Native Americans with Creoles, slaves and free people of color in Congo Square brought about the merge. There are also accounts of blacks participating in the Buffalo Bill Wild West shows that traveled through major cities in the late 1800s and being influenced by the costumes. Later, Jim Crow laws barred the Mardi Gras Indian tribes from parading with mainstream Carnival krewes on Canal Street or St. Charles Avenue, so they stayed within their neighborhoods and became solidified.

  As the Indians marched in the street, they would encounter other tribes competing for territory. In the early years, the confrontations could get tense and violent, but those practices changed, due largely to the leadership of Big Chief Allison "Tootie" Montana of the Yellow Pocahontas tribe. Montana died in 2005 while addressing the City Council about allegations of police harassment of Indians.
He's The Prettiest: A Tribute To Big Chief Allison "Tootie" Montana's 50 Years Of Mardi Gras Indian Suiting

Introduction

New Orleans has often been referred to as America's most African city and considered part of the Caribbean world. While it is acknowledged that our city's origins are European, predominantly French and Spanish with an influx from Italy and Ireland, it remains that a major component of New Orleans' cultural gumbo stems from its associations with Africa and/through the Caribbean. African Americans have had an indelible impact on the city's lifestyle and customs. In passing, mention must be made of the origins and development of perhaps their most agreed-upon contribution—jazz—America's quintessential musical idiom. Later rhythm & blues, rock & roll have early roots in this musical mecca. One cultural phenomenon unique to the Crescent City and coming from African ritual traditions is the jazz funeral. Yet another apparent contribution from African Americans on New Orleans culture is its distinctive cuisine derived from Africa as well as Europe and Native American peoples indigenous to the area.

Without a doubt the century-old tradition of certain New Orleans' African-American males dressing on Mardi Gras day in elaborate handmade costumes reminiscent of the American Plains Indian dress and the beadwork of Yoruba peoples in Nigeria ranks high in our city's unique contributions to American culture. It too has associations which stem from Africa by way of the Caribbean. This exhibition celebrating the singular achievements of the Big Chief of the Yellow Pocahontas tribe and the recognized dean of all the Big Chiefs of the Mardi Gras Indians, Allison "Tootie" Montana, presents to the public this folk art form which has been overlooked by many in the art world for many years. On this occasion the New Orleans Museum of Art honors all the "gangs" and their chiefs for the extraordinary work they have done with little or no notice throughout the years. Some of the more recent chiefs who formed groups originated as members of the Yellow Pocahontas. Joe Pete Adams of the Seminole Indians, Larry Bannock of the Golden Star Hunters, Ferdinand Bigard of the Cheyenne Hunters, Monk Boudreaux of the Golden Eagles, "Lil" Walter Cook of the Creole Wild West, Emile "Bo" Dollis of the Wild Magnolias, Lawrence Fletcher and later Jake Million of the White Eagles, Victor Harris of the Spirit of Fi-Ya-Ya, Donald Harrison, Sr. of the Guardians of the Flame, George Landry, known as Big Chief Jolley, of the Tchoupitoulas, Percy "Chief Pete" Lewis of the Black Eagles and Charles Taylor of the Yellow Jackets are legendary in the pantheon of individuals participating and keeping alive this tradition.
Recognize the voice? ->
Eat, drink and be merry!
Lent starts tonight. I am giving up restraint.
Ranks: Spy Boy, Flag Boy, & Big Chiefs

The Spy Boy is first in the front: he is the baddest of all the Indians...he is ahead looking for trouble. Only a chosen few can be Spy Boy. It's his job to send a signal to First Flag when he sees other Indians. First Flag signals back down the line to Big Chief. Big Chief has a stick that controls the Indians. When he hits the ground with the stick, they better get down and bow to the Chief." - Larry Bannock

On Mardi Gras Day, if you're lucky enough to see some of the Mardi Gras Indians, the first Indian you're likely to see is the Spy Boy. His job places him ahead of the Big Chief's procession. Each Spy Boy has a method to signal potential trouble or approaching rival Indian tribes...with dancing, whooping, hollering, and hand language. His observations are communicated to the Big Chief who, in return, sends a set of directions and instructions back down the parade procession.

"I 'took' my position as a Spy Boy. Nobody gave it to me. I took it when someone else didn't do their job. Your heart and soul has to be there." - Larry Bannock
It is through this elaborate system of dances, whoops, flags and hand signals that the Big Chief is able to direct a progression multiple streets long...even though he is far away from the front of the parade. This communication network is important, as it allows the Big Chief time to adjust his suit, don his headdress, and prepare a song for an impending meeting with a rival tribe. Marching the streets on Mardi Gras Day on the way to meet other Indian tribes is a tribe's opportunity to have an entire year's worth of artistic effort appraised by an opponent artist.
Bottoms up! Smoke it right! Be sure to ingest fat and sugar! Jesus wants it that way!
Time for a cup of coffee and a handful of Girl Scout cookies.