OMG, Scheiß German Election Results !!!
Submitted by

mimi

on Sun, 09/24/2017 - 11:45am
So first results for the German elections: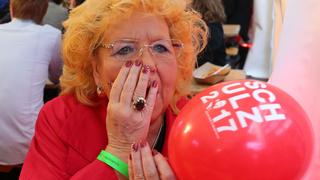 German elections exit polls: Merkel set to form new coalition.
If I understand it right, the SPD could form a coalition with "die Linke", "Die Gruenen" und den "Liberalen" FDP and have a majority.
edited:
I misunderstood this. Merkel just said that against the CDU no government can be built through coalition building of the SPD with other third parties. My bad.
But of course the 'liberals' of Germany (FDP) will never go into a coalition with the SPD, right?
If I don't understand it right, tell me.
edited:
Merkel just told me. Heh. Me, a German dummy expat.
Whatever the coalition szenario will be, because the AFD is now in the Parliament, they will have the power to introduce heated right-wing racist discussions on an official platform and no matter how few seats they have, they change the political landscape of the last sixty years in Germany. And this is a MAJOR set-back and imo the beginning of the end of peaceful Germany.
I bet you, right-wingers in the US will jubilate. They got their wish and have now the "new bad guy", the German "new Nazis" to fight against. Just the thing they need to keep their thumb on Germany.
I think it's a disaster we didn't need to have.
I hope that I will understand what is going on better within the next few hours and days. May be I do not understand the possibla coaltion options and am wrong.