The Medicare For All Battle will start soon
Submitted by gjohnsit on Sat, 08/19/2017 - 1:51pm
I should start by saying I was wrong and Bernie Sanders was right: waiting for the repeal Obamacare battle to finish before introducing a Medicare For All bill was a good move.
Why? Just look at how public opinion on health care shifted this year.

A new poll suggests the country may be shifting left on this core issue, with 62 percent saying it's the federal government's responsibility to make sure that all Americans have health care coverage, while 37 percent say it is not.
The survey findings from the Associated Press-NORC Center for Public Affairs Research indicate a change in public attitudes over the past few months, as concerns mounted about GOP legislation estimated to leave tens of millions without coverage.
...As recently as March, the AP-NORC poll had found Americans more ambivalent about the federal government's role, with a slim 52 percent majority saying health coverage is a federal responsibility, and 47 percent saying it is not.
That's a massive swing in a short period of time in the opposite direction of what Republicans had in mind.
It isn't just the general public. Doctors have joined nurses in coming around to the idea of single-payer as well.

A new analysis shows more than half of U.S. physicians support a single payer healthcare system with 42% "strongly" in favor and another 14% "somewhat" supportive, according to a new survey of more than 1,000 doctors by MerrittHawkins, a nationwide healthcare staffing firm. "Physicians appear to have evolved on single payer," MerrittHawkins senior vice president Travis Singleton said of the poll.
Bernie says he will introduce his Medicare For All bill next month. Speculation says the bill will include a "slow transition" to universal health care, but the article was light on actual facts.
Bernie admits that the bill stands very little chance of passing, but the shift in public opinion may give it a chance for legitimate debate.

Trump rode the wave of anger and hostility towards the status quo into the White House. But TrumpCare hurts the people who supported Trump. A bold remedy for fundamental change in the ailing healthcare system would help position the Democratic Party as the party of change and reform and help win back working families who jumped ship in 2016 to support the GOP presidential candidate.
The corporate Democrats are still talking about defending Obamacare, but that's increasingly becoming an untenable position.
Premiums for Obamacare in Iowa will rise more than 50% next year. In Illinois Obamacare premiums will rise between 23% to 43%.
Those are unsustainable increases.
Despite an obviously broken health care system in a state of gradual collapse, TPTB will try to convince us that universal health care is impossible.
For instance, did you know that Canadians want to privatize their health care system like the United States?

In a last-ditch effort to convince Canadians that their public health care system should be privatized, Canadian Medical Association (CMA) President Robert Ouellet has promised to "pull out all the stops" during the association's annual meeting next week. Trouble is, Ouellet's mission to lead the change to privatization is exactly the opposite of what 86 percent of Canadians want.
A new poll conducted by the Toronto-based Nanos Research points to overwhelming support — 86.2 percent — for strengthening public health care rather than expanding for-profit services.
"With more than 8 in 10 Canadians supporting public solutions to make public health care stronger, there is compelling evidence that Canadians across all demographics would prefer a public over a for-profit health care system," said Nik Nanos, president of Nanos Research.
...
Meanwhile, Canada's government just released a report titled "Healthy Canadians — A Federal Report on Comparable Health Indicators 2008." Its findings almost identically mirror the CHC polling results. In that report, a leading indicator points to the fact that "Most Canadians (85.2 percent) aged 15 years and older reported being 'very satisfied' or 'somewhat satisfied' with the way overall health care services were provided, unchanged from 2005."
Oh wait. I meant don't want to privatize their health care system.
President Trump calls Canadian health care "catastrophic", yet a majority of Canadian support tax increases to expand the current public system.
Most Americans are unaware that Mexico, a developing nation, transitioned to a single-payer health care system five years ago.

Despite periods of economic downturns and crisis, Mexico recently achieved a significant milestone – enrolling 52.6 million previously uninsured Mexicans in public medical insurance programs and thereby achieving universal health coverage in less than a decade.
This effort began in 2004 and occurred in a country of approximately 100 million people.
Before you are tempted to ridicule Mexico's health care system, consider that Americans are going to Mexico for health care by the hundreds of thousands.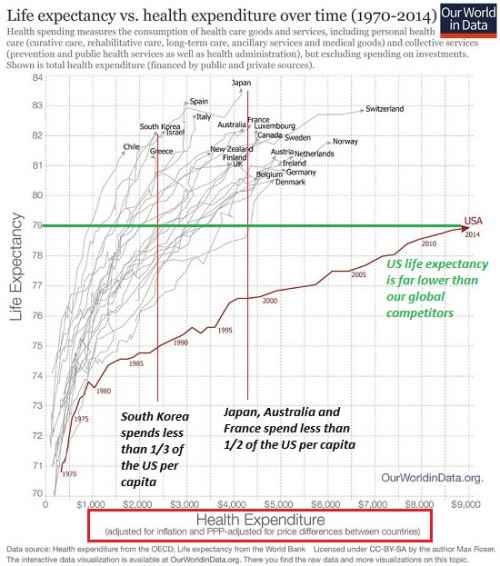 One important point that single-payer advocates should be emphasizing, but seem to be overlooking, is that a universal health care system would really help the economy. It would help domestic employment in particular.

If you want to pinpoint a primary reason why U.S. enterprises shift jobs overseas, you have to start with skyrocketing healthcare costs.
According to a report by the St. Louis Federal Reserve, real (adjusted for official inflation) wages have risen a mere 3% since 1970. (No wonder wage earners don't feel wealthier; if we use a more realistic measure of inflation, we haven't gained 3%--we've lost ground.)
But if we look at total compensation costs paid by the employer (health insurance, workers' compensation, employer's share of Social Security, etc.) we find that these costs have soared 60%. In other words, if these labor overhead costs had remained stable (i.e. gone up only as much as inflation), employers could have distributed the difference as raises to employees.
These labor overhead costs are the reason why wages have been stagnant for 46 years, and the dominant overhead expense is healthcare insurance.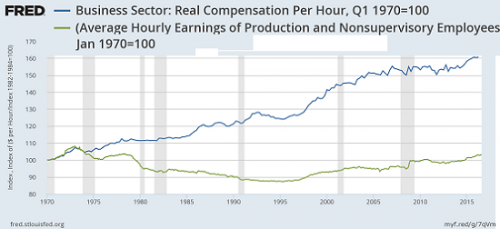 So how will the greedy leeches that are bleeding the nation dry under the current system fight back? With lies, distortions, and half-truths.
Here's Medicare for All: Long Wait Times, Fewer Doctors, and Huge Tax Hikes