Clinton operatives linked to Assange smear
Submitted by gjohnsit on Wed, 10/19/2016 - 10:48am
It's less than a surprise to see Orange State, a Democratic Party mouthpiece, linked to the Julian Assange smear.
So it should be even less surprising that Larry Summers, an influential, neoliberal advisor in the Clinton campaign, is also linked to the Assange smear.

Internet sleuths from Reddit were able to dig up some information about the dating service pushing the attacks on Assange, finding that the company shares the address with a private intelligence corporation named Premise Data Corporation.

Interestingly, Larry Summers, who is connected to the Clinton Campaign, is on the board of directors of Premise Data Corporation.

Here is the Reddit post that lays out the findings: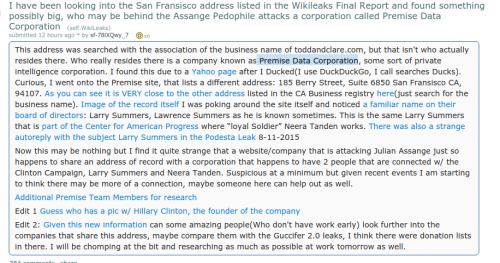 As other Redditors point out, the Center for American Progress was founded by Clinton campaign chair John Podesta and was funded by billionaire and pro-Clintonite George Soros.
As we reported yesterday, Fox News had told its audience Tuesday morning that Assange would be arrested "maybe in a matter of hours," leading to the speculation that there could have been a plot to arrest Assange over the pedophilia accusations.
Internet sleuths connect Clinton to mysterious intelligence contractor associated with Assange false accusations 2 https://t.co/idKuVC1BoD pic.twitter.com/ueX2JKhpOw

— WikiLeaks (@wikileaks) October 19, 2016