Yeah about that Klaus
Submitted by snoopydawg on Mon, 05/30/2022 - 12:54pm
"We have the means to impose the state of the world" Yet this is considered a conspiracy theory even when they said it out loud, in pubic and it's recorded.

— Lynx (@dkelland1) May 23, 2022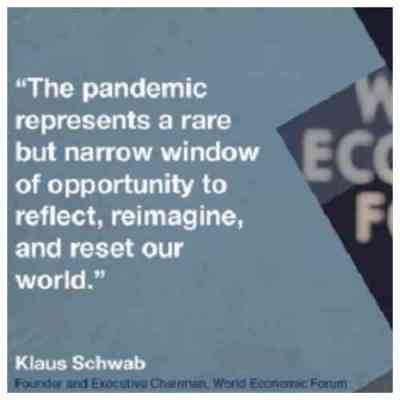 Klaus Schwab issues THREAT to Brazilian president for refusing to sign WHO pandemic treaty
World Economic Forum (WEF) founder and Executive Director Klaus Schwab issued a thinly veiled threat toward Brazilian President Jair Bolsonaro after the strongman refused to sign the World Health Organization's (WHO) pandemic treaty.

"Let's also be clear: The future is not just happening. The future is built by us, a powerful community – you, here in this room. We have the means to impose this state [of the future] on the world,"

The German globalist's message came amid remarks made by Bolsonaro on May 15. The strongman leading the Portuguese-speaking nation voiced out Brazil's explicit refusal to sign the WHO's pandemic treaty, which grants the global health body overarching powers in the guise of addressing public health issues. (Related: Stunning plan devised by Klaus Schwab, founder of World Economic Forum, to hand globalists control of the world using COVID pandemic.)

"Brazil will not get into this [pandemic treaty]. Brazil is autonomous and will not get into this, you can forget that. I've already [spoken] to our foreign relations cabinet and if that proposal goes forward, it won't be with Brazil," said Bolsonaro.

"Moreover, I was the only statesman that didn't adhere to the lockdown policies. I said we had to take care of the elderly and people with comorbidities, and today's studies outside of Brazil especially show that I was right."

He cited the Brazilian state of Sao Paulo as an example of the utter failure of lockdowns to curb the Wuhan coronavirus (COVID-19).

"Check this out: Which state in Brazil locked [down] itself the most? Sao Paulo. Which state had the most deaths per 100,000 people? Sao Paulo. That's a sign I was right."

Meanwhile, Schwab mentioned two conditions that were necessary to bring about the Great Reset he espouses. These came amid Bolsonaro's refusal to work with the WHO to advance the globalist agenda.

"The first one is that we act all as stakeholders of larger communities instead of serving only our self-interest. That's what we call stakeholder responsibility. [The] second [condition is] that we collaborate," Schwab said.
Biden Handing Over U.S. Sovereignty to WHO
On May 22-28, 2022, ultimate control over America's healthcare system, and hence its national sovereignty, will be delivered for a vote to the World Health Organization's governing legislative body, the World Health Assembly (WHA).

This threat is contained in new amendments to WHO's International Health Regulations, proposed by the Biden administration, that are scheduled as "Provisional agenda item 16.2" at the upcoming conference on May 22-28, 2022.1

These amendments will empower WHO's Director-General to declare health emergencies or crises in any nation and to do so unilaterally and against the opposition of the target nation. The Director-General will be able to declare these health crises based merely on his personal opinion or consideration that there is a potential or possible threat to other nations.

If passed, the Biden Administration's proposed amendments will, by their very existence and their intention, drastically compromise the independence and the sovereignty of the United States. The same threat looms over all the U.N.'s 193 member nations, all of whom belong to WHO and represent 99.44% of the world population.2

These regulations are a "binding instrument of international law entered into force on 15 June 2007."3 U.N. members states can be required by law to obey or acquiesce to them.

How It Became Official

On January 18, 2022, with no public awareness, officials from the Biden Administration sent the World Health Organization these extensive amendments to strengthen WHO's ability to unilaterally intervene into the affairs of nations merely suspected of having a "health emergency" of possible concern to other nations.4 The U.S. amendments cross out a critical existing restriction in the regulations: "WHO shall consult with and attempt to obtain verification from the State Party in whose territory the event is allegedly occurring…"5 By eliminating that, and other clauses (see below), all the shackles will be removed from the Director-General of WHO, enabling him to declare health emergencies at will.

The amendments would give WHO the right to take important steps to collaborate with other nations and other organizations worldwide to deal with any nation's alleged health crisis, even against its stated wishes. The power to declare health emergencies is a potential tool to shame, intimidate, and dominate nations. It can be used to justify ostracism and economic or financial actions against the targeted nation by other nations aligned with WHO or who wish to harm and control the accused nation.

Although sponsored by an American administration, WHO's most significant use of this arbitrary authority to declare national emergencies will be used against the United States if our government ever again dares to take anti-globalist stands as it did under the Trump administration.
….
WHO's Sweeping New Powers

The sweeping new powers will be invested in the Director-General of WHO to act on his own. The Director-General is Tedros Adhanom Ghebreyesus, commonly known as Tedros. Tedros, the first non-physician director-general of WHO, is an extremely controversial Marxist activist and politician from Ethiopia installed by the Chinese Communist Party. Despite the fact that his role as the cover-up apologist for the Chinese Communists at the onset of COVID-19, this "dear friend of Anthony Fauci" was re-elected without opposition in 2022 to a second five-year term.11 His original election in 2017, followed by his re-election without opposition in 2022, is an ominous display of Chinese Communist influence over WHO,12 which makes further empowering the U.N. agency extremely dangerous.

Under the new regulations, WHO will not be required to consult with the identified nation beforehand to "verify" the event before taking action. This requirement is stricken by the U.S. amendments (Article 9.1). The amendments require a response in 24 hours from the identified nation, or WHO will identify it as "rejection" and act independently (Article 10.3). If the identified nation "does not accept the offer of collaboration within 48 hours, WHO shall … immediately share with the other State Parties the information available to it…" (Article 10.4).

Indicating the breadth of WHO's scope of power, the agency will be given the right to involve multiple other U.N. agencies, including those related to food and agriculture, animal health, environmental programs, "or other relevant entities" (Article 6.1). This, too will not require the permission of the identified nation. The targeted nation is also required to send to WHO any relevant genetic sequence data. And as we have seen, the Foreward to these regulations presents a much larger array of potential collaborating agencies.

Why Would the U.S. Government Surrender Its Sovereignty

Why would the U.S. give away its sovereignty to other nations? In reality, that process has been going on at least since President Wilson's failed attempt to get the Senate to approve U.S. membership in the League of Nations. It has escalated since World War II, often under the umbrella and authority of the United Nations, with which many global predators are enamored and use as the cover story for their predations. As documented in our book, COVID-19 and the Global Predators, Bill Gates and Klaus Schwab have both worked out cooperative agreements for their versions of the New World Order with the U.N.

President Biden has recently told the Business Round Table — the presidents and CEOs of the wealthiest 200 corporations in America — that they must lead the growing New World Order:17

"And now is a time when things are shifting. We're going to — there's going to be a new world order out there, and we've got to lead it. And we've got to unite the rest of the free world in doing it."

….
We are facing an imminent threat to U.S. sovereignty by these legally-binding amendments to the WHO's International Health Regulations that — without stiff opposition — will almost certainly be passed during the upcoming meeting of WHO's governing body, the World Health Assembly, May 22-28, 2022. As noted earlier, there is a six-month grace period following approval of amendments during which countries may withdraw their approval, but a majority doing so seems highly unlikely. Right now, we must focus on preventing the WHA from approving the amendments.

We must immediately mount an international campaign, especially focused within America, to force the U.S. to withdraw these amendments before they come to a vote. Otherwise, America and the nations of the world will take a giant stride toward forfeiting national sovereignty to WHO and the U.N. In reality; they will be forfeiting their sovereign powers to the global predators who rule the U.N. and WHO, including the Chinese Communist Party and supporters of the Great Reset, like Bill Gates, Klaus Schwab, and giant foundations and corporations — all of whom benefit from weakening or destroying the sovereignty of the Western nations. Western civilization, and mainly the United States, is all that stands in strong opposition to the globalist takeover of the world, called the New World Order or the Great Reset.
Conspiracy theories anymore are just spoiler alerts it seems.
Naomi Wolfe has taken a good look at what Pfizer has released and it's not for the feint of heart to see what they knowingly released on the world.
One hopeful development. Pfizer might be sued for fraud and more discovery could come from it.
Remember that Fauci and his friends knew that the mRNA shots didn't work and they were aware of the deadly side effects that could happen. They knew that the jabs caused heart problems in teens and mostly males, but didn't warn people about it for over 6 months. Fraud indeed and I have no problem with this headline.
Have you noticed that more people are suddenly dying in their sleep or just suddenly because of what's being called Sudden Adult Death Syndrome. Catchy name.
Don't just skim it if you want to understand what is being done to us. But if you're allergic to religious stuff I suggest just skipping over that part.