This is what you get when you don't include class in the equation
Submitted by gjohnsit on Tue, 10/26/2021 - 12:40pm
Everyone has a need to understand the world around them. When something really big and unusual happens this need becomes paramount. Problems happen when we don't have the tools to understand these events. Often we don't have those tools because we've been trained not to use them.
That is what is happening today. We are being buried in irrational conspiracy theories, victim blaming, xenophobia, and scapegoating.
For example, let's start with refugees on our southern border.
For the right-wing, refugees are "an invasion", "controlled by the cartels", a "great replacement" conspiracy, "terrorists", a "plot by the Democrats to import voters to steal elections", etc.
These theories are all silly. What is happening is simply the backlash from American foreign policies that reward the wealthy at the expense of everyone else. This is easily proven.
NAFTA didn't just send our factories to Mexico, it allowed taxpayer subsidized American corn to be dumped on small Mexican farmers, that drove 1.5 million Mexican farmers off their land. Many of which wound up at our border.
Remember all of those Haitian refugees on the Texas border? Part of the reason they are there is because we forced Haiti to accept heavily subsidized rice exports from the U.S. which drove small Haitian farmers off their land and into poverty.
Remember all those migrant caravans that the right-wing went crazy over. Most of them started in Honduras. Honduran caravans were rare before 2009, when the Obama administration backed a right-wing coup which repressed their domestic labor movement with violence. Since then the corrupt nacrostate government has followed a radical neoliberal policy while gutting everything that resembles social spending. The result is a near failed state and thousands of refugees at our border.
The problem is that conservatives have been trained for generations that any criticism of American foreign policies is "Blame America First", "Hating America", etc.
Plus, if it's right-wing then it must be good.
So when the evidence of these failed policies are washing up on our border, you end up with cognitive dissonance and wacky conspiracy theories.
The real explanation is far simpler: The wealthy in this country bought our politicians and they sold all of us out. Americans, Mexicans, Haitians, Hondurans, everyone who wasn't rich got screwed over.
So if you want to blame someone for all those refugees at our border, you should start with wealthy Americans.
"The economic facts, which have so far played no role or only a contemptible one in the writing of history, are, at least in the modern world, a decisive historical force; that they form the basis of the origination of the present-day class antagonisms; that these class antagonisms, in the countries where they have become fully developed, thanks to large-scale industry, hence especially in England, are in their turn the basis of the formation of political parties and of party struggles, and thus of all political history."
- Engels, On the History of the Communist League (1885)
Another good example is the reaction to the coronavirus.
Blame for the virus has been given to "5G networks", a "Gates-led plot to vaccinate the world", that it "was intentionally created by Chinese scientists as a biowarfare weapon", and "COVID-19 doesn't actually exist, but is a plot by the globalist elite to take away our freedoms", that it's a "Big Pharma conspiracies", " that it's a "Deep State conspiracy", that it's linked to chemtrails, that "Democrats are lying about hospitals having limited beds for sick patients", etc. etc.
There are several reasons to question this tidal wave of conspiracies.
For starters, no one wants to admit that the pandemic is almost over.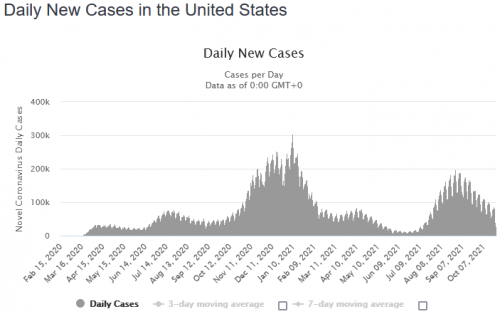 You would think that this crowd that hates and fears COVID and the steps taken to fight it would rejoice at this news that they've almost won, but instead they universally reject the suggestion, and sometimes even get hostile when hearing it.
Secondly, the same crowd that denies even today that COVID is dangerous, but that the vaccines are dangerous and haven't been tested enough, embrace ivermectin as a COVID cure. Ivermectin is a legit medicine, but the claim that it cures COVID is anecdotal, and by any definition has not been tested enough for this purpose. This is simply a case of two entirely different standards. Pointing out this obvious double-standard will generate a hostile response and claims of victimhood.
Once again, the reason why COVID shook up the world lies largely in class, not conspiracy.
The COVID lockdowns, the mask and vaccines mandates, all got rolled out because the professional/managerial class felt an existential threat and decided that steps would be taken that would assuage their fears without costing them too much of an inconvenience.
Of course the working class would bear ALL of the cost for those steps, but their health, welfare, and very lives aren't important because they are poor. While the upper-classes telecommuted from home, the working class paid the price for the lockdowns time, and time, and time, and time again.
Was COVID made in a lab? Maybe. Is Big Pharma making profits from this pandemic. Of course. Has the dangers of COVID been exaggerated? Possibly. The thing is, none of the answers to these questions really make that much of a difference. What made the difference to most people was the lockdowns and mandates, and for that all you need to do is look at class interests.
So you should be outraged many times over by the COVID response. Just not for the reasons that most people have been outraged. The one thing that the culture wars absolutely never account for is class, and that is by design.