Welcome to Saturday's Potluck - 12-11-2021
Submitted by studentofearth on Sat, 12/11/2021 - 5:00am

"Learn the rules like a pro, so you can break them like an artist."
Pablo Picasso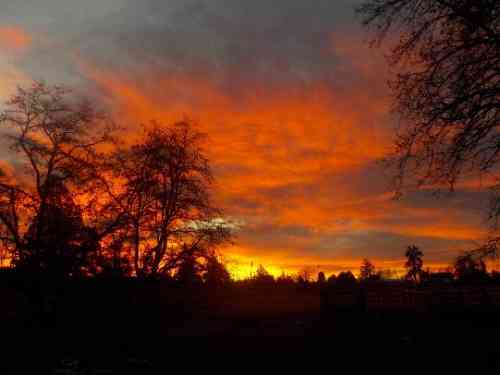 This week was a trickle of reminders to simply enjoy life in the moment. Stepped outside for some mundane reason early in the morning. The intense color of an orange dawn wrapped around the horizon. Quickly stepped back into the house for the camera to help remember the feeling of awe.
My neighbor's have switched from raising pigs in pens on grain to pasture raised. They roam the fields with the cattle.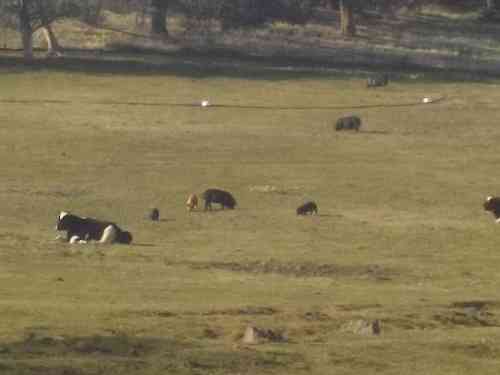 The mornings have been cold, the low twenty's. When I drove by the pasture yesterday a few of those pigs had found a great place to avoid the morning chill. Those lumps in the hay are pigs, the small dots in the back are the pigs in the previous photo.
A large covey of quail showed up in the yard today, over 15 birds, including 4 small framed birds. Maybe some of the baby quail from the nest survived. When snow covers their feed I will supplement their diet.
________
This article just showed up. May indicate a break between the government of Taiwan and a major business group on the value of aligning with the United States or China.
Taiwan chipmakers hint at decoupling from the US
Taiwan's chip fabricators signed an agreement on December 3 to create their own semiconductor equipment industry, opening an "option to decouple from the West," in the view of a prominent US research firm.

The Taiwanese initiative responds to Washington's extraterritorial sanctions on buyers of US fabricating equipment, imposed by then-president Donald Trump in May 2020. The US asserts the right to block sales of chips produced with US machines or intellectual property.
...
Taiwan's chipmakers, who have massive commitments on the Chinese mainland, fear that US sanctions may stop them from using American equipment to make semiconductors for the US$300 billion Chinese chip market, the world's largest.

On December 9, the Wall Street Journal reported that the US Defense Department wants to stop China's largest chipmaker, SMIC, from purchasing American machines.

Industry analyst Dan Hutchison of the semiconductor research group VSLI wrote on December 8 that a home-grown chip equipment industry "would make it possible for Taiwan to decouple from the West. Worse, it points to a post-globalization world heading to a dark age of over-supply, fractured R&D resources and low innovation."

Hutchison called the Taiwanese initiative a "clear post-globalization defensive move to counter the current US administration's action to shut down China and China's response to develop its own equipment industry."

Taiwanese companies are leading China's state-sponsored drive to build domestic semiconductor manufacturing.
________
American military and State Department are poking at Iran, Russia and China as if trying to prompt them into "striking out" or attacking a United States asset or Allie. Then American support for revenge will fall into place and support for a new war will emerge. Current leadership in Taiwan seems to be offering their population and land as a spot to hold a war. It is a beautiful island, gracious people, have experienced wonderful hospitality. The thought of it being destroyed like areas in the Middle East as a pawn in world power games is heartbreaking.
The first article is a succinct history, starting in the late 1800's, of the global events and players which created today's risk of a world war starting in Taiwan. The additional articles are in chronological order regarding military preparedness and the "secret" program started in 2017 to build additional submarines.
Taiwan: U.S. Deployment Area Against Mainland China Since 1945
published Nov 21, 2021 by Werner Rügemer at Strategic Culture Foundation
Under U.S. guidance, the regime of Generalissimo Chiang Kai-Shek was installed in Taiwan beginning in 1945: He had already been supported by the USA in the 1920s, then also by Hitler's Germany. Taiwan is being instrumentalized against the People's Republic of China, again intensified since U.S. Presidents Obama and Trump. The current U.S. President Biden is even toying with a possible war with the help of Taiwan.
...
It was not until 1971 that the People's Republic, supported by several dozen developing countries and the Non-Aligned Movement, achieved recognition as China's representative in the UN (UN Resolution 2758 of October 25, 1971). The United States therefore also transferred diplomatic recognition to the People's Republic of China.

Taiwan, with its 23 million inhabitants, continued to receive special support from the United States. However, this was scaled back on the military level, at least until the early 2000s. The reason: The largest U.S. corporations were able to shift as much supplier production as possible to the People's Republic, which was extremely profitable, because the People's Republic was an absolute low-wage state at the beginning of industrialization. The low-wage economy was often organized with the help of Foxconn: The profits of U.S. corporations and then other Western corporations skyrocketed.

Low-wage organizer Foxconn flees to the USA and the EU

That changed slowly, but permanently. The practices associated with importing Western companies and contracts were transformed in the People's Republic, unlike other Western-dominated developing countries such as India: labor incomes in the People's Republic were gradually increased several times decades, and the number of socially insured people is increasing. Chinese minimum wages now exceed the minimum wages of several EU countries (the U.S. anyway), especially when purchasing power is included .

The largest previous organizer of low-wage labor in China, the Taiwanese corporation Foxconn, is therefore gradually saying goodbye to the People's Republic. Foxconn migrated to the Czech Republic, member state of the European Union, in 2016 with two plants and is taking advantage of the low EU standards and weak trade unions there, also to develop further low-wage sites in the Middle East and Africa from there. At the beginning of 2019, Foxconn set up its first subsidiary in the USA with the support of U.S. President Trump: the state of Wisconsin had declared itself a right-to-work state in 2015. It means: there, trade unions are additionally discriminated against compared to the already weak U.S. federal laws, wages are low in a sparsely populated region, and company start-ups are highly subsidized by central and individual states. Foxconn is now building operations also in Thailand for e-car delivery. The decades-long super-profit source in the People's Republic of China is drying up.
China launches 'gray-zone' warfare to subdue Taiwan Reuters Dec 10, 2020
With Hong Kong and the restive regions of Tibet and Xinjiang under ever-tighter control, Taiwan is the last remaining obstacle to the Communist Party's monopoly on power. In a major speech early last year, Xi said that Taiwan, which Beijing regards as a Chinese province, "must be, will be" unified with China. He set no deadline but would not rule out the use of force.

There has been a "clear shift" this year in Beijing's posture, a senior Taiwanese security official responsible for intelligence on China told Reuters. Chinese military and government agencies have switched from decades of "theoretical talk" about taking Taiwan by force to debating and working on plans for possible military action, the official said.
...
Interviews with current and former Taiwan government officials, serving and former military officers, conscripts, reservists and U.S. and other foreign military experts point to dire weaknesses. With the exception of some elements of Taiwan's military, including the air force, special forces and parts of the navy, decades of isolation and underfunding by successive governments have left the military hollowed out. In any Chinese invasion, much of the island's expensive hardware would be unlikely to survive a barrage of PLA precision missiles and air strikes, current and retired Taiwanese officers say. Crack, resilient ground forces would be crucial to repel beach landings by Chinese troops and counter airborne assaults, they say.

In addition, Taiwanese service members and Western observers say, Taiwan is suffering a serious and worsening decay in the readiness and training of its troops, particularly its army units.

One army conscript told Reuters he had only fired between 30 and 40 rounds with his rifle during training and was never taught how to clear a jammed firearm. "I don't think I'm capable of fighting in a war," said Chen, the soldier, speaking on condition his full name not be disclosed. "I don't think I'm a qualified soldier."
...
"The military has been whittled down," said Grant Newsham, a retired U.S. Marine Corps colonel who spent most of last year on the island evaluating its defense capability in a Taiwan government-funded research project. "It is almost as if fighting to defend the country is somebody else's responsibility," said Newsham, now a researcher at the Japan Forum for Strategic Studies.
...
One of Taiwan's biggest challenges is basic: putting boots on the ground.

Taiwan has been gradually shifting from a conscript military to a volunteer-dominated professional force. By all accounts, the volunteers are well trained. That's not the case for recent conscripts.

Evidence from internal government reports seen by Reuters and accounts of serving personnel, conscripts and reservists show that this shift has been poorly managed. Taiwan has struggled in recent years to obtain sufficient recruits to field the 188,000-strong professional force the top brass calculate is needed to fight off a Chinese attack. Defense Minister Yen told parliament on Oct. 22 that the military would meet its target to enlist 90% of this force by the end of the year.

Taiwan still has a draft, but the service period for conscripts was slashed in 2013 from one year to four months. This is too short for useful training, and the instruction is often inadequate, six recent conscripts and former officers told Reuters.
...
The troubled switch to a full-time force has contributed to a gutting of the reserves, a crucial component of the island's ability to reinforce full-time units and repulse invading troops. The 2.31 million-strong reserve force only exists on paper, according to Taiwanese and foreign military experts.

"The reserves really are a mess," said Newsham. "Pretty close to useless."
US Marine Special Ops Forces Have Been In Taiwan For Over A Year, Report Confirms ZeroHedge Oct 7, 2021
A bombshell Wall Street Journal report has revealed (and confirmed) that an elite contingent of special operations Marines has been deployed to Taiwan for at least the past year - a revelation sure to outrage Beijing amid ongoing charges that the US has effectively abandoned the status quo One China policy.

Citing US officials with knowledge of the program, the report details that "About two dozen members of U.S. special-operations and support troops are conducting training for small units of Taiwan's ground forces," and that "The U.S. Marines are working with local maritime forces on small-boat training." It's the first such openly confirmed US training deployment in support of local forces since 1979. Taiwan media previously reported it, but this is the first time US officials are providing confirmation.
...
Taiwan's defense minister on Wednesday issued a dire warning (though not something entirely new in terms of alarmist statements) which appears geared toward gaining more direct support from Western allies:

"With regards to staging an attack on Taiwan, they currently have the ability. But [China] has to pay the price," Chiu Kuo-cheng, the defense minister, told Taiwanese journalists on Wednesday.

But he said that by 2025, that price will be lower -- and China will be able to mount a "full-scale" invasion.
T-Day: The Battle for Taiwan The Kathmandu Post Nov 8, 2021
(The reuters link - https://www.reuters.com/investigates/special-report/taiwan-china-wargames/ - located on several sites does not reach the original article)
While they can't predict the future, military planners in China, Taiwan, the United States, Japan and Australia are nonetheless actively gaming out scenarios for how Beijing might try to seize the prized island, and how Taiwan and America, along with its allies, might move to stop it.

China has a range of tactics it might adopt, military experts say. They all carry risk for President Xi Jinping and his ruling Communist Party. They also pose different challenges for Taiwan and for the United States and its allies, principally Japan. Xi's options include seizing Taiwan's outlying islands, blockades or all-out invasion. Some Taiwanese military experts say Beijing's next step might be to seize the lightly defended and remote Pratas Islands in the north of the South China Sea. Any of these moves could spin out of control into war between China and America over Taiwan.
...
Chinese control of Taiwan would dramatically reinforce the Communist Party's prestige at home and eliminate the island as a viable model of a democratic alternative to authoritarian Party rule. It would also give China a foothold in the so-called first island chain, the line which runs through the string of islands from the Japanese archipelago to Taiwan, the Philippines and Borneo, which enclose China's coastal seas.

For Beijing, success would translate into a commanding strategic position in Asia, undermining the security of Japan and South Korea, and allowing China to project power into the Western Pacific.

For the American alliance, a Chinese takeover of Taiwan would be a devastating blow. At a stroke, the United States would lose its status as the pre-eminent power in Asia, according to most US and regional military experts. If America were unwilling or unable to defend Taiwan, its network of allies in the Asia-Pacific – including Tokyo, Seoul and Canberra – would overnight be far more vulnerable to military and economic coercion from China. Some might switch allegiance to Beijing, analysts say. Some might seek nuclear weapons to boost their own security.

T-DAY: The Battle for Taiwan (part II) Reuters Nov 29, 2021
The Taiwanese project, which officially began in 2017, is formally known as the Indigenous Defense Submarine program. It is codenamed Hai Chang, which means "Sea Prosperity" in Chinese. Shipbuilder CSBC began construction last year and is aiming to deliver the first of the planned eight vessels by 2025, according to government statements. The value of the project is estimated at up to $16 billion, according to the London-based International Institute for Strategic Studies.
...
Two people in Taiwan with direct knowledge of the program said project leaders devised a low-profile strategy to limit Beijing's ability to pressure foreign governments and companies not to work with Taipei. The Taiwanese team approached foreign companies directly, rather than first requesting approval from national governments, the two people said. With orders in hand, the foreign companies then applied for export permits from their governments.

Export approvals have now been secured for all the key components, according to the two people and public statements by Taiwan officials. Many of these parts are related to the combat system, the two people said.

Still, fear of reprisal from Beijing has scuttled some transfers. A German company that provided vital equipment suddenly terminated a deal last year, according to the two people.
...Last month, the United States disclosed with little fanfare that it would approve the sale of key technology for the project. The word came in a State Department letter to Congress dated Jan. 5, which was posted in October in the Federal Register, the official publication of U.S. government notices. Washington was prepared to license transfers of technical data and services to Taiwan, Italy and the UK valued at $50 million or more to support Taiwan's submarine project, the letter said.
Beware: China's taking the gloves off over Taiwan Russia Times Dec 10, 2021
Firstly came the news, deliberately timed to meet with yesterday's opening of Biden's summit, that Nicaragua, currently being targeted by the US for regime change, had declared that it had ended ties with Taiwan and opened diplomatic relations with Beijing, with officials traveling immediately for a meeting in Tianjin. The US State Department responded by condemning the Central American nation and encouraging countries to expand their ties with Taiwan.

Then, in addition to that, there were unconfirmed reports claiming China had outright cut Lithuania off from its own supply chain, allegedly barring international companies from exporting to the Baltic state from China. This is in retaliation for the opening of a representative office by Taiwan in Vilnius, after Lithuania's ruling coalition agreed to support "those fighting for freedom" on the island.

If this is confirmed, then it is clear that China is now "taking the gloves off" when it comes to Taiwan and is backing up its words with serious action. Apart from the action against Lithuania, it is also doing other things such as blacklisting "separatists" and fining companies who support Taiwan's ruling Democratic Progressive Party (DPP). Beijing is increasingly prepared to leverage its "national power" and capabilities in more sophisticated and creative ways in order to force countries to respect its position on the issue, enforce its red lines and hit back, while also upping its diplomatic game.

To do this, China is slowly developing a more intelligent and extra-territorial "sanctions regime". While not as extensive, far-reaching or brutal as America's, it does begin to utilize some of the same concepts which Washington employs: that is the capability to force one's will upon a country outside of its sovereign boundaries, without kinetic action, by leveraging critical dependencies upon it.
________
What is on your mind today? (Responses to Covid questions and dialog to be conducted at The Dose diary)