We 'Neutralized' al-Qaeda?!?
Submitted by gjohnsit on Sat, 11/21/2015 - 11:13am
If there is ever to be any hope that this forever War on Terror will end, we must first face the reality of the world.
Unfortunately, if this statement is an example, then reality is the last thing on the agenda.

"It took us quite a few years before we were able to eliminate Osama bin Laden and the top leadership and neutralize them as an effective force," Kerry insisted, which raises the rather surprising suggestion that al-Qaeda, still active around the world, is "neutralized" in the administration's view.
Really? Al-Qaeda neutralized? Does al-Qaeda know this?
Maybe Secretary Kerry needed a "Mission Accomplished" banner behind him when he said this, especially on the same day as a deadly al-Qaeda attack in Mali.
It's important to recall how small of an organization al-Qaeda was in 2001.

By 2001, al Qaeda still had no formal branches or franchises. Its membership included a core of just under 200 people, a 122-person martyrdom brigade, and several dozen foot soldiers recruited from the 700 or so graduates of its training camps.
Al-Qaeda in 2001 was so small that you could fit all of them into a high school gymnasium.
Al-Qaeda in 2001, just before we started dropping bombs on Afghanistan, occupied no territory and barely existed outside of rural Afghanistan.
So what does al-Qaeda look like after 14 years of getting bombed?
War has been good for al-Qaeda. Maybe someone should tell Secretary Kerry.
Obviously we are talking a much larger and more diverse organization. It isn't just the number of countries and affiliates. Unlike 2001, al-Qaeda actually occupies territory, rules major cities, and has several self-declared Islamic Emirates. The largest of which are in Syria, Yemen, and Somalia.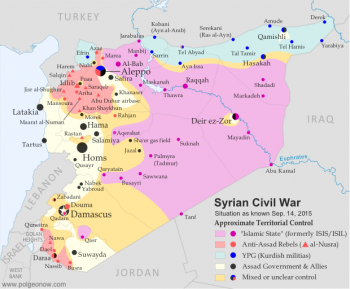 The al-Nusra Front, or Jabhat al-Nusra was created in early 2012 and has at least 10,750 armed militants.
Together with its sister jihadist group, Harakat Ahrar ash-Sham al-Islamiyya, they control the entire Syrian province of Idlib. Nusra Front also has a significant force south of Damascus.

Al-Qaeda in the Arabian Peninsula territory in white
Al-Qaeda in the Arabian Peninsula was founded in early 2009 and has up to 3,000 armed jihadists.
The group has ruled Mukalla, Yemen's third-largest city, since spring, and also rules parts of the southern capital of Aden.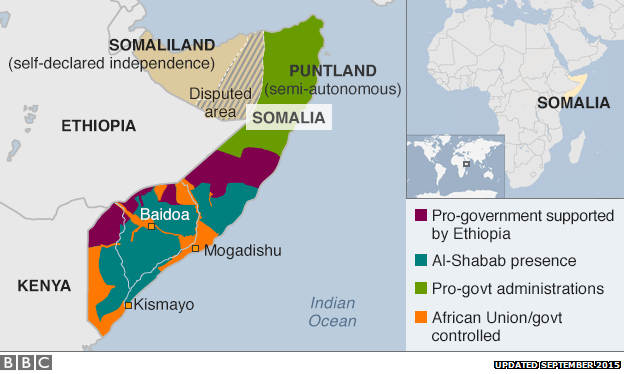 Harakat al-Shabaab al-Mujahideen was founded in late 2006 in response to the Ethiopian invasion that the Bush Administration underwrote. It has between 7,000-9,000 militants and is the only one of these three groups that have been losing ground recently.
These three groups, plus smaller affiliates, brings the number of hard-core al-Qaeda militants to around 20,000 today, up from a total of 200 just 14 years ago. And this doesn't include successful spin-off groups like ISIL, which has between 50,000 and 250,000 hard-core militants, depending on who's counting.
That's a 10,000% growth rate for al-Qaeda, which by any measure means they are doing something right. Or we are doing something very, very wrong.

At the press conference, Bryant said the killing of civilians by drone is exacerbating the problem of terrorism. "We kill four and create 10 [militants]," Bryant said. "If you kill someone's father, uncle or brother who had nothing to do with anything, their families are going to want revenge."
Killing four to create ten sounds about right when you consider the 10,000% growth rate.

At the press conference today, the pilots echoed these sentiments. "It seems like our actions of late have only made the problems worse. … The drones are good at killing people, just not the right ones," Bryant said. "Have we forgotten our humanity in the pursuit of vengeance and security?"
Besides the fact that we seem to be in complete denial of the utter failure of our GWOT strategy, there is a lurking danger that no one seems to be talking about.
If these trends continue, with the number of jihadists growing by something like 100% a year, then these already significant armies could soon reach a tipping point where the current efforts to contain them will simply be insufficient and they will begin toppling governments all over the muslim world.
Even if you are in the "let's kill 'em some bad guys" camp, or in the "we have to do something" camp, you can't support this outcome. But this outcome appears inevitable, based on all historical trends so far, if we keep doing what we are doing.