U.S. directly threatens Russia with war
Submitted by gjohnsit on Tue, 11/23/2021 - 3:45pm
If you only listen to the American MSM you would think that the U.S. is reluctantly standing up to a belligerent military titan. Nothing could be further from the truth.

The Biden administration is weighing sending military advisers and new equipment including weaponry to Ukraine as Russia builds up forces near the border and US officials prepare allies for the possibility of another Russian invasion, multiple sources familiar with the deliberations tell CNN.
The discussions about the proposed lethal aid package are happening as Ukraine has begun to warn publicly that an invasion could happen as soon as January. The package could include new Javelin anti-tank and anti-armor missiles as well as mortars, the sources said.
...
Retired Lt. Col. Cedric Leighton told CNN that Javelin antitank missiles "are quite effective against the T-80 tanks which the Russians are actually employing in these efforts against Ukraine right now." But he noted that any additional assistance to Ukraine undoubtedly risks "further heightening tensions" with Moscow
This is alarming on every level. Why is Russia looking to invade Ukraine? Why are they massing their troops along the border?
Well, here's the thing - Russia isn't doing that.
Satellite pictures supplied by U.S. space company Maxar Technologies showed around 1,000 military vehicles near the Russian town of Yelnya, about 250 km north of the Ukrainian border.
Uh, 250km is a long-ass way. This is what it looks like on Google maps.
Unless you think the Russians feel that they need a "running start" to invade Ukraine, this is comically ridiculous.
But wait. There's been other troop build-ups. Surely these must be on the Ukrainian border, right? No.

Russia sent troops to a site in Crimea called Cape Opuk and moved a larger number to a former warehouse complex near the Russian town of Pavlovsk.
Where is Cape Opuk? on the exact opposite side of the Crimean peninsula from Ukraine, roughly 120 km away from the border.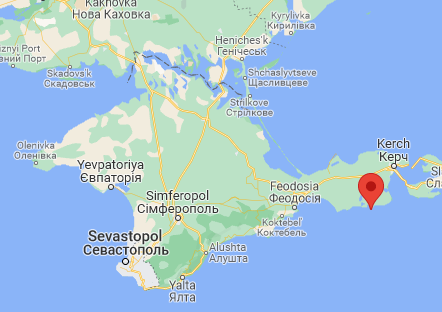 You simply can't get further away from Ukraine and still be in Crimea.
Finally, there is Pavlovsk.
Now this is only 60 km from the Ukraine border, which makes this almost (but still not) a believable location for an invasion. Also a "warehouse complex" in a town of roughly 20,000 people? How big can this place even be?
It isn't just troop movement though. Putin's rhetoric has been threatening too.

Moscow may be conniving with the Belarussian government to flood Poland, Lithuania, and Latvia with refugees from the Middle East. Polish, Lithuanian, Latvian, and Estonian officialdom called the effort to manufacture a refugee crisis a "hybrid attack" on the European Union. Meanwhile the Russian military tracks and decries NATO naval movements in the Black Sea basin; last summer Moscow threatened to "bomb" naval vessels exercising the right to innocent passage through Crimean waters.
"May be conniving with Belarus to send refugees in a hybrid attack"?
What?!? WTF are you saying?
Let's focus on Russia's problem with NATO in the Black Sea.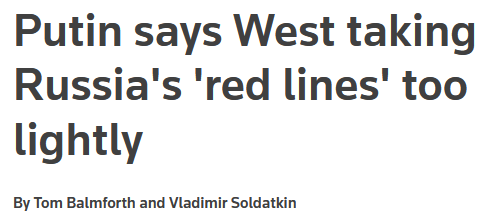 OK. Red Lines. That sound like something specific.

"We're constantly voicing our concerns about this, talking about red lines, but we understand our partners - how shall I put it mildly - have a very superficial attitude to all our warnings and talk of red lines," Putin said.

NATO - with which Moscow severed ties last month - had destroyed all mechanisms for dialogue, Putin said.
What the Hell?! Rehearsing a nuclear strike sounds serious.
But how did they allow Russia to find out about it?

Russia's defence minister on Tuesday accused U.S. bombers of rehearsing a nuclear strike on Russia from two different directions earlier this month and complained that the planes had come within 20 km (12.4 miles) of the Russian border.
WHAT THE FUCK!
Are you insane?!? Has the Pentagon been taken over by crazy people?
On what soon to be bombed into non-existent planet could anyone think that this was a good idea?
Right now, Putin is the sane person.