Unmitigated Hypocrisy
Submitted by edg on Mon, 09/09/2019 - 4:25pm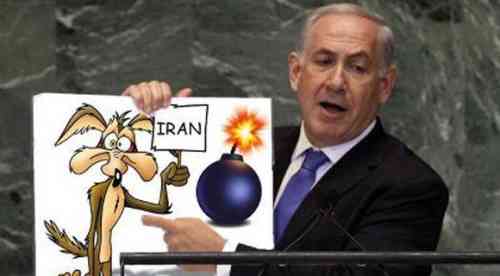 If you look up the definition of hypocrisy in a dictionary, you'll likely see a picture of Benjamin Netanyahu as exemplar for the word. In a recent outburst, Benjie assailed Iran because a no longer used warehouse contained microscopic traces of uranium.
Samples taken by the U.N. nuclear watchdog at what Israel's prime minister called a "secret atomic warehouse" in Tehran showed traces of uranium that Iran has yet to explain, two diplomats who follow the agency's inspections work closely say.

In a speech a year ago Israeli Prime Minister Benjamin Netanyahu, who vehemently opposed the Iranian nuclear deal, called on the IAEA to visit the site immediately, saying it had housed 15 kg (33 lb) of unspecified radioactive material that had since been removed.

Israel's U.N. ambassador, Danny Danon, said on Twitter that the IAEA had verified Israel's version. "The (Iranian) regime must be held to account and not given a free pass," he tweeted.

Source: Exclusive: IAEA found uranium traces at Iran 'atomic warehouse' - diplomats. Reuters.com
Free pass? For uranium traces a decade old?
Hmmm. Let's review. Signatories to the Nuclear Non-proliferation Treaty -- Iran, yes. Israel, no. Allows inspections by the International Atomic Energy Agency -- Iran, yes. Israel, no.
A resolution calling for the inspection of Israeli nuclear sites has been defeated at the IAEA General Conference, with Tel Aviv, which led an intensive campaign against the Arab states' proposal, hailing the result of the vote as a "great victory" in the international arena.

The resolution called for the international monitoring of the Israeli nuclear reactor in Dimona which is suspected of developing fissile material for Israel's alleged nuclear arsenal that poses "a permanent threat to peace and security in the region."

"I personally talked with more than 30 presidents, prime ministers and foreign ministers," Netanyahu revealed. "In our conversations I explained that there's no place for a discussion of this sort while the main problem in the Middle East remains Iran's attempts to obtain nuclear weapons and its clear declarations of its intent to destroy the State of Israel."

Source: 'Great victory'? Israeli nuclear program resolution voted down by IAEA. RT.com
So Israel, which has as many as 400 nuclear weapons but refuses inspections, constantly claims that Iran, which has no nuclear weapons and allows inspections, is the "main problem". Okaayyy.
And how about nuclear weapons testing? Just today Netanyahu made an unsupported claim that Iran had a super-secret site for testing nuclear weapons.
Israeli Prime Minister Benjamin Netanyahu accused Iran on Monday of having performed nuclear weapons experiments at a previously-unknown site.

"This is what I have to say to the tyrants of Tehran: Israel knows what you're doing," Netanyahu declared. "Israel knows when you're doing it. And Israel knows where you're doing it. We will continue to expose your lies, what we see as a consistent pattern of Iranian lies, deception, and violations."

Source: Israeli PM Netanyahu Accuses Iran of Conducting Nuclear Weapons Tests at Hidden Site. algemeiner.com
Meanwhile, who actually has tested nuclear weapons? In 1980, President Jimmy Carter wrote in his diary, "We have a growing belief among our scientists that the Israelis did indeed conduct a nuclear test explosion in the ocean near the southern end of Africa [in 1979]." If true, that was Israel's third test.
Shockingly (or not), both Iran and Israel are signatories of the Partial Nuclear Test Ban Treaty. Unfortunately, the United States gives nuclear-armed Israel free rein in the nuclear arena while punishing Iran for not having any actual nuclear weapons and willingly undergoing inspections.
What a world we live in.