UN: "US the world champion of extreme inequality"
Submitted by

gjohnsit

on Sat, 12/16/2017 - 3:25pm
When Trump said he was going to Make America Great Again, he was thinking of the Gilded Age, not the 1950's.

A UN rights expert has issued a damning report on the state of the US under President Donald Trump, saying the Republican president's tax reform plan "stakes out America's bid to become the most unequal society in the world" and "will greatly increase" income inequality.
Philip Alston, the UN special rapporteur on extreme poverty and rights, made the comments on Friday, after visiting US cities and states to examine the level of homelessness and poverty facing the country.
The proposed tax reform plan "is essentially a bid to make the US the world champion of extreme inequality", Alston said in his preliminary report.
We're #1! USA! USA! Take that, Brazil.
Now before you lump this all on Trump, note that America is already more unequal than Russia, with all it's nasty oligarchs.
It's that inequality, nurtured under Clinton and Obama, that gave us the awful Republican tax plan.

What many may not realize is that growing inequality helped create the bill in the first place.
As a smaller and smaller group of people cornered an ever-larger share of the nation's wealth, so too did they gain an ever-larger share of political power. They became, in effect, kingmakers; the tax bill is a natural consequence of their long effort to bend American politics to serve their interests.
All that robbing the poor to give to the rich isn't all bad. It's done wonders for the stock market.

Companies in the S&P 500 Index bought $3.5 trillion of their own stock between 2010 and 2016, almost 50 percent more than in the previous expansion. The pace has slowed in the last two years. The tax bill could kickstart it.
Buybacks have fueled the stock rally (there's disagreement about how big a part they played). And the rally's biggest benefits go to the richest. On Twitter last week, Trump invited his followers to check their swelling retirement accounts. Only about half the country's households have any such nest-egg.
...American workers won't put up with any more business cycles that yield them few gains, he says. "This is the last time they can get away with it, because the backlash is going to be huge."
In the end, the trend toward inequality amounts to capitalist suicide, Spriggs argues.
It may be suicide in the long-run, but in the short run it's a bonanza. If you play it right.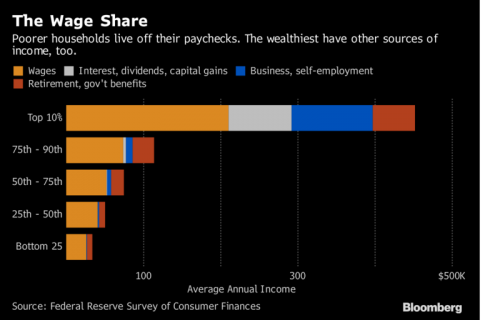 For instance, guess what company plans to open 900 new stores in 2018 for the second year in a row?
Dollar General.

Dollar General CEO Todd Vasos puts it in the cold, hard terms of the stock market. The "middle-class continues to go away, unfortunately, to the lower end of the economic scale versus the higher end," he said at a Goldman Sachs retailing conference in September. "So as this economy continues to chug along and creates more of our core customer, I think there's going to be more and more opportunities for us to get in and build more stores."
Yes, you read that right. Their "core customer" is people being pushed into poverty.
How does that work?

Dollar stores' success is based on their ability to provide what lower-income households need when they have no other options. Instead of selling items in bulk that allow for long-term savings, dollar stores sell small quantities of items that customers can afford — even if they end up paying more on a per-ounce or per-item basis in the long run.
"Essentially what the dollar stores are betting on in a large way is that we are going to have a permanent underclass in America," Garrick Brown, director for retail research at the commercial real estate company Cushman & Wakefield, told Bloomberg.
Brown continued: "It's based on the concept that the jobs went away, and the jobs are never coming back, and that things aren't going to get better in any of these places."
Kind of chokes you up, don't it?
I'm so proud to be an American.