Twitter is censoring this NY Post's article on Hunter Biden
Submitted by snoopydawg on Wed, 10/14/2020 - 7:19pm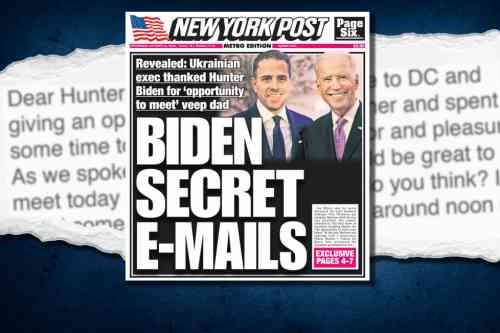 This is what Twitter said when I tried doing it: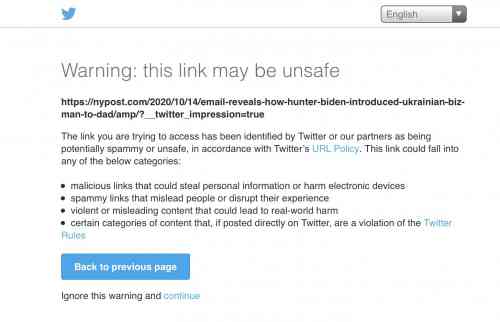 This is a Big Tech information coup. This is digital civil war.

I, an editor at The New York Post, one of the nation's largest papers by circulation, can't post one of our own stories that details corruption by a major-party presidential candidate, Biden. pic.twitter.com/BKNQmAG19H

— Sohrab Ahmari (@SohrabAhmari) October 14, 2020
The shop owner couldn't positively identify the customer as Hunter Biden, but said the laptop bore a sticker from the Beau Biden Foundation, named after Hunter's late brother and former Delaware attorney general.
But before turning over the gear, the shop owner says, he made a copy of the hard drive and later gave it to former Mayor Rudy Giuliani's lawyer, Robert Costello.
Steve Bannon, former adviser to President Trump, told The Post about the existence of the hard drive in late September and Giuliani provided The Post with a copy of it on Sunday.
....
Meanwhile, an email dated May 12, 2014 — shortly after Hunter Biden joined the Burisma board — shows Pozharskyi attempting to get him to use his political leverage to help the company.
The message had the subject line "urgent issue" and was also sent to Hunter Biden's business partner, Devon Archer, who also sat on the Burisma board at the time.
Pozharskyi said that "the representatives of new authorities in power tend to quite aggressively approach N. Z. unofficially with the aim to obtain cash from him."
N.Z. isn't identified in the email but appears to be a reference to Burisma founder Mykola Zlochevsky, whose first name is a Ukrainian version of "Nicholas."
When the alleged shakedown failed, "they proceeded with concrete actions" in the form of "one or more pretrial proceedings," Pozharskyi wrote.
"We urgently need your advice on how you could use your influence to convey a message / signal, etc .to stop what we consider to be politically motivated actions," he added.
Hunter Biden responded by saying he was with Archer in Doha, Qatar, and asked for more information about "the formal (if any) accusations being made against Burisma."
The exchange came the same day that Burisma announced it had expanded its board of directors by adding Hunter Biden, who was put in charge of its "legal unit and will provide support for the Company among international organizations," according to a news release that's since been scrubbed from Burisma's website.
His lawyer said last year that Hunter was "not a member of the management team," adding, "At no time was Hunter in charge of the company's legal affairs."
Y'all need to read the rest because of fair use, but remember who brought this Burisma stuff up in the first place. Centrists are sayin that Giuliani went on a snipe hunt all on his own, but that was after Joe Biden spilled the beans:
"I looked at them and said: I'm leaving in six hours. If the prosecutor is not fired, you're not getting the money," Biden infamously bragged to the Council on Foreign Relations in 2018.

"Well, son of a bitch. He got fired."

In related news Barr has closed the investigation into unmasking by some people in Obama's administration and he will not charge anyone for it. Durham's investigations will not be released before the election and I'm betting that he will drag it out until Trump is out of office and then Biden will bury it. As well as the media. The CrowdStrike bombshell announced in 2017 when its CEO admitted to Schiff and congress that he never saw evidence that Russia hacked the DNC computers was met with silence. As was the bombshell of the FBI/Brennan found out from Russia that Hillary was going to set up Trump for every thing related to Russia Gate and that too was met with silence. As was the fact that the NY attorney's office found Hillary's emails on Anthony Weiner's laptop, but Comey and Strzock ignored them as did members of both parties. Yes the republicans are playing along with democrats on making Russia the bad guy. So I expect nothing will come from any investigation into the sewer that was Obama's administration and the intelligence agencies too.

Let's remember how long Barr, Mueller, Comey, Brennan and others have been in government and covering up the sordid history of many, many people. The swamp will never be drained because we keep voting in new swamp creatures.

Lol....