Trick or Treat for Veterans and Military Personnel
Submitted by

Big Al

on Sat, 11/11/2017 - 2:47pm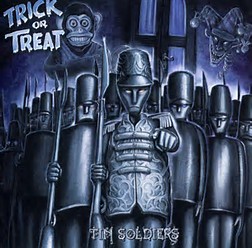 Today, Veterans Day 2017, is nothing like Veterans Day 1977, forty years ago when I observed my first Veterans Day after getting out of the military.
That was right after the Vietnam war ended, a real black mark on this country, and the country wasn't quite ready to give free meals to those who served in the military. Back then most of us wouldn't even admit we were in the military, we all just wanted it to go away. Back then there were a few solemn parades here and there but now, NOW, there's much, much more.
Now I can literally eat and drink for FREE from morning til midnight. I can have pancakes at IHOP, an omelette at Denny's, a hamburger at Red Robin, some lasagna at Olive Garden, some ribs at Famous Dave's, Blooming Onions at Outback, a steak at Applebee's and top it off with beer at basically any tavern I want to enter and present my DD214 that shows I was a member of the U.S. Navy when I was young and stupid. I just have to walk in a yell, "I'm a Veteran! Trick or Treat Motherfuckers!"
Today everybody loves me!
I can go to about any store I want and pay less than any non-veteran, getting ten to twenty percent off the pricetag.
I can walk around with a U.S. Navy Vet baseball cap on my head and get people I don't even know to come up to me and thank me for SACRIFICING my LIFE (two years of it anyway) so they can walk around FREE. FREE!!
I can watch TV and listen to every announcer at every ballgame call me a hero and one of the greatest Americans of ALL! Hell, the older I get the better it gets. People don't even care what I did when I was in the Navy. That doesn't seem to matter.
I can look around with such pride at all the people walking and talking and driving and eating, all because of ME!
I don't know, I'm pretty level headed, I usually don't let things go to my head and make me feel like I'm better than anyone else. But today I snapped at my granddaughter when she called me to her room. She yelled, "grandpa, come here!". And for some reason it set me off, I went in her room and told her straight up, "today, you will call be GOD!"
I caught myself and went to the mirror in the bathroom and asked myself if I really wanted to take it this far. Did I really want to believe that people are FREE because of me, that if it wasn't for me the United States of America would be a suburb of China or Russia.
I don't have time to think about that now, it's time to go Trick or Treating. I think I'll start with some Lasagna.
Maybe next year.
How things have changed.