Those darn Rooskies are stealin' our democracy again!
Submitted by gjohnsit on Mon, 02/24/2020 - 4:03pm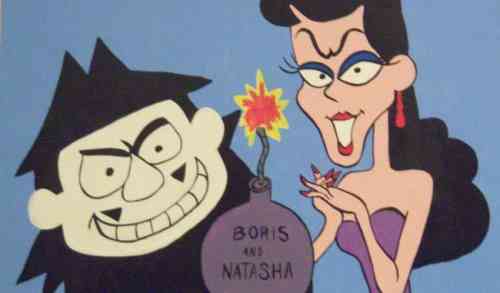 Boris and Natasha are at it again, but the Dems are determined to stop them this time.
#1 Rahm Emanuel: "Putin and Trump are picking their opponent."

#2 Joe Biden: "The Russians don't want me to be the nominee," Biden said on CBS News' "Face the Nation," later adding, "they like Bernie."

#3 James Carville: "Right now, it's about 1:15 Moscow time. This thing is going very well for Vladimir Putin. I promise you. He's probably staying up watching this right now. How you doing, Vlad?"
Dontcha know that this attack is totally real and not exaggerated in the slightest. You can trust us.

The US intelligence community's top election security official appears to have overstated the intelligence community's formal assessment of Russian interference in the 2020 election, omitting important nuance during a briefing with lawmakers earlier this month, three national security officials told CNN.
The official, Shelby Pierson, told lawmakers on the House Intelligence Committee that Russia is interfering in the 2020 election with the goal of helping President Donald Trump get reelected.
The US intelligence community has assessed that Russia is interfering in the 2020 election and has separately assessed that Russia views Trump as a leader they can work with. But the US does not have evidence that Russia's interference this cycle is aimed at reelecting Trump, the officials said.
"The intelligence doesn't say that," one senior national security official told CNN. "A more reasonable interpretation of the intelligence is not that they have a preference, it's a step short of that. It's more that they understand the President is someone they can work with, he's a dealmaker."
It's a good thing our news media is not hyperbolic at all.
The president is a Russian operative.

That sounds like the description of a bad Hollywood screenplay, but it is real, and it is Vladimir Putin's greatest achievement...

This is one of those shocking news days, if you retain the capacity to be shocked in the Trump era, by the Trump regime, which might be better labeled the Trump/Putin regime... and Richard Grenell will be replacing Joseph McGuire, who was serving as acting Director of National Intelligence, and he expected to be nominated by the president to be confirmed by Mitch McConnell's Senate as the official Director of National Intelligence until Vladimir Putin showed Donald Trump that he needed an even more incompetent director of national intelligence because Vladimir Putin is working hard to reelect his favorite president of the United States in history.
Where's the moose and the squirrel when we need them?