Thomas Piketty was wrong. It's much, much worse.
Submitted by

gjohnsit

on Sun, 01/07/2018 - 10:34pm
Four years ago, Thomas Piketty wrote a book with a damning conclusion.

As a general rule wealth grows faster than economic output, he explains, a concept he captures in the expression r > g (where r is the rate of return to wealth and g is the economic growth rate).
Since then capitalist zealots have been trying to find faults with his theory/data. They've largely failed.
What no one has done is to expand on Piketty's work. Until now.

After compiling this first-of-its-kind data set, Jordà's team makes a startling conclusion: If anything, Piketty's book underestimates the historical rate of return on wealth. "The same fact reported [by Piketty] holds true for more countries and more years, and more dramatically," the researchers conclude.

Wealth accumulates faster — much faster — than economies can keep up. If this is true, it means that in coming years, wealth inequality could grow even faster than Piketty feared.

The gap between wealth accumulation and economic growth has been a constant feature of the world's most advanced economies for nearly the entire period from 1870 to 2015, the researchers found. They compiled a database of the annual rate of return on four major types of wealth: government bonds, treasury bills, stocks and residential real estate.

Their key contribution relates to that last piece: real estate
A record 30% of all U.S. households had either zero or negative net worth, when home values weren't factored in.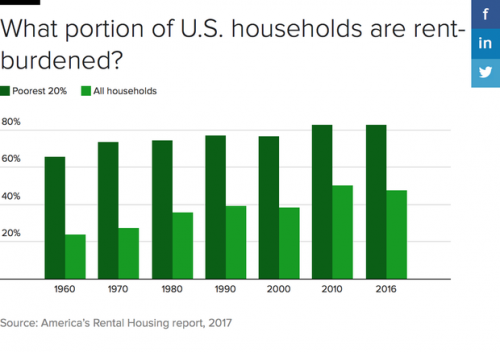 Housing is the largest expense for working class households, so when you think about it Jordà's conclusions are logical and expected.
So what does wealth inequality in real estate look like? It looks like this.

In San Francisco, desperate renters are finding their real-estate bliss in converted living rooms that lease for as little as $1,125 a month. Because elbow room is an overrated amenity.

HomeShare is a startup that leases apartments in expensive new buildings and splices them into additional units, so more tenants can split the rent for less per person. A two-bedroom becomes fit for three after HomeShare installs an upholstered partition in the den.
...
Jeff Pang, founder and CEO of HomeShare, declined to share more specific user numbers but said the company has received 30,000 applications in the Bay Area alone since 2016.
It also looks like this.

The U.S. homeless population is growing for the first time since the recession ended in 2010, a phenomenon that's especially acute in expensive cities such as San Francisco.
Ellen James-Penney, an English professor at San Jose State University, told CBS News housing costs eat up three-quarters of her monthly income. Her solution was to live in her car, she said.