There is no partisan fighting when it comes to Wall Street
Submitted by

gjohnsit

on Wed, 06/06/2018 - 6:37pm
Billionaires Charles and David Koch own the GOP. But this election year they took time out of their busy schedule to publicly endorse Democratic Sen. Heidi Heitkamp.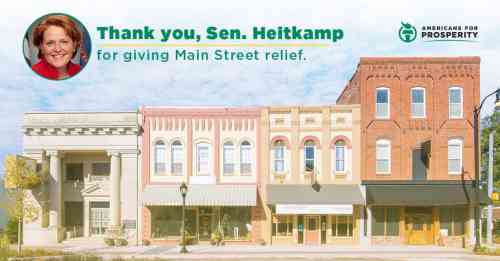 But that's exactly what Americans for Prosperity, an influential group funded by billionaires Charles and David Koch, just did. On Friday, the group made a digital ad buy thanking Sen. Heidi Heitkamp of North Dakota for her vote supporting a bill easing banking regulations and rolling back parts of the 2010 Dodd-Frank Act.
Americans for Prosperity is a formidable political organization that typically works to elect Republicans to the Senate. The fact that the group is spending money on one of the most vulnerable Senate Democrats up for reelection in 2018 is startling.
...Heitkamp has received more money from commercial banks than any other senator — $182,563 so far in 2018, according to OpenSecrets, including from Goldman Sachs.
Joe Donnelly (Ind.) and Jon Tester (Mont.) also took in mountains of cash from the banks.
However, it wasn't just these three that are guilty.
16 Democratic Senators and 33 Democratic House members voted to deregulate 25 of the 38 largest banks in America again.
Of these Democrats, twenty-seven are members of the conservative New Democrat Coalition, while another three are Blue Dogs.
But nine members of the Congressional Black Caucus also sold out the American people.

Every single bank deregulation bill of the last 40 years has been thoroughly bipartisan.
This is happening while bank profits are up by 28% during the first three months of 2018 to an all-time record $56 billion. The financial industry is sitting on nearly $2 trillion of capital.
Before we go any further it should be noted that Congress is simply not needed when it comes to deregulating Wall Street again. The Trump Administration is doing plenty without the help of Congress.

The issuance of financial regulations has dropped to a 40-year low, new data shows, a sign that the Trump administration is fulfilling its deregulatory agenda.

Of course in one important way Wall Street doesn't need to be deregulated, because the Trump Administration has simply stopped enforcing regulations.

In the 135 days since the Trump administration took control of the nation's consumer watchdog agency, it has not recorded a single enforcement action against banks, credit card companies, debt collectors or any finance companies whatsoever.
...While consumer advocates expected fewer enforcement actions under a more business-friendly Trump administration, the fact that the database indicates they have stopped entirely raises concern that consumers have been left vulnerable.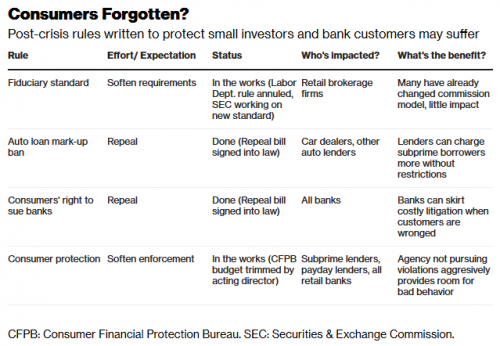 As usual, Elizabeth Warren is one of the few voices out there speaking truth to power.

"Deregulation is code for 'let the rich guys do whatever they want,'" Warren said in the keynote speech of an event at Georgetown University Law School, sponsored by the Coalition for Sensible Safeguards. "The Trump administration and an army of lobbyists are determined to rig the game in their favor, to boost their own profit, the cost of the consumer be damned."
"So why is this happening? Why favor profits of Wall Street banks over the economic security of American families? The answer is pretty simple: corruption," she said.
Even as banks make record profits, their former banker buddies turned regulators are doing them favors by rolling back a rule that protects taxpayers from another bailout. This kind of corruption is common in @realDonaldTrump's Washington. https://t.co/jECa7oWhJT

— Elizabeth Warren (@SenWarren) May 30, 2018
While immediate effect of the deregulation, i.e. rampant pillaging of the working class by a predatory bankster class, is obvious, don't take your eye off the ball.
These modest regulations that the Democrats pushed through after the 2008 crash were put there for a reason.

Karl Frisch, executive director of Allied Progress, said in a statement on Wednesday. "These big banks are making record profits but that just isn't enough for them. They are hellbent on regaining the ability to gamble, knowing it's other people's money on the line."
"Wall Street profits are up while workers' wages remain flat," added Sen. Ed Markey (D-Mass.). "It is outrageous that the Fed is letting the biggest banks gamble with your money yet again and turn our economy into a casino once more."

If the plan released by the Fed on Wednesday is adopted, Wall Street banks—which have lobbied relentlessly against the Volcker Rule for years—would have more freedom to engage in the kinds of speculation that sparked the 2008 financial crisis while effectively being permitted to police themselves.
To put it another way, by getting rid of the Volcker Rule gives banks more freedom to make riskier bets with federally-insured bank deposits – such as the money in your checking and savings accounts.
While the market openly expects another bank bailout when the inevitable and predictable "accident" happens, I think the market is going to be in for a big surprise. I think Democratic and Republican voters will find they have one thing in common after all - a common enemy.
The only real solution isn't more regulation - it's reform.

The Volcker Rule was itself a watered-down version of the 1930s Glass-Steagall Act, enacted in response to the Great Crash of 1929. Glass-Steagall forced banks to choose between being commercial banks, taking in regular deposits and lending them out, or being investment banks that traded on their own capital.
Glass-Steagall's key principle was to keep risky assets away from insured deposits.

...The only answer is to break up the giant banks. The Sherman Antitrust Act of 1890 was designed not only to improve economic efficiency by reducing the market power of economic giants like the railroads and oil companies but also to prevent companies from becoming so large that their political power would undermine democracy.