Stop me if you've heard this one before
Submitted by gjohnsit on Mon, 12/31/2018 - 12:43pm
The NY Times has a new report about the CIA-led mission in Afghanistan, and (Surprise!) they are directly leading torturers, murderers, and drug lords.

But the units have also operated unconstrained by battlefield rules designed to protect civilians, conducting night raids, torture and killings with near impunity, in a covert campaign that some Afghan and American officials say is undermining the wider American effort to strengthen Afghan institutions.

Those abuses are actively pushing people toward the Taliban, the officials say. And with only a relatively small American troop contingent left — and that perhaps set to drop further on President Trump's orders — the strike forces are increasingly the way that a large number of rural Afghans experience the American presence.

Many of the strike forces were officially put under the control of Afghan intelligence starting in 2012. But senior Afghan and international officials say that the two most effective and ruthless forces, in Khost and Nangarhar Provinces, are still sponsored mainly by the C.I.A.
... One former senior Afghan security official bluntly accused the strike forces of war crimes.
I know what you are thinking. "This can't be possible. The CIA would never do something like murdering innocent civilians. Oh, wait. I meant the opposite. This is not just predictable, but inevitable."
Nine years ago the NY Times reported this.

Ahmed Wali Karzai, the brother of the Afghan president and a suspected player in the country's booming illegal opium trade, gets regular payments from the Central Intelligence Agency, and has for much of the past eight years, according to current and former American officials.

The agency pays Mr. Karzai for a variety of services, including helping to recruit an Afghan paramilitary force that operates at the C.I.A.'s direction in and around the southern city of Kandahar, Mr. Karzai's home.
That Afghan paramilitary force is what you are reading about today.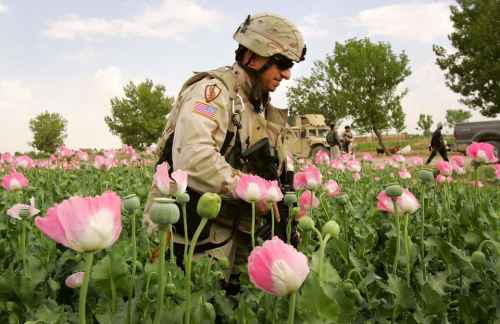 The CDC reported back in 2015 that "heroin use in the United States increased 63% from 2002 through 2013."
Meanwhile, the CIA was running a country that increased its opium production 20 times over during that exact same timeframe, becoming the source for 90% of the planet's opium.
Coincidence? Maybe not.

The CIA is also overjoyed because its black-ops budget - which is tied to the exponential growth of opium production in Afghanistan - is now secured possibly for another 20-50 years, claims Mike Raddie, co-editor of online site BSNews.
Believe it or not, there are rumors that the CIA is directly involved with smuggling opium from Afghanistan to the U.S.
I know! Crazy, huh?
Where is Gary Webb when you need him?