South America is now kicking neoliberalism in the teeth
Submitted by gjohnsit on Thu, 05/27/2021 - 11:36am
As you know by now, I've been keeping an eye on South Americas election in recent years, and how it is leaning further to the Left (according to the polls).
Well, the elections are beginning to happen, and the ruling elites are beginning to freak out! Let's start with Chile, who've just had an election to rewrite their neoliberal Constitution and fill their version of Congress.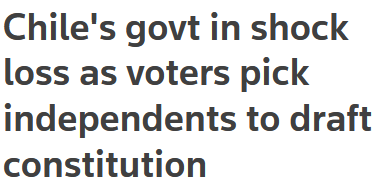 Chile's established political elite has been roundly rejected at the polls six months ahead of a pivotal presidential election, as the country turned to a progressive new generation to write the next chapter in its history.

Resounding victories for leftist and independent candidates saw rightwing politicians crash to dismal electoral defeats alongside those with links to Chile's transition to democracy.

Across two days of voting, Chileans cast votes for the 155 delegates who will write a new constitution to replace Augusto Pinochet's 1980 document and the neoliberal model it enshrined.

People also voted for regional governors for the first time ever, as well as for councillors and mayors – with candidates backed by president Sebastián Piñera's Chile Vamos coalition faring poorly in each case.

Crucially, with the government coalition's list securing only 37 seats in the assembly, Chile's traditional right-wing fell well short of the one-third bloc it had targeted to obstruct the inclusion of progressive articles the constitution.
Whoopsie! The birthplace of modern neoliberalism has rejected modern neoliberalism. So what are Chileans thinking?

Some of the more controversial ideas being advanced for the new constitution include potential changes to private land and water rights as well as to employment legislation that could threaten the interests of traditional investors.
...Education, healthcare and pensions are due to take center stage.
A right to access of water? A right to organize a labor union? A right to health care and living in dignity in old age? It's horrific!
But that's not all.
Chile is also about to elect a new president. How's that going?
Good Lawd! Will this nightmare ever end?
We must turn away from Chile and focus on Peru, which will have it's presidential election in just two weeks. Surely neoliberalism can't be losing there too.
Socialist candidate Pedro Castillo continued to regain ground among voters, a poll showed on Sunday, boosting his lead over conservative contender Keiko Fujimori two weeks ahead of Peru's presidential election.

Castillo, an elementary school teacher seeking to implement new taxes and royalties on the mining sector, obtained 44.8% support in the survey of the Institute of Peruvian Studies (IEP), while Fujimori, a business-friendly conservative, netted 34.4%.
...
Castillo, who stormed into the run-off with Fujimori following a win in a shock first-round election, has strong support among Peru´s largely poor, interior rural communities.
The poor?!? Since when has anyone ever given a sh*t about the poor?
Wait a second. He must be using fancy words. He can't actually care about poor people, amirite?

By law, any president of Peru must be born on Peruvian soil. But few of the country's past leaders know that soil like the frontrunning candidate in the current electoral race – the son of Andean peasant farmers, who grew up in poverty.

On a recent morning, Pedro Castillo wore a woollen poncho, sandals made from old car tyres and a traditional wide-brimmed straw hat as he tended to his cows on his farm in Chugur, a tiny hamlet seven hours' drive from the city of Cajamarca.

"When you see that your children wear the same clothes, sleep in the same clothes, wake up and go to school again in the same clothes, you realise the political class has been using you," he told the Guardian, using the homely language that chimes with rural Peruvians who feel left behind by the country's two decades of economic growth.
Holy Sh*t! Someone who is actually poor being elected president?!?
This must be stopped at once!
What if working class people actually started demanding that their governments do something for them? What if those ideas started to spread to other nations?

Gustavo Petro, a former insurgent whose once closeness with late Venezuelan President Hugo Chavez and social spending proposals raise fiscal discipline eyebrows, leads early polling in Colombia's presidential 2022 election.

Former leftist President Luis Inacio Lula da Silva seems to have a shot at unseating far-right President Jair Bolsonaro next year in Brazil
Ack! Won't someone think of the innocent overseas corporate shareholders and their profits?