Signal Wave
Submitted by Cant Stop the M... on Tue, 01/18/2022 - 5:54am
Just a small piece of good news today, surprisingly heartening to me.
This is Leonard's Furniture: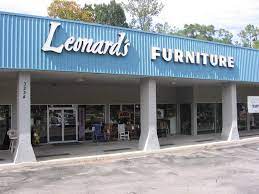 They started it in the 70s, before Reagan and neoconservatism took hold of our nation. Being inside always seems like stepping back in time (I don't think any music played in there dates from later than 1981). Everything down to the way the salesmen interact with you (something I never thought I'd prize, much less miss) reminds me of the way things were when I was a kid, or at least an adolescent.
Both my mom and I have bought chairs for our living rooms from Leonard's. That's probably why, last week, my mom got a letter from Leonard's widow. Leonard had died, and the widow said it was just too hard to run the business without him. They were having a big sale. My mom and I assumed it was a going-out-of-business sale. So many local businesses have gone out of business over the past few years. My mom knew I was looking for a couch, so we went down there, though I was really quite upset at the loss of one more local institution.
I think the left has, to some extent, really mishandled the concept of small business in this country. Our traditional critiques of capitalism and our allegiance to the worker, both good things IMO, have resulted in this slight but important miscalculation: lumping the small business owner in with the ownership class at the precise time that the small local owner was being thrown out of that class. Problem is, in a capitalist society, the small, local business owner is one of the main forces that keeps local control in the hands of the locals. (In a republic, local government is also one of those forces, but a much more fragile one, given that representative government and capitalism don't play well together). Further, it serves, and has always served the interests of capitalism to lump the small business owner together with the big business owner, because capitalism loves to pretend it's something it's not. Paramount among the lies it tells is that critics of capitalism are trying to prevent Farmer Brown from selling his wife's jam at his farmstand, or that capitalism protects the freedom of Jane Smith to create and run her own diner. Of course, that's all bullshit: capitalism is precisely against local control of anything, unless by "local control" you mean Mr. Potter:
Even Mr. Potter is likely, at some point, to get swallowed up by a larger spider, until there are only a few Mr. Potters in the world, who run things.
Anyway, we went down to Leonard's. I walked in, and said to the salesman who approached me, "It's sad." He replied, "It's just a clearance sale." About fifteen minutes later, as we walked around looking at couches, it came out that it was far from certain that Leonard's was going out of business. It was just that Leonard, something of a pack rat, had four warehouses full of stuff; they needed to clear some of it out. That made me feel so much better because, as always, I had found myself frustrated that I never know about these things happening in my town until it's too late to try to help.
Look, I know what's wrong with the Leonard's version of capitalism. I know it excludes, quite unfairly, a whole class of people who don't have the money to buy things (certainly not things as expensive as furniture). That's the truth that impelled me to my first critiques of capitalism--since I never believed in all that "meritocracy" bullshit. I'm not saying that even George Bailey's form of capitalism really works.
But buying a piece of furniture from a local business, owned by a family that lives in my town, felt like the relief of pain. It was an interaction that allowed me to remain human. It was an interaction that did not feel like I was being maneuvered into it. Various forms of compulsion do, in fact, reside even in these kinds of capitalist exchange, but Jesus! I hadn't known how much it really hurts to be embroiled constantly in all these forms of semi-compulsory fake choice, run by a handful of people, most of whose names I will never know, who have been taking steps for years to ruin most, if not all, of the towns like mine.
It's a far lesser pain than the pain of having nowhere to live or nothing to eat or no medical care. I have no illusions about that. But I think perhaps these lesser forms of pain also need to be voiced. Otherwise too much of reality goes unremarked.
What do you all think?