Scorecard for the progressive insurgency in the Democratic Party
Submitted by

gjohnsit

on Wed, 08/15/2018 - 2:39pm
Now is a good time to take a step back and look at the big picture.
Is the effort to reform the calcified and corrupt Democratic Party working?
Short answer: the results are mixed.
I have two articles that have used very different metrics to arrive at answers.
Both of them were published before last night's primaries where progressives did very good.
The first study is from the pro-establishment, centrist Brookings.

As we wrote in an earlier analysis, this year has seen an outpouring of enthusiasm among self-proclaimed progressives, and many more progressives are running in Democratic primaries than have run in recent years. However, the number of progressives winning their primaries is respectable but not overwhelming. As the table below indicates, non-incumbents who we rate as "establishment" candidates are winning more often than progressives and in numbers that are not substantially different from our last count.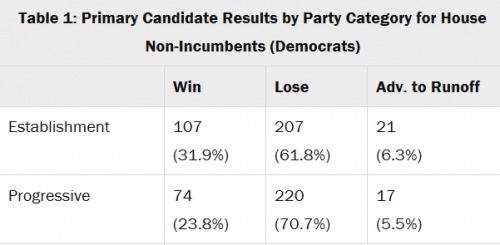 This is not as bad as it looks because progressive candidates are almost always running against severe disadvantages, such as a) being outspent, b) fighting the dirty tricks of a corrupt establishment, and c) having candidates without name recognition.
It's not a fair fight.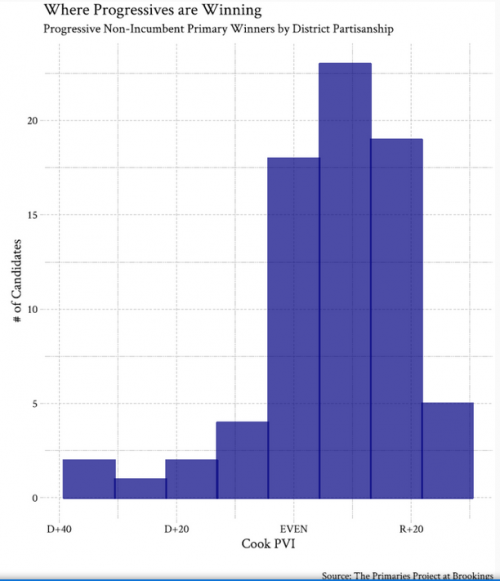 It's very enlightening to see how progressive candidates do best where the Democratic Party is weak.
The second study is from the centrist FiveThirtyEight.

According to our data, 41 percent of candidates who received an endorsement from one or more of these progressive groups won their primary races. The most successful progressive group was the PCCC; the candidates it endorsed won about 67 percent of the time.5 Justice Democrats and Our Revolution had the worst win rates — candidates they endorsed won only 32 percent of their primaries (but they also endorsed more people overall, giving their candidates more chances to lose).
...
The organization with the best endorsement record in Democratic primaries remains the Democratic Party itself. Candidates who are on the Democratic Congressional Campaign Committee's Red to Blue List or endorsed by the Democratic Senatorial Campaign Committee6 had a win rate of 95 percent (37 wins out of 39 endorsements). In races where a party-endorsed candidate ran against a progressive-group-endorsed candidate (excluding any races where a candidate was endorsed by both sides), the party-endorsed candidate won 89 percent of the time.

In other words, the best predictor of primary success remains establishment support.
Unsaid in this article is that the DCCC always endorses incumbents, while the progressive groups often endorse challengers.
So once again, it's not as bad as it looks.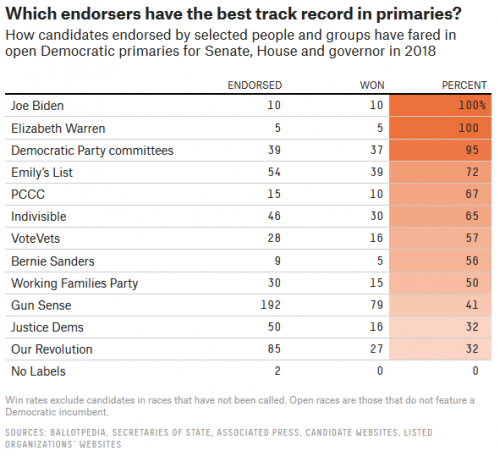 Electorally, insurgent candidates have fared remarkably well given the odds. They are, almost by definition, fresh and inexperienced. They face opponents who start with more money, more-experienced operatives, and often, greater name recognition. Outside groups with deep pockets line up against them. Many are seeking to build small-donor, volunteer-driven campaigns from the ground up.
...The media needs to focus less on horse-race coverage and more on what's building and what's left behind. The insurgency in the Democratic Party isn't on its deathbed, nor is it about to sweep out the old. It is only just beginning. Democrats are still in the early stages of a big debate on direction. Insurgent candidates are only starting to build the capacity — in ideas, in small donors, in supporting institutions — to run serious challengers. But there is new energy and a new generation that is demanding change.
The progressive insurgents that win this time will be experienced incumbents next time around. The progressive insurgents that lose this time will have a network and some name recognition next time around.
The question is if this progressive insurgency can retain it's energy and idealism, get discouraged and peter out, or will the establishment co-opt it like the GOP did almost immediately to the Tea Party?
I think the real danger is progressives getting discouraged.
This insurgency is trying to accomplish a monumental task. That requires time and a sustained effort. To which I say, don't underestimate these kids.

But Ocasio-Cortez has said from the start that she won't play it safe. She talks instead about a movement strategy: go for the wins that are possible, but also look to "build power" and "make unlikely races flippable for the next cycle."
Fortunately, I don't believe there is much danger of being co-opted by the Democratic establishment. Because unlike the GOP, the Democratic establishment hates and despises it's base.

The cure for the Democratic civil war is simple: Get behind -- and consistently push for -- major progressive policies.

Jail the banksters. Restore Glass-Steagall. Bring home the troops. A $20-an-hour minimum wage. Free college tuition. Interest-free college loans. Medicare for all.

The DNC hires pollsters. They conduct focus groups. They analyze social media. They read exit polls. They must know why progressives aren't that into the DNC.

The fact that corporatist Democrats refuse to give progressives what they want leads me to an uncomfortable conclusion: They'd rather lose to the Republicans than govern as partners with progressives.
Some will scoff at any attempt at reforming the Democrats, but when is the last time there was a serious effort even made? Jesse Jackson and Howard Dean were just populists (now sell-outs), not the leaders of a grassroots movement.
Unless you are very, very old then you've never seen this before. So we have to check the history books for guidance.