Satan Dead! (a.k.a.) Bankster-Globalist: David Rockefeller
Submitted by FreeSociety on Mon, 03/20/2017 - 1:18pm
.
Well finally some good news!
Globalist, "New World Order" architect, and International Bankster David Rockefeller has finally died at (age) 101.
--
David Rockefeller was the grandson of the Robber Baron John D Rockefeller (head of the largest Oil Cartel, "Standard Oil", which later became Exxon-Mobil). David Rockefeller became one of the leading, and most outspoken architects of the "New World Order" movement.
--
"We are grateful to the Washington Post, the New York Times, Time Magazine and other great publications whose directors have attended our meetings and respected their promises of discretion for almost forty years [ a.k.a. keeping the American public uninformed] … It would have been impossible for us to develop our plan for the world if we had been subjected to the lights of publicity during those years," he said at the 1991 Bilderberg meeting. "But, the world is more sophisticated and prepared to march towards a world government."

"The supranational sovereignty of an intellectual elite and world bankers is surely preferable to the national auto-determination practiced in past centuries."

--David Rockefeller
--
Rockefeller had a major corrupting influence over Governments and Politicians. The Mainstream Media, of course, will portray him as a "philanthropist" rather than the Evil "World Government" Bankster that he really was.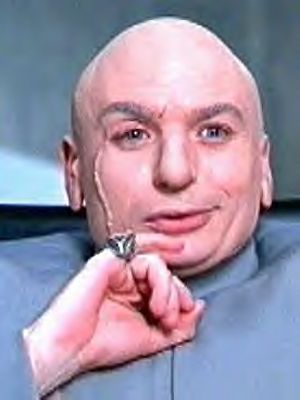 But Rockefeller's vision of "World Government" was not the kind of utopia that artists and human rights advocates dream about. His plan was the development of a Global Super-Corporate State dominated by International Cartels, that only a global Elite (Oligarchy) operate and control, which would own or steal all the World's Resources and enslave the population under its rule. In addition, all currency and exchange of money would be transformed into just digital form that could be under the control of electronic chips (look closely at your credit card). If anyone were to then protest what the Oligarchy was doing, or protest the Wars and violence done in the service of controlling World Resources and Central Bank structures -- their chip could just be easily turned off -- leaving then impoverished and unable to access anything. Rockefeller's vision was for a Global Totalitarian State, not some "imagine all the people living life in peace" utopia.
This plan was revealed to a Film Director, Aaron Russo (who was a assistant producer on the movie "Trading Places", and later made the political documentary "America: From Freedom To Fascism"). Russo had become friendly with Nicholas Rockefeller, and prodded him to reveal the true motivations and agenda of the Rockefellers:
Pure Evil!
---