Resilience: How Pets and Working Animals Make Us More
Submitted by Gerrit on Tue, 04/26/2016 - 8:30am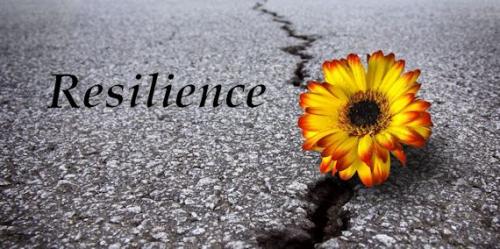 This is a brief reflection on our 3-year old Golden Retriever named Lady; hoping that you would contribute your stories and we would discuss how pets and working animals make us more of everything: more human, more resilient, more happy, more safe, more compassionate, more healthy, and so forth. More below.
I hope you're not too bitter or cynical for this :=)


I have always been a cat person. But as I began to recover from the worst of the ptsd, Lovie and I talked about how a dog could help me recover faster. We thought a dog could be a companion for me in my isolation. By then I was on medical leave and quite a recluse; venturing outside the house and yard only for medical appointments. And we thought a dog would help me get outside and exercise.


So we discussed breeds. We wanted a dog who would "get" being a therapy dog without a whole lot of training. While the dog may have been trainable, I could not participate in training :=) So we wanted a companion breed. We wanted a medium-sized breed. We're still cultural Anglicans - who seek the sacred first in beauty - so the dog had to look good while dogging it :=) So we decided on a Golden Retriever.
Here's wikipedia:
The Golden Retriever is a large-sized breed of dog bred as gun dogs to retrieve shot waterfowl such as ducks and upland game birds during hunting and shooting parties, and were named 'retriever' because of their ability to retrieve shot game undamaged. Golden Retrievers have an instinctive love of water, and are easy to train to basic or advanced obedience standards. They are a long-coated breed, with a dense inner coat that provides them with adequate warmth in the outdoors, and an outer coat that lies flat against their bodies and repels water. Golden Retrievers are well suited to residency in suburban or country environments. Although they need substantial outdoor exercise, they should be housed in a fenced area because of their instinctual tendency to roam. They shed copiously, particularly at the change of seasons, and require fairly regular grooming.

The breed is a prominent participant in conformation shows for purebred dogs. The Golden Retriever is popular as a disability assistance dog such as being a guide dog for the blind and a hearing dog for the deaf. In addition, they are trained to be a hunting dog, a detection dog, and a search and rescue participant. The breed's friendly, gentle temperament means it is unsuited to being a professional guard dog, but its temperament has also made it the third-most popular family dog breed (by registration) in the United States, the fifth-most popular in Australia, and the eighth-most popular in the United Kingdom.Golden Retrievers are rarely choosy eaters, but require ample exercise (of two or more hours a day). The breed is fond of play but also highly trainable.
Three years later, it was one of the best decisions for my health and quality of life and for our family members. We bought a puppy from a farm across the river in Quebec. Both parents were Goldens, one of them certified. We were happy about that; for we thought she would be a true golden without some of the overbred tendencies of pure breeds. Here are some photos of her early months.


She loved our couch and slept on it's back as long as she could. Which sadly ended when she got too big :=)


She began in a crate and once she could make it through the night, she graduated to our youngest daughter's queen-sized bed. The two are inseparable. I pity the poor fool who has to compete with Lady for permanent room on the bed some time ahead :=)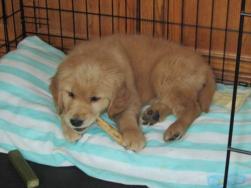 We've walked most every day since she was little. Now she ranges far. We walk her with a 20-ft retractable leash so that she can roam and sniff. It's her walk too, eh? My back is problematic, so I rest it when she has found a fascinating spot. I call it her reading time. The whole village and surrounding roads are her library and she is a dedicate reader.


(Sorry about the sideways photos - no idea.) She's well trained - Lovie is a animal genius - and a well behaved, happy dog. The whole village knows her - and "the fellow with the hat." Canadians are ball cap people, like Americans are: they're not familiar with the Tilley hat. As they used to say in the colonies, "Only mad dogs and Englishmen go out in the noon-day sun." Except the Englishman was wearing his Tilley hat :=)


Lady helped save my life by helping me turn away from the abyss: she is a lovely companion on my bad days and she gets me out into the neighbourhood and the vitamin D provisioner. I am forced to hold a few minutes of polite conversation all along the route, because the whole village knows and loves Lady and need to stop and love her up. Drivers wave at her while passing by and school bus kids greet her from the windows. She helps me make human contact and get exercise. Lovie has written some children's books about Lady and oldest daughter - the world-class illustrator :=) - is working on the images.
Update: A little story about Lady and I probably needs a photo of us too :=) Lovie took one before today's walk.


As for Her Royal Majesty, Purdy, the 13-year old cat, she was outright opposed to this family addition right off the bat. Lady is petrified of the old dragon :=) Sometimes, though, enquiring minds think it has become a hollow ritual and that the cat is a Yuge hypocrite.

So that's my story and I'm sticking to it. I would love to hear from you about how a pet or a working animal has made you more. Send photos! Enjoy your day today.
Peace be with us, if we learn from animals,
gerrit